Hóe leuk is het om eigen land te ontdekken? Fietsroute Broek in Waterland laat je zien hoe leuk. Deze route neemt je mee naar schiereiland Marken, langs typisch Hollandse plaatsjes en door het Purmerbos. Genoeg te beleven onderweg.
Fietsend tussen de Zaanse huisjes, langs zachtjes deinende bootjes, ruik je de vis en komen kleurige gevels je tegemoet. De fietsroute vangt aan in Broek in Waterland, om daarna vlak langs Amsterdam te scheren, richting Oostzaan en Purmerend. Via Edam, Volendam en Marken bereik je uiteindelijk Monnickendam, een stadje vol rijksmonumenten.
Broek in Waterland Oer-Hollands
Jaarlijks bezoeken anderhalf miljoen mensen het schiereiland Marken, en die populariteit is te begrijpen. Deze plaats bereik je tijdens fietsroute Broek in Waterland met de veerdienst Marken-Volendam. Eenmaal daar vind je volop terrasjes en rondvaarten. Ook Volendam en Edam zijn de moeite waard, al is de ene plek drukker dan de andere. Samen vormen deze stad (Edam), dorp (Volendam) en schiereiland (Marken) een stukje oer-Hollands Nederland, waar het voor zowel liefhebbers van de vaderlandse cultuur als voor geïnteresseerde buitenlandse toeristen de moeite waard is eens een kijkje te nemen.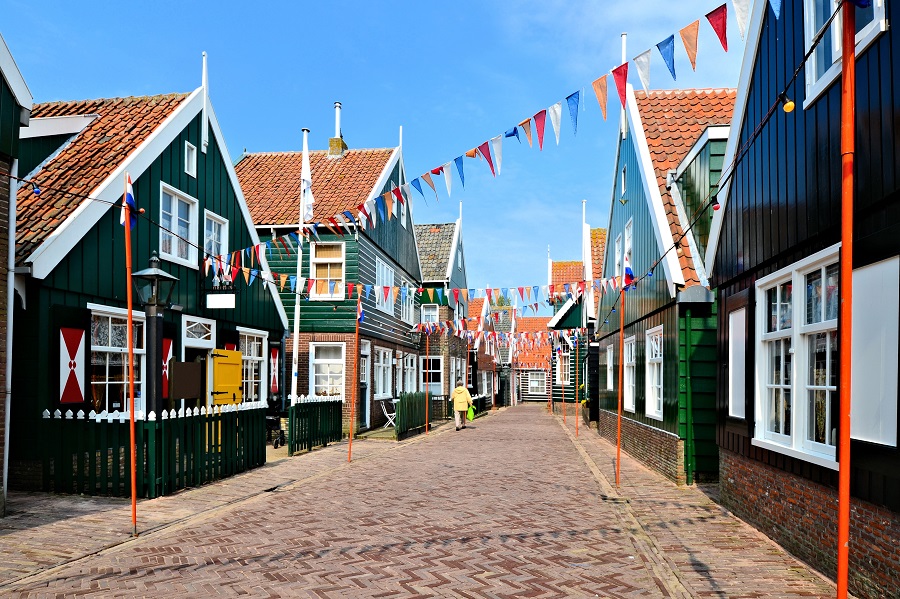 5 bezienswaardigheden op schiereiland Marken
Het Paard van Marken
Het Paard van Marken staat op het meest oostelijke puntje van het schiereiland. Sinds 1700 heeft Marken een eigen vuurtoren, 1839 is het huidige Paard van Marken gebouwd. De sneeuwwitte toren steekt op mooie dagen prachtig af tegen het azuurblauwe water. Het is niet voor niets de meest gefotografeerde vuurtoren van Nederland. Tip: parkeer je fiets aan het begin van het Zuiderzeepad en wandel dit af tot aan de vuurtoren.
Authentieke huisjes
De traditionele Hollandse huisjes zijn kenmerkend voor Marken. In de pittoreske haven liggen houten groenen huisjes die destijds geclusterd gebouwd zijn. Ze liggen op kunstmatige heuvels, ter bescherming van het opkomende water van de Zuiderzee. Een stukje verderop, in de Kerkbuurt, vind je meer van zulke huisjes. Hier ligt ook het Marker Museum, waar klederdracht en gebruiksvoorwerpen van vroeger te vinden zijn. Het museum is gehuisvest in zes historische panden. Eén van de panden, het Markerhuisje, is nog precies zo ingericht als in 1932. Toen woonde er nog een vissersfamilie.
Grote Kerk
Mooie kerken zijn altijd een bezoekje waard. Zo ook de protestantse Grote Kerk in Marken, uiteraard gelegen in de Kerkbuurt. Die is gebouwd in 1903 en 1904, naar ontwerp van A.H.L. Kups. De zeskantige preekstoel, lezenaar, kroonluchters en koperen dubbelblaker zijn al veel ouder. Die stammen nog uit de zeventiende eeuw.
Monumenten
We zijn nog steeds in de Kerkbuurt, waar een oorlogsmonument staat. Het is gebouwd als herinnering aan de Tweede Wereldoorlog. Even verderop, op de kop van de zuidelijke havendam staat nog een monument. In 1916 werd Marken, en andere dorpen aan de Zuiderzee, getroffen door de Stormvloed of Zuiderzeevloed. Een grote watersnoodramp die op tientallen plaatsen dijken brak en daardoor veel schade aanrichtte. Honderd jaar later, in 2016, werd daarom The Wave gebouwd, ter nagedachtenis aan de ramp.
Vis met een view
Last but not least. Als je op Marken bent, móet je een visje eten. Dat kan vrijwel overal. Bij viskramen aan de haven wordt heerlijk verse vis verkocht. Liever even zitten? Bij Taverne de Visscher, de oudste taverne van Marken, eet je vis met een view. Let op: vanwege de coronacrisis kun je (nog) niet overal terecht.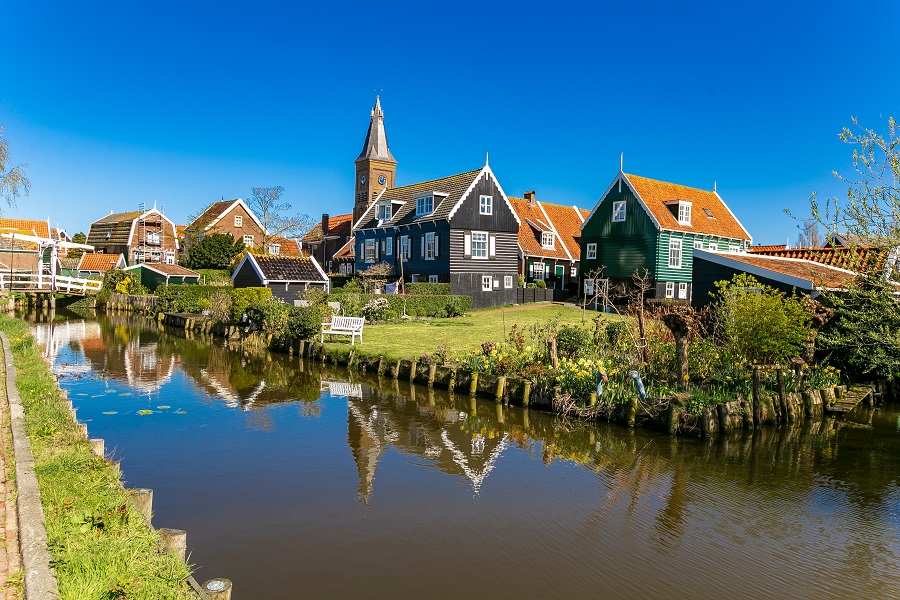 Groen Monnickendam
Op het vaste land is het landschap al even Hollands: weilanden, wuivend riet, sloten, stolpboerderijen en weidevogels. Deze omgeving geeft je ook weer voldoende gelegenheid je te vermaken. Zo zijn in de buurt van Monnickendam verschillende theetuinen te vinden. Hier kun je terecht voor een lekkere lunch, huisgemaakte high tea of speciale arrangementen, zoals een kruidenwandeling of een tochtje op een fluisterboot. Om je uitje naar dit op-en-top Hollandse hoekje van ons land helemaal af te maken.
Informatie fietsroute Broek in Waterland
Afstand: ca. 65 km
Vertrekpunt: Parkeerterrein ter hoogte van Nieuwland 21, 1151 AZ, Broek in Waterland
Routeverhaal: Toeractief 2-2019, pagina 60
Routeboekje: pagina 36
Routecheck
Heb je tijdens het wandelen een wijziging opgemerkt in de route. Geef dit dan door via toeractief@bcm.nl