Diep in het bos leeft een gevaarlijk maar nauwelijks waar te nemen roofdier. Sinds een aantal jaar heeft het zich langzaam maar zeker opnieuw gevestigd in West-Nederland. De bossen worden hier namelijk steeds ouder en bieden meer schuilplekken om je overdag in te verbergen. De boommarter, want daar gaat het hier over, is namelijk een nachtdier. Overdag rust hij in boomholtes. Wie heel veel geluk heeft kan hem in de lente overdag tegenkomen. Dan heeft de boommarter jongen. De jonge dieren zijn meer gebonden aan een plek en willen overdag nog wel eens speels hun kraamkamer verlaten. Reden te meer voor ons als bezoekers van het bos om ons aan de regels te houden. Zo geven we de jonge dieren de ruimte om gezond en veilig op te groeien.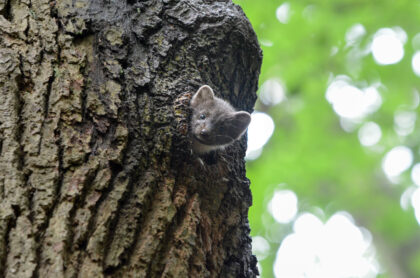 Boommarter nieuwsgierig naar wat daarbuiten gebeurt – foto Aaldrik Pot – Staatsbosbeheer
In het  kussensloop
Van 2009 tot 2019 was ik boswachter in Noordwijk. In die tijd had ik het geluk dat de oude boswachter van het gebied, Mart, nog in de buurt woonde. Op een dag belde hij me op. Dit verbaasde me, want meestal was ik degene die hem belde om te vragen hoe hij dingen in het verleden aanpakte. Maar nu had hij dringend mijn hulp nodig. Samen met zijn zoon had hij namelijk in een verzorgingstehuis een dier gevangen. Een dier dat hij niet herkende, maar dat behoorlijk agressief reageerde. Of ze even bij ons op kantoor langs konden komen met hun vangst om te kijken wat met het dier aan te vangen. Natuurlijk waren ze welkom. Niet veel later stapten de beide mannen binnen.
Weer op vrije voeten
Marts zoon hield een kussensloop voor zich uit. Op zijn uitgestrekte armen stonden krassen en bijtsporen die getuigden van een stevige worsteling met het dier. We leegden een papierbak, lieten het dier erin glijden en legden er snel een houten deksel op. Door de kieren zag ik meteen om welk dier het ging: een boommarter. Mart kende het dier niet. In zijn tijd kwam de boommarter niet voor in de duinen van Noordwijk. Zelf kreeg ik sinds een paar jaar kreeg al meldingen dat het dier vanuit de Amsterdamse Waterleidingduinen zijn weg naar het zuiden aan het vinden was. De beslissing wat met het dier te doen was dan ook snel genomen. Snel weer vrijlaten in de duinen en hopen dat hij of zij niet weer op haar zwerftochten zo onfortuinlijk door een raam zou kruipen.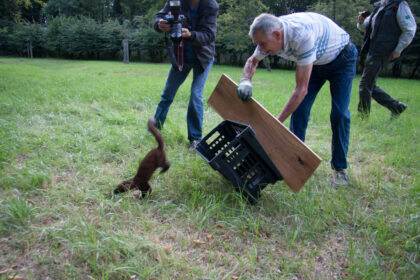 Onfortuinlijke boommarter razendsnel op weg naar de vrijheid – foto Mark Kras
Boommarters gebruiken in tegenstelling tot de steenmarter helemaal geen gebouwen. Na nog even vol verwondering naar de klauwen en met name hoektanden van de boommarter te hebben gekeken kreeg het dier snel de vrijheid terug. Een jaar later werd een boommarter met jong aangetroffen in een boom boven de Duindamseslag. Stiekem hoop ik dat het onze bewuste boommarter was, met haar nakomelingen.
In dit filmpje over dieren in nood is voor de boommarter een hoofdrol weggelegd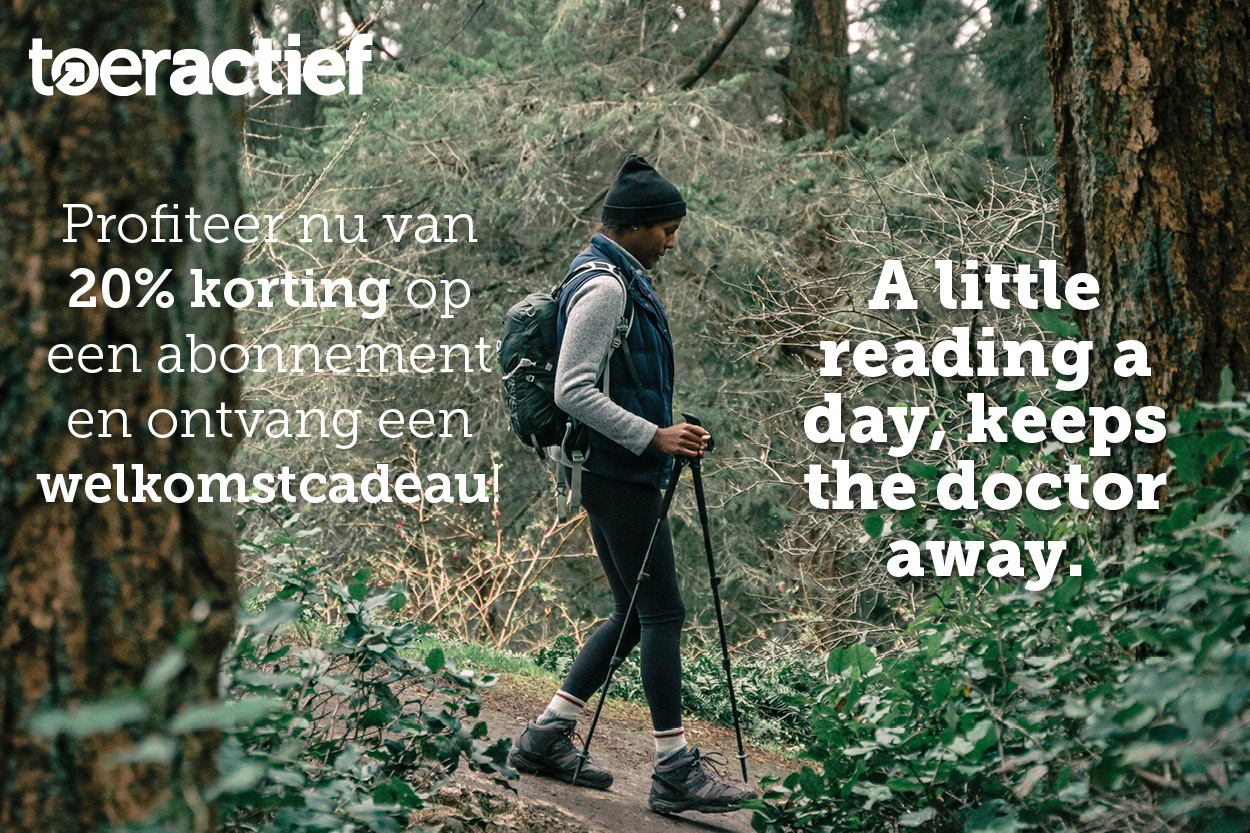 In de taxus en op de brug
Jaren later ging er in ons team een filmpje rond. In de taxus nabij het kantoor in Den haag hadden collega's een boommarter gespot die zich tegoed deed aan de bessen van een taxus. De waarneming paste perfect in de verspreiding naar het zuiden toe van de soort. Dat de boommarter zich thuis voelt in het Haagse Bos werd vorig jaar helemaal duidelijk toen de cijfers over het gebruik van de eekhoornbrug over de Benoordenhoutseweg bekend werden. Overdag wordt de brug zeer regelmatig gebruikt door eekhoorns, een gewilde prooi van boommarters. 's Nachts is de brug het domein van de boommarter. Een bewijs dat de boommarter het Haagse Bos tot zijn leefgebied rekent. En met het ouder worden van het bos neemt ook het aantal holten toe waar de boommarters de dag kunnen doorbrengen.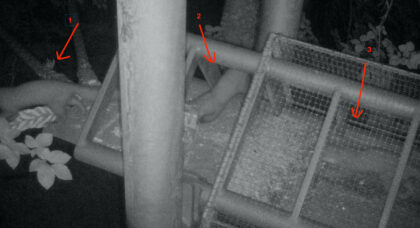 Maar liefst drie boommarters op de eekhoornbrug – foto bureau ECOlogie, gemeente Den Haag
Boommarter in de Haagse taxus
Werken aan beter bos
Tijdens de boswerkzaamheden van vorig jaar hebben we als Staatsbosbeheer natuurlijk rekening gehouden met de verschillende holtebomen in het bos. Het werk heeft als belangrijk doel het ruimte bieden aan vitale bomen om honderden jaren oud te worden waar de meeste bomen nu rond de 80 jaar oud zijn. Een ander voordeel voor de boommarter is dat we her en der besdragende struiken en bomen planten om de soortenrijkdom te vergroten. Boommarters zwerven graag door hun leefgebied op zoek naar allerhande bessen en insecten. Zo nu en dan afgewisseld met een spectaculaire, energieverslindende jacht op een eekhoorn. Niet zo gek dus dat er op de eekhoornbrug een duidelijke scheiding is wie wanneer de brug gebruikt.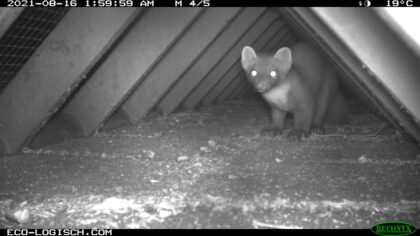 Een ontmoeting waar geen eekhoorn op zit te wachten – foto ECOlogie, gemeente Den Haag
Weet je welkom in de kraamkamer van Moeder Natuur
De boommarters krijgen deze maanden hun jongen. Dat maakt ze extra kwetsbaar voor verstoring. Reden om de miljoenen bezoekers van het Haagse Bos attent te maken op hun aanwezigheid. Je gewoon aan de regels houden helpt enorm: blijf op het pad, houd je hond aan de lijn waar dat moet en neem je vuil mee naar huis of kantoor. Zo kunnen we op eenvoudige wijze ons best doen om deze jonge, prachtige en zeldzame dieren veilig en wel op te laten groeien. We zijn immers welkome bezoekers in de kraamkamer van Moeder Natuur.