Het is herfst en dus steeds vroeger donker. Wandelen in de duisternis maakt sommigen angstig: je voelt je onveilig of onzichtbaar. Toeractief zocht naar een aantal praktische oplossingen om zo veilig mogelijk te wandelen, zowel 's avonds als 's nachts.
Wandelen in het donker met de juiste verlichting
Als je veilig wilt wandelen in het donker, is het natuurlijk belangrijk dat je goed zichtbaar bent. Dit bereik je met allerlei handige gadgets. Zo zijn er bijvoorbeeld lichtgevende led-vesten, been- en armbanden met knipperlichtjes, lampjes voor aan je schoenen en losse led-clips. Led heeft als voordeel dat het veel licht geeft en weinig energie kost. Tegenwoordig zijn veel van deze gadgets oplaadbaar en hoef je niet eens meer te hannesen met batterijen. Alleen een reflecterende jas is onvoldoende: zorg altijd voor lampjes aan je arm of schoenen. Verspreid deze lampjes zo, dat je zowel aan de voor- als aan de achterkant verlicht bent. Een zaklamp is een handig attribuut om mee te nemen, zodat je ziet waar je loopt. Vind je het vervelend om iets in je hand te hebben tijdens het wandelen? Overweeg dan een hoofdlamp.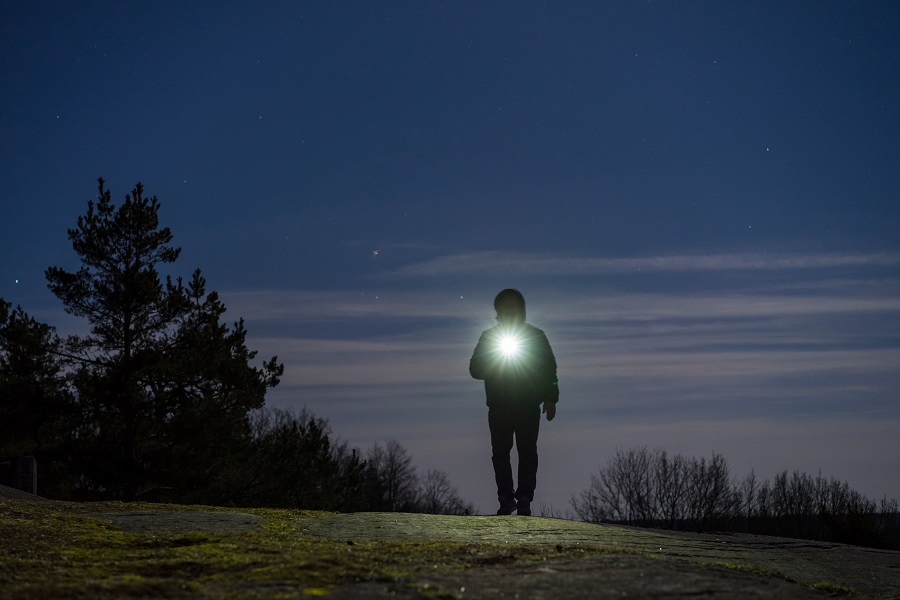 's Avonds veilig wandelen met de hond
Een hond die in het donker ineens uit de berm schiet, kan levensgevaarlijk zijn voor een automobilist. Die schrikt zich rot. Zorg dus ook dat je hond goed zichtbaar is. In de dierenwinkel vind je allerlei leuke attributen om je hond op te laten vallen. Denk aan halsbanden of tuigjes met ledverlichting, reflecterende veiligheidshalsdoeken of riemen met knipperende lampjes.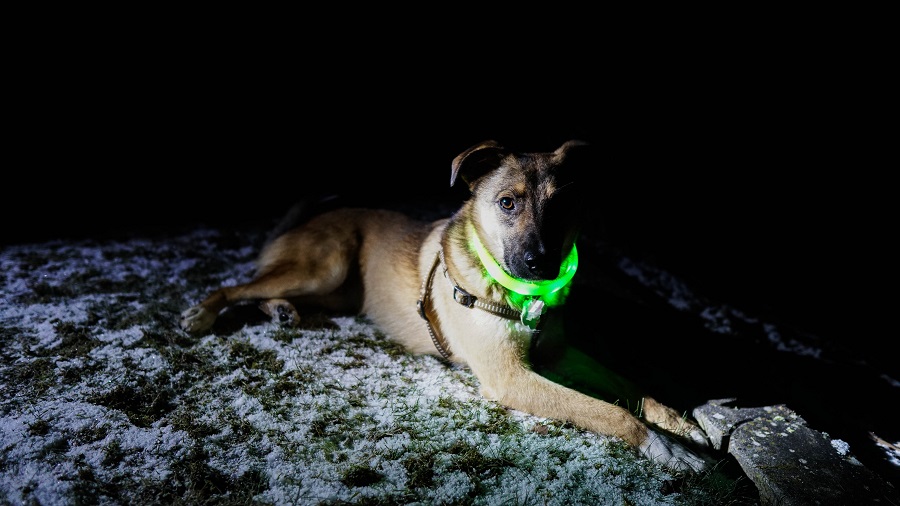 Neem belangrijke spullen mee
Het is verleidelijk om bij een korte wandeling je telefoon thuis te laten. Al is het maar om even niet bereikbaar te zijn. Voor je veiligheid is het echter beter om toch een telefoon bij je te hebben. Zo kun je onderweg als het nodig is altijd hulp inschakelen. Loop je alleen, dan kan het fijn zijn om een volgsysteem aan te zetten op je telefoon. Zo kan het thuisfront zien waar je bent. Daarnaast is het verstandig om gegevens bij je te hebben, zoals een rijbewijs of een ID-kaart. Mocht er onderweg iets gebeuren, dan weten omstanders en eventuele hulpdiensten wie je bent. Tip: stop bij die gegevens ook een briefje met een telefoonnummer van je partner, familielid of buren.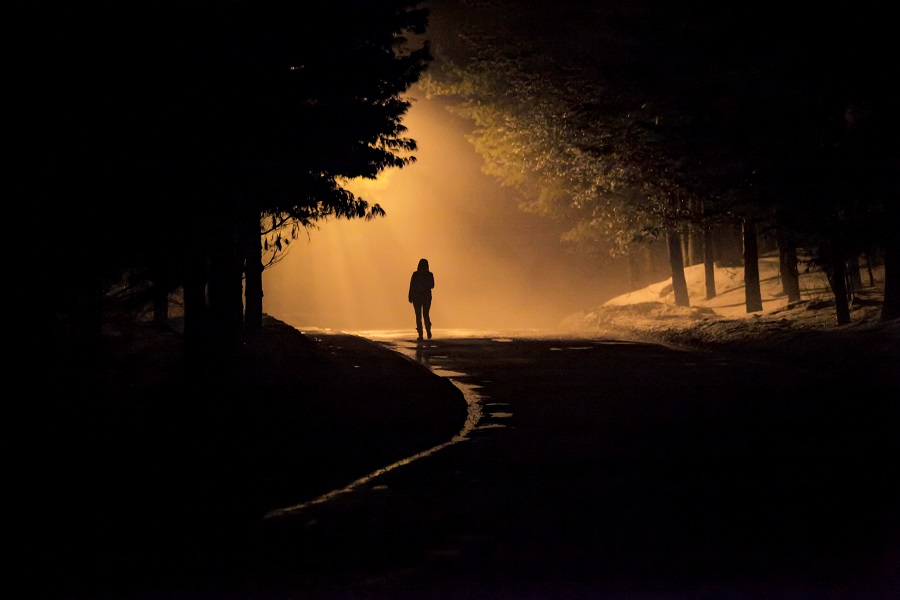 Extra tips voor een veilige wandeling in het donker
Ga niet in een totaal onbekende omgeving op pad. In de duisternis is het veel lastiger om herkenningspunten te vinden. Plan je route dus goed.
Vermijd paden met hobbels, kuilen en uitstekende boomwortels. Dan verklein je de kans op struikelen en vallen. Het beste is om op het trottoir te lopen.
Is er geen trottoir, dan kun je op het fietspad of de openbare weg lopen. Let op: dit kan gevaarlijk zijn in het donker. Ga er nooit van uit dat fietsers of automobilisten je zien en stap de berm in als een andere weggebruiker passeert. Het is niet wettelijk vastgelegd aan welke kant van de weg je moet lopen. Het pluspunt van links lopen is dat je het verkeer aan ziet komen. In de bochten is het echter soms verstandiger om rechts te lopen.
Na zonsondergang is het verboden om natuurgebieden te betreden. Zorg daarom dat je er voor die tijd weg bent. Je verstoort anders het wild en loopt kans op een boete.
Veilig fietsen in het donker? Check ons artikel over goede fietsverlichting.