Wanneer je te weinig drinkt, liggen spierkrampen en hoofdpijn op de loer. Voldoende water meenemen tijdens een lange wandeling of een fietstocht is dus belangrijk. Zeker nu het warmer weer begint te worden. Maar hoe? Ga je voor een gewone plastic fles uit de supermarkt? Of schaf je een speciale rugzak met waterzak aan? Toeractief zet een aantal opties op een rijtje.
Het belang van water drinken
Het kan niet vaak genoeg gezegd worden: voldoende drinken is echt heel erg belangrijk. Vooral tijdens het bewegen verlies je veel vocht door het zweten, zeker nu het kwik stijgt. Veel transpiratie en onvoldoende hydratatie, biedt een risico op uitdroging. Voorkom klachten als hoofdpijn, vermoeidheid en duizeligheid tijdens een wandel- of fietstocht en neem vooral voldoende water mee. Ga je lang op pad komende week? Neem dan behalve één van onderstaande items ook een extra statiegeldfles met (ijs)water mee. Dit water kun je overgieten en zo weet je zeker dat je voldoende vocht bij je hebt.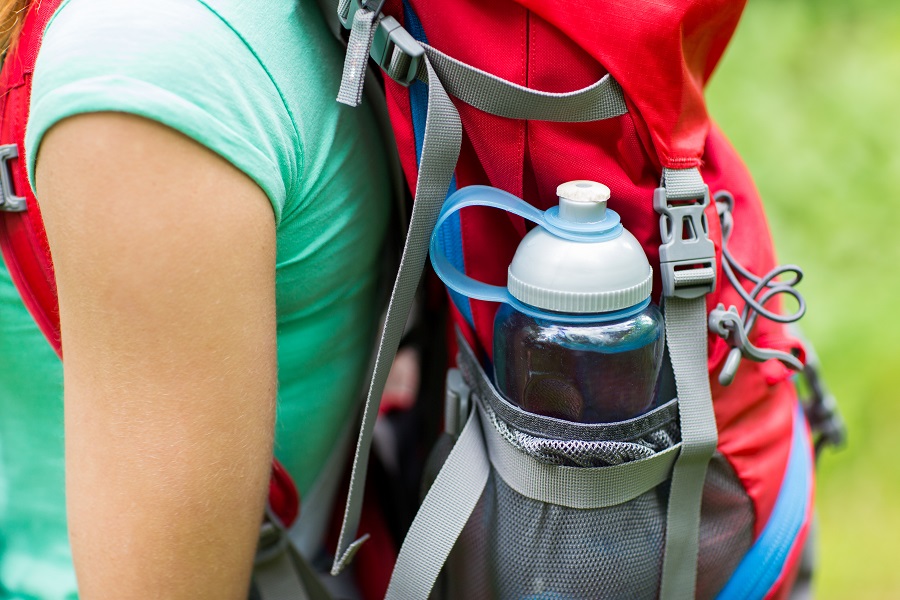 Fles van aluminium of roestvrijstaal
Een aluminium fles is licht en duurzaam. Deze flessen kunnen tegen een stootje en zijn niet duur. Schoonmaken is soms lastig, omdat de vorm zich daar moeilijk toe leent. Prijziger en zwaarder, maar kwalitatief beter, zijn RVS flessen. Ze zijn ijzersterk en wanneer je een dubbelwandige fles aanschaft, houdt deze in de winter warme dranken langer warm en in de zomer koude dranken langer koel. Fijn tijdens een lange wandeling! Hoe je zo'n fles meeneemt? Nou, in je rug- of heuptas. Het is handig als je een apart zijvak hebt voor je fles, op die manier hoef je niet telkens je tas van je rug te halen. Op de fiets past een grote fles vaak wel in een bidonhouder. Let wel: dit kan herrie veroorzaken als je frame trilt. Een plastic bidonhouder is daarom aan te raden.
Bidon
Beroepsrenners gooien ze tijdens een koers massaal op straat, maar ze zijn uiteraard ook gewoon in de winkel te koop: bidons. Water drinken uit een bidon is zeer makkelijk: je hoeft de dop er niet af te draaien voor een snelle slok. Dat is voor fietsers bijna onmisbaar, want tijdens het fietsen is het onverantwoord om de dop van een fles te draaien. De binnenkant is makkelijk schoon te maken, hoewel dat helaas lastiger gaat met de drinktuit. Laat deze met enige regelmaat weken in sodawater. Het is daarnaast aan te raden om de dop zo nu en dan te vervangen. Overigens bieden diverse fabrikanten van herbruikbare flessen tegenwoordig ook speciale bidondoppen aan. Zo kun je zelf een RVS-fles omtoveren tot bidon.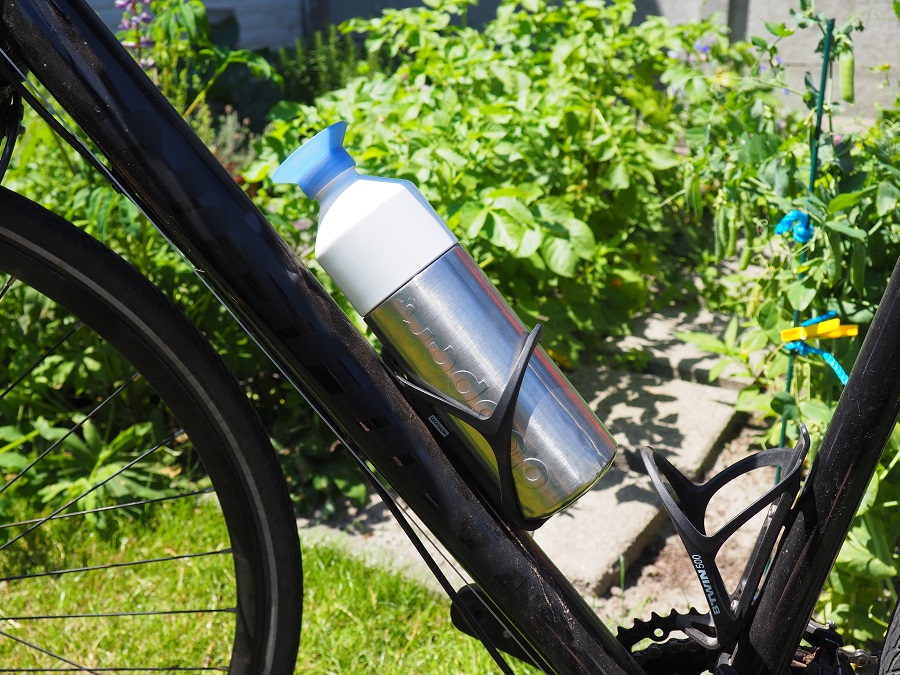 Waterzak
Er bestaan speciale zakken van één à twee liter die je in je rugzak kunt stoppen. In veel goede rugzakken zit zelfs een speciaal vak voor zo'n drinkzak. De zak heeft een slang die je makkelijk vastmaakt aan je schouderband. Onderweg hoef je maar weinig moeite te doen om een slokje te nemen, het bijvullen is echter een stuk lastiger dan het bijvullen van een fles of bidon. Het is ook mogelijk om een speciale waterrugzak aan te schaffen. Een flink nadeel van een waterzak is het schoonmaken, want er mag absoluut geen groene laag in de zak komen. Ook de slang maakt het schoonmaken ingewikkeld. En de waterzak dient daarom met speciale reinigingsmiddelen te worden schoongemaakt, anders ontstaat er te veel bacterievorming.
Opvouwbare drinkfles
Een watervoorziener die je minder vaak spot, is de opvouwbare fles. Hoe meer je drinkt, hoe minder ruimte de fles in beslag neemt. Dat is direct het grote voordeel. Veel opvouwbare flessen kun je overigens ook makkelijk aan je tas hangen door middel van een karabijnhaak. Het nadeel is ook hierbij weer het schoonhouden. Een opvouwbare fles is, evenals de waterzak, een zak waar je onmogelijk met een afwasborstel in kunt. Voor deze objecten geldt dat regelmatig weken met warm water en soda belangrijk is. Daarna uiteraard goed uitspoelen.
Meer weten over water en het belang van water drinken? Kijk eens op deze website met feiten over water.