Klaar voor een wandeling over onverharde paadjes door bos en heide? Deze wandelroute vanuit Kootwijk gidst je langs de Stroese Heide en Kootwijkerzand terug naar het dorp dat aanvankelijk midden in die vlakte van mul zand lag. Een dorp dat verdwijnt en dan weer opduikt: wat is er aan de hand?
'In het Kootwijkerzand herinnert niets aan de eerste bewoners', staat te lezen op een infopaneel in het centrum van Kootwijk, 'hooguit dat onder het zand nog de sporen zijn van de voorgangers van het huidige Kootwijk'. Eeuwen geleden liepen handelsroutes door deze streek, maar niet veel mensen hielden het in deze omgeving uit. Daar zouden de barre zandverstuivingen, de stilte en de eenzaamheid voor iets tussen zitten. De wandelroute begint in het hartje van Kootwijk, een oud dorp op de westflank van de Veluwe. De 13 km lange route gaat grotendeels over onverharde paadjes en zand door bos en heide. Een gebied dus waar je veel wild kunt verwachten. Net voor de Kootwijkerduinen buigt de route linksaf, over een wildrooster en dan een paadje dat door een fraai bos richting hei slingert. Het pad is van mul zand, waardoor je makkelijke sporen van wilde dieren kunt ontdekken.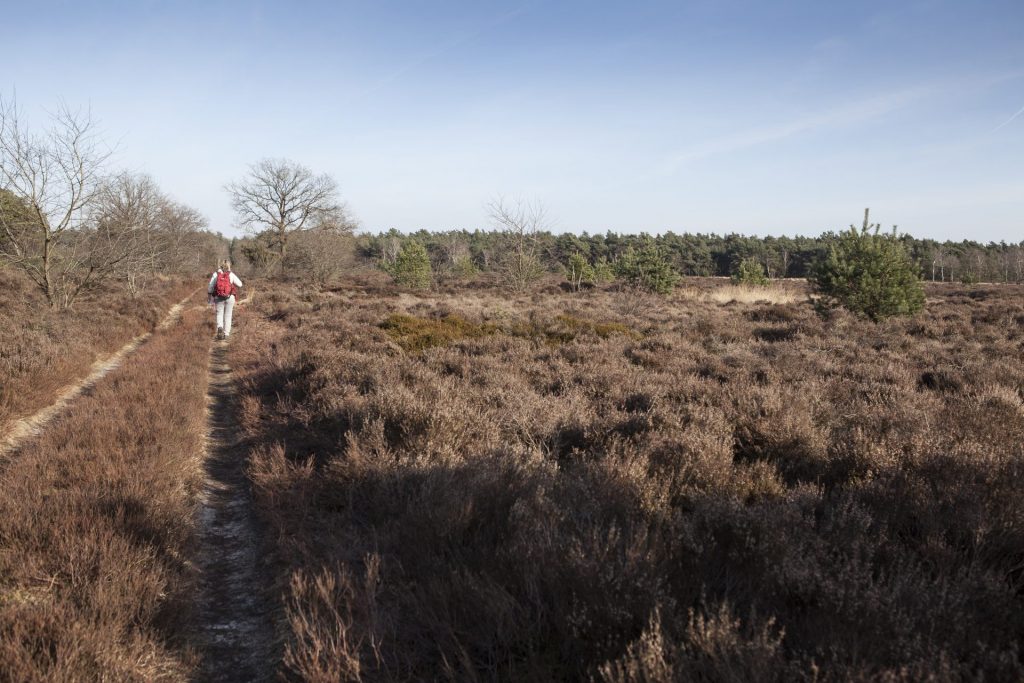 Boswachter Van Emst
De Boswachter van Emstweg, de enige verharde meters op de hele route, scheiden het bos van de Stroese Heide. De wandelpaden voeren langs grove dennen, eiken en bijna veertig meter hoge douglassparren. Het lijkt alsof het bos er altijd is geweest, maar niets is minder waar. De omgeving van Kootwijk was ruim honderd jaar geleden immers helemaal kaal. Daar kwam verandering in toen in veertig jaar tijd ruim 35 miljoen boompjes werden geplant onder leiding van boswachter Gerrit van Emst. Hij werd ook weleens de 'bedwinger van de zandverstuivingen' genoemd. Want dat is wat de bomen doen: de zandverstuivingen tegenhouden.
Kootwijkerzand
Op de Stroese Heide is nog meer te zien, grafheuvels bijvoorbeeld. Ze werden gecreëerd door een volk dat er in 2800 v.C. langs een beek neerstreek en zijn doden in grafheuvels begroef. Verderop is op een bord te lezen dat dit een lastig leefgebied voor planten en dieren is 'met extreem grote temperatuurverschillen doordat regen en wind vrij spel hebben'. Plots doemt de rand van een woestijn van mul zand op. Dit is het Kootwijkerzand. Hier lag ooit het gehucht Dubridun, de voorloper van het later overstoven Kootwijk. Doordat de bodem destijds te intensief gebruikt werd, ging het zand stuiven en in het jaar 1000 besloten de dorpelingen te vertrekken en verderop te gaan wonen. Daar waar deze wandelroute begint en eindigt.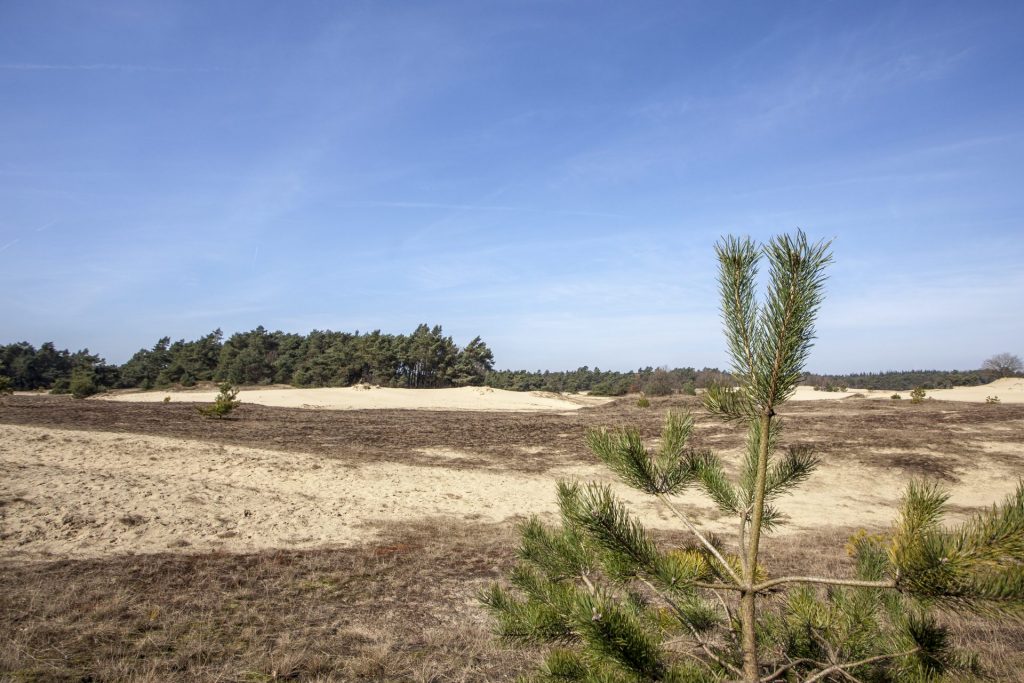 Informatie wandelroute Kootwijk
Afstand: 13 of 15 km
Vertrekpunt: parkeerplekken aan de Kootwijkerdijk, Kootwijk
Routeverhaal: Toeractief 1-2018, pagina 48
Routeboekje: pagina 30
Routecheck
Heb je tijdens het wandelen een wijziging in de route opgemerkt? Geef dit dan door via redactie@toeractief.nl. Meer wandelen in Gelderland? Bekijk dan ook eens onze wandelroutes in Nunspeet of Loenen.