Door: Mark Kras
'Eenden zijn de paradijsvogels van Nederland.' Onlangs hoorde ik Arjan Dwarshuis, onze wereldkampioen vogelsoorten spotten, dit zeggen in de Vogelspotcast. Het duurde even voor het waarheidsgehalte van die uitspraak tot me doordrong. Juist omdat eenden zo alom aanwezig zijn, sta je nauwelijks bij ze stil om ze eens goed te bekijken. Arjan Dwarshuis geeft met zijn opmerking eigenlijk een prachtige kijktip voor de komende periode.
Nederland is niet alleen een kikkerlandje maar ook zeker ook een eendenlandje. We leven in de delta van maar liefst vijf grote rivieren (Waal, Maas, IJssel, Nederrijn en Lek) en nog zo'n 141 kleinere rivieren. En dan heb ik het nog niet over de vele beken of door mensen gegraven kanalen, vaarten en sloten. Kortom, voor watervogels is Nederland een perfecte plek.
De komende tijd zullen we weer veel naar buiten gaan en de tip is om dit vooral in de buurt te doen of eens naar een plek te gaan waar je niet zo snel aan denkt. En als we dan te voet of met de fiets op pad gaan is eenden kijken een mooie uitdaging. Voor eenden begint de paarvorming namelijk in de winter. En wie op zoek is naar een partner zorgt er voor dat hij of zij er op zijn best uitziet. Terwijl de winter vordert zie je eenden dan ook steeds mooier worden.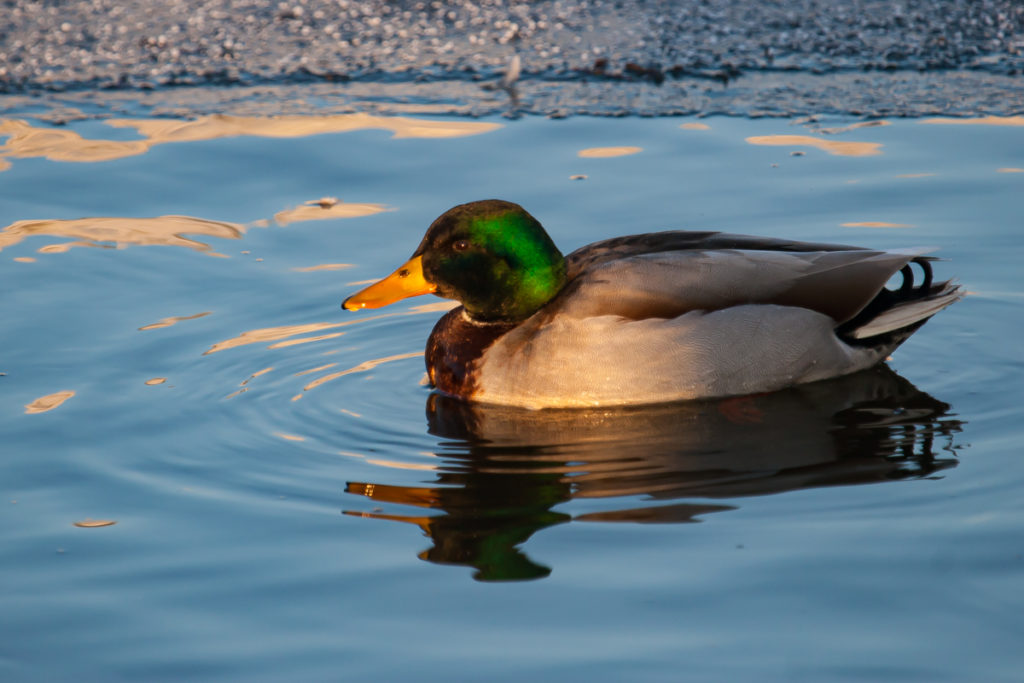 Wilde eend
Iedereen kent wel de wilde eend. Als kind werd ik meegenomen naar de waterkant om de eenden brood te voeren. Je kunt er zeker van zijn dat je toen vooral wilde eenden aan het voeren was. In die tijd vaak een rustige bezigheid. Die drukke meerkoeten en luidruchtige meeuwen hadden de stad nog niet zo als leefgebied ontdekt. Kinderen van tegenwoordig zien minder eenden als ze eendjes gaan voeren. Het gaat namelijk niet goed met de wilde eend. De afgelopen jaren is hun aantal met zo'n 20% achteruit gegaan. Reden voor Vogelbescherming Nederland om tips te geven over het verstandig voeren van eenden. Een van de tips is: zorg dat je niet meer eten geeft dan de dieren in je bijzijn op kunnen. Eten bestaat dan vooral uit onbewerkt voedsel als doperwten en mais en graan( liever niet te veel brood dus). Voordeel is dat je de eenden ook even goed kunt bekijken als je je laatste handje voer hebt gegooid.
Het vrouwtje van de wilde eend heeft een prachtige schakering van bruin in haar verenpak. Ideale kleuren om straks in de lente ongestoord mee te kunnen broeden. De woerd, de mannetjeseend, heeft een blauwgroen glanzende kop. Met het veranderen van het licht zie je dat zijn kop ook steeds iets van kleurintensiteit verandert.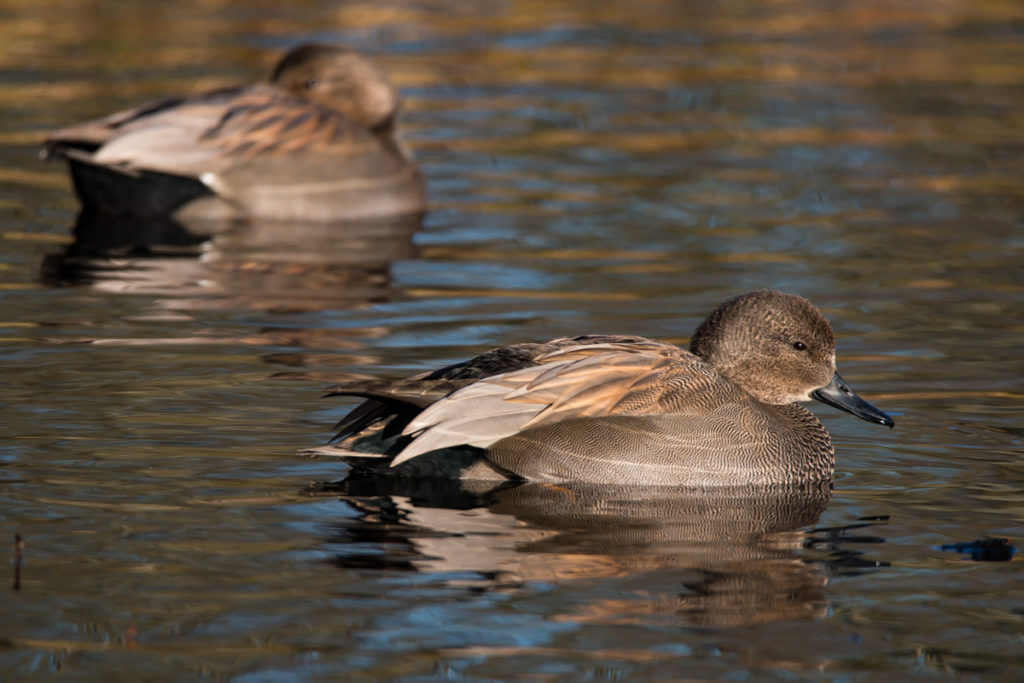 Krakeend
Een nieuwkomer is de krakeend. In de jaren zeventig broedden er nog maar zo'n 500 tot 800 paar in Nederland. Tegenwoordig is het aantal broedparen al zo'n 30.000. Belangrijke oorzaak is het voedselrijker worden van onze wateren. Krakeenden houden namelijk van water met flink begroeide oevers. Opvallend is dat ze in het Haagse Bos de voorkeur hebben voor de kleinere wateren. Net als smienten zijn het planteneters. Voor wie er even bij stilstaat is het mannetje van dit onopvallend grijze eendje wonderschoon. Het duidelijk geschubde grijs op de borst loopt uit naar een steeds fijnere tekening op de flanken. Het gitzwart van de snavel wordt gespiegeld in het zwart van zijn achterwerk. Op de rug liggen bruingrijze dekveren. Een eendje om rustig te bewonderen terwijl je aan de waterkant zit.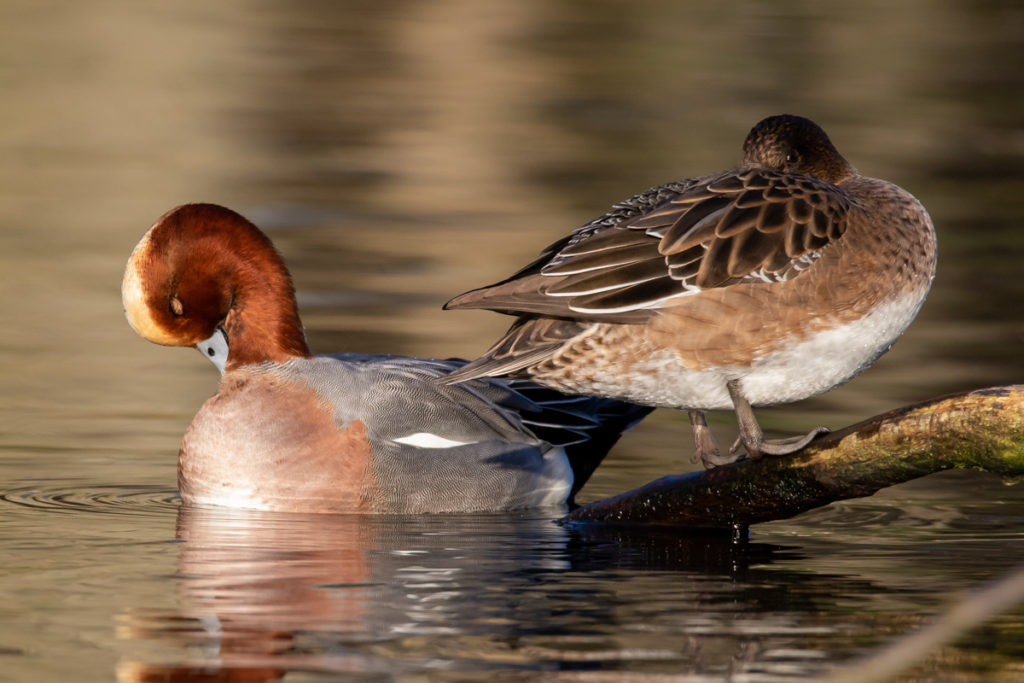 Smient
Als het over de smient gaat, is dat meestal over zijn rauwe fluitje. In de rijke graslanden van West-Nederland is de roep van de smient wat mij betreft hét geluid van de winter. In de sloten en plassen zijn ze lastig benaderbaar. Maar in het Haagse Bos vertrouwen ze erop dat de bezoekers de huisregels netjes hebben gelezen en dobberen ze op enkele meters van de voorbijgangers. Voor mij altijd reden om even door mijn knieën te gaan en gehurkt te genieten van deze prachtige eenden. Met name het roomkleurige geel op het kastanjebruin in de kop van het mannetje is waanzinnig mooi. Bijzonder is dat in het hoge noorden ze in paartjes in zeggepollen in moeras- en vennengebieden broeden. In Nederland kun je ze met tienduizenden tegelijk op grote plassen zoals de Reeuwijkse Plassen aantreffen.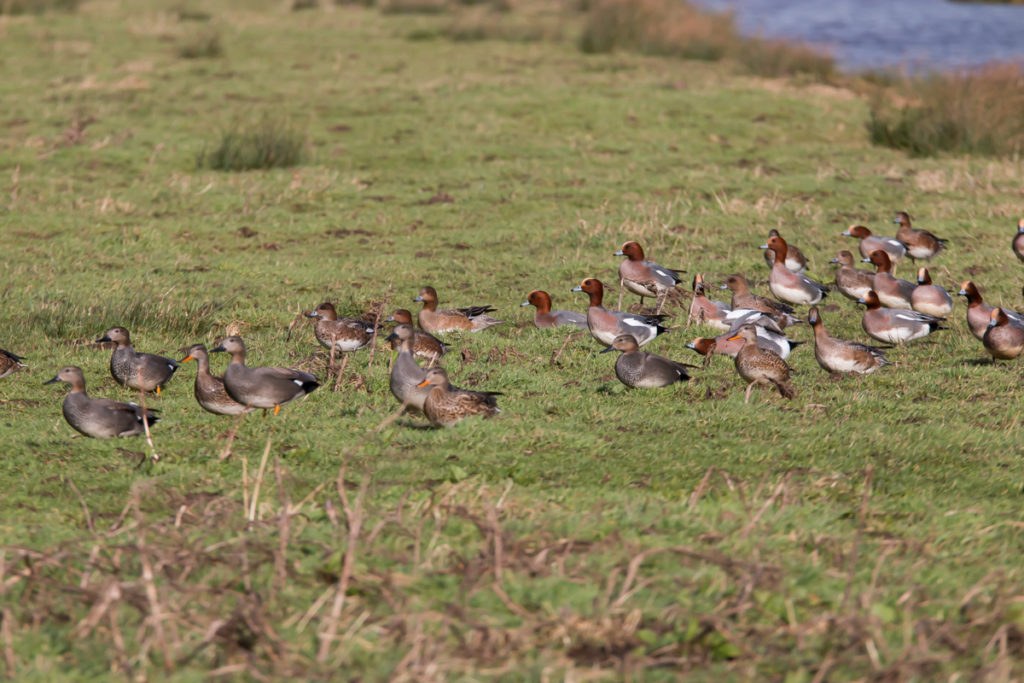 Wonderlijk
Als je Den Haag Centraal Station uitwandelt, kom je heel wat watervogels en duiven tegen. De dieren zijn echte stadse vogels en erg afhankelijk van het voeren door voorbijgangers. Niet voor niets is het Haagse Bos de Groene Stadspoort van Nationaal Park Hollandse Duinen. Kies je er namelijk voor om rechtsaf het Haagse Bos in te wandelen dan kom je op de vijvers oog in oog met de paradijsvogels van Nederland. Prachtige wilde eenden zoals de krakeend, de smient, de tafeleend de slobeend en de kuifeend. Dieren die elders in Nederland heel schuw zijn, hebben in het Haagse Bos de ervaring dat mensen heel voorspelbaar hun rondjes over de paden lopen. En zo krijgt de bezoeker van het Haagse Bos een buitenkansje om in deze winterse maanden te genieten van de kleurenpracht op de koninklijke vijvers van het Haagse Bos
Tip: Eenden voeren: https://www.vogelbescherming.nl/actueel/bericht/mogen-we-nog-eendjes-voeren