Van de ene slaapplaats naar de andere, trekkend door het landschap. Het is zo oud als de mensheid, al kan het tegenwoordig makkelijk, comfortabel en gevarieerd. In het hele land zijn trekkershutten te vinden in de vorm van houten lodges, blokhutten, pods en wijnvaten. De bedoeling van die plekjes? Een fijne slaapplaats bieden aan rondtrekkende fietsers en wandelaars. Natuurlijk kun je ook met een eigen  tentje of zelfs hangmat terecht bij natuurcampings in binnen- en buitenland. Lang leve de minivakantie.
Europa mag dan veel zaken gelijk hebben gesteld; overnachten in de natuur is in ieder land weer anders geregeld. Noorwegen, Zweden en Zwitserland staan bekend om het befaamde  allemansrecht: het recht om vrij te zwerven, fietsen of zwemmen in de natuur, maar soms ook bessen, paddenstoelen of bloemen te plukken. Veelal is ook wildkamperen toegestaan, al is dat in sommige gevallen beperkt en onder voorwaarden. In Nederland hebben we dit allemansrecht niet en is wildkamperen verboden. Het belang om natuurgebieden te beschermen wordt boven het plezier van wildkampeerders gesteld, die in het verleden niet altijd zorgvuldig omgingen met de natuur waar zij bivakkeerden. Een tussenoplossing was het paalkamperen, maar dat is om
dezelfde reden – afval en overlast – in 2020 door Staatsbosbeheer opgeheven. Voor wie wél respectvol de Nederlandse natuur van zo dichtbij mogelijk wil beleven, heeft Toeractief de mogelijkheden op een rijtje gezet. Je hangmat spannen of het oude vertrouwde tentje opzetten, kan bij uitstek in een echt groene omgeving op een natuurkampeerterrein. Al is het wat anders dan echt wildkamperen; er is nog steeds volop natuurbeleving tussen planten, dieren en bomen.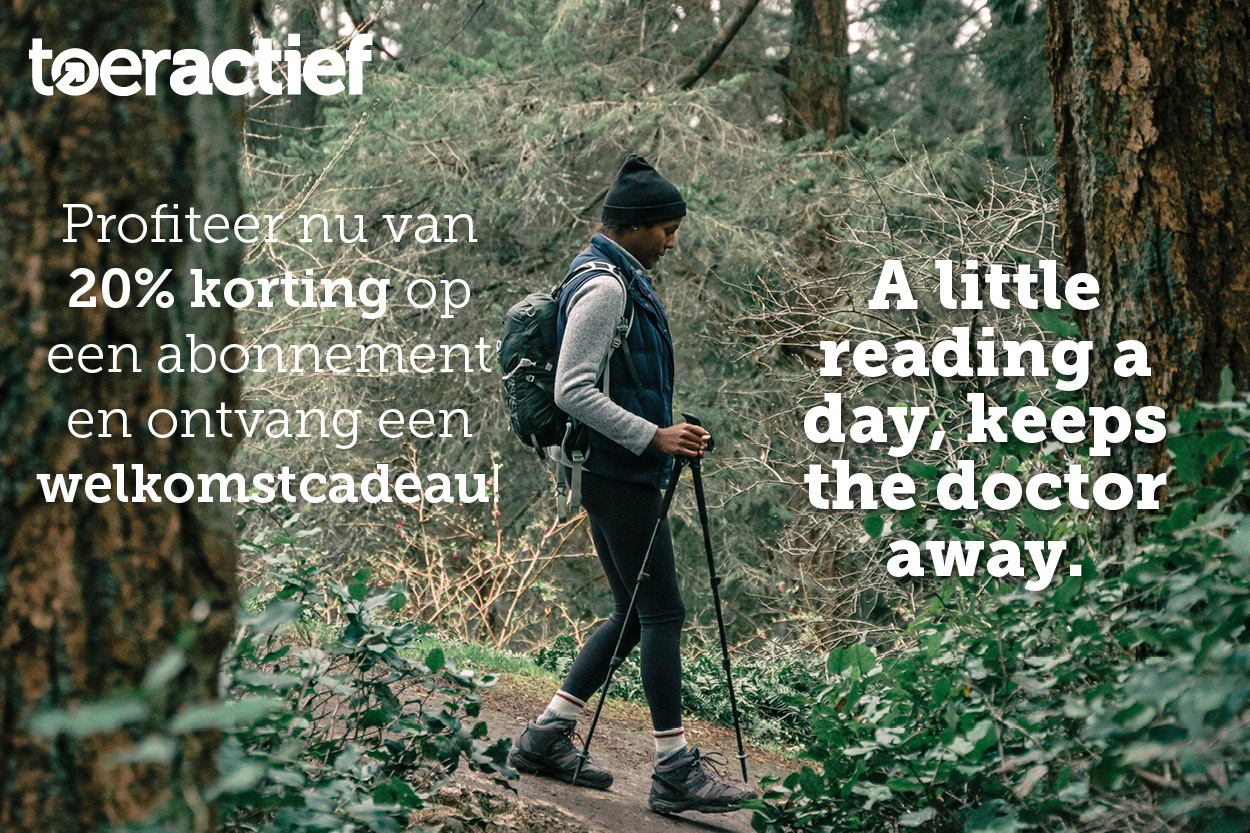 Benieuwd welke mogelijkheden er allemaal zijn om ultiem van de natuur te genieten? Het hele artikel is te lezen in Toeractief 4 – 2023. Dit nummer ligt vanaf 4 augustus tot en met 22 september 2023 in de winkel. Ook kan je dit nummer online kopen op store.bcm.nl/toeractief.