Na twee jaar voorbereiding vertrokken Ben en Linda (XPLORid) op wereldreis met de fiets. Honderdduizend kilometer in totaal door meer dan tachtig landen. Ze verwachten zeven jaar onderweg te zijn. Tijdens hun reis gaan bloggen ze over hun reisavonturen voor Toeractief.
De nieuwe carbon velgen zijn gemonteerd. We kunnen echter nog niet vertrekken. We wachten op een nieuwe lens voor onze camera en moeten daarom vier extra dagen in Sibenik blijven.
We gebruiken de tijd om de route op Komoot te verfijnen en maken een tweetalig promofilmpje voor stichting XPLORid. De Nederlandse versie krijgt op de website Geef vóór en tijdens #givingtuesday op 1 december meer aandacht.
Fietsershand
Linda heeft al een tijdje last van een fietsershand. Ook na een andere instelling van haar handvatten en met handschoenen met gelpadding blijft ze pijn houden. De Vakantiefietser stuurt een Ergotec stuur met een backsweep van 12 graden naar ons postadres in Griekenland. Hopelijk is dit de oplossing voor haar pijnlijke pink en ringvinger.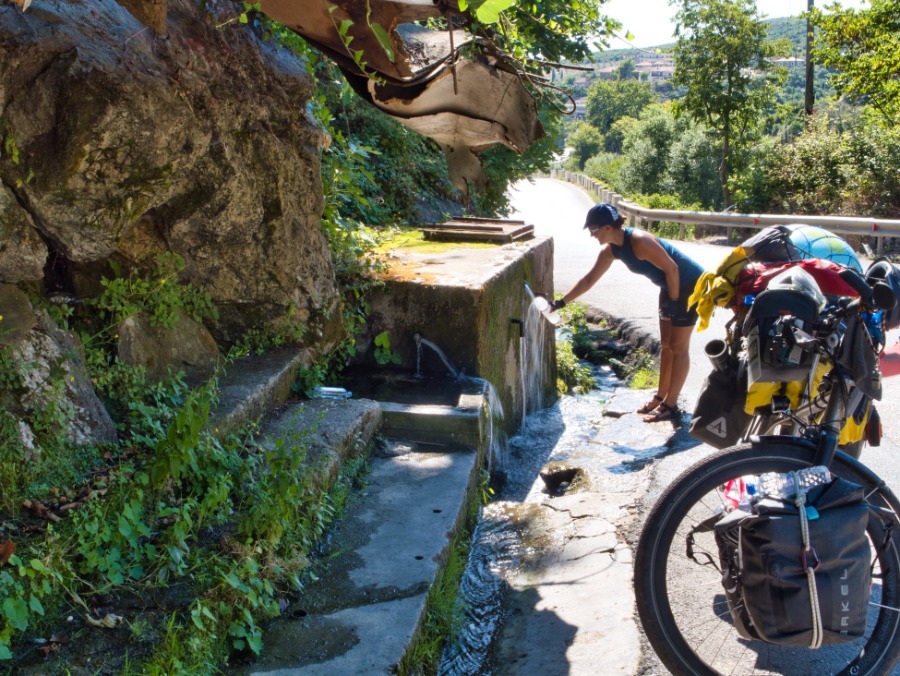 Water en rust
Voor elke vijftien à twintig minuten fietsen zou je 150 tot 300 ml moeten drinken. Wij fietsen (zonder pauzes) vijf uur per dag dus dat is 4,5 liter water. We spreken af dat we vanaf nu vijf liter water per dag meenemen. We voeren ook een siësta in en 's avonds bekijken we de route van de volgende dag om te beslissen waar we stoppen op basis van het aantal kilometers en hoogtemeters.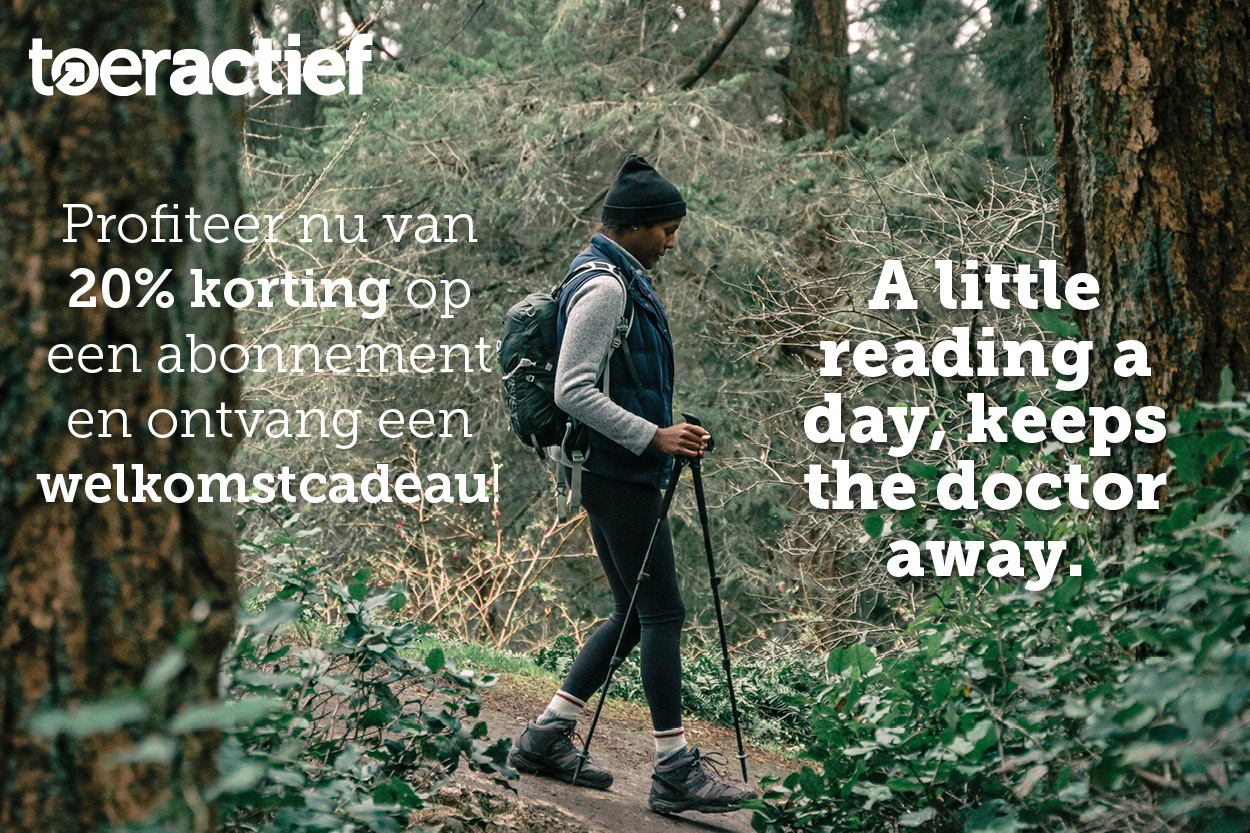 Blij dat we weer fietsen
We fietsen door wijngaarden en hebben uitzicht op de Adriatische Zee. De donkerblauwe zee aan de horizon en de turquoise kleur aan de kust zijn een lust voor het oog. Er is amper verkeer. Dit is hoe we over onze wereldreis gedroomd hebben.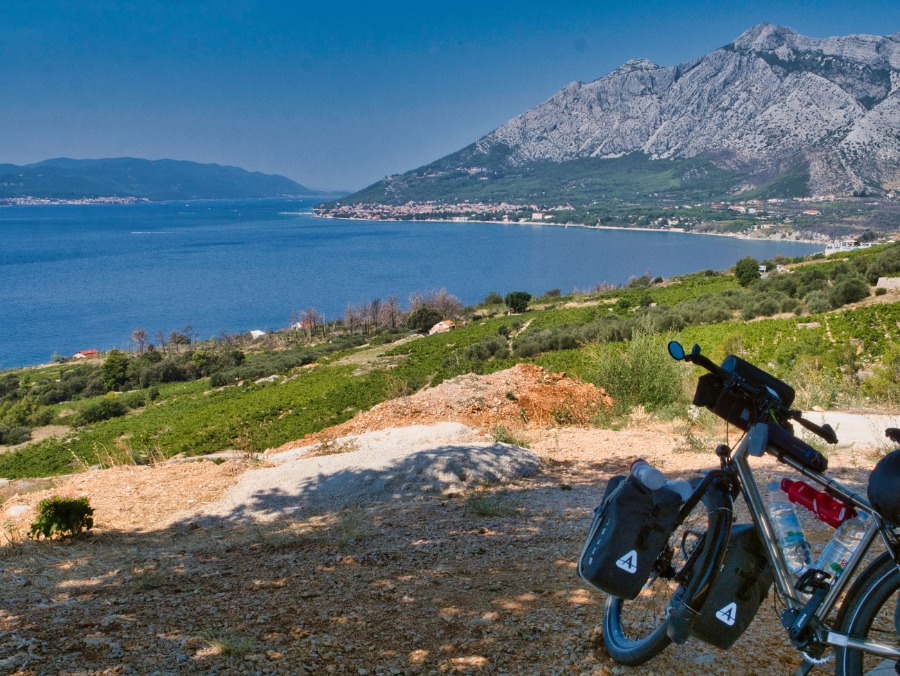 Albanië
Na twee dagen in Montenegro zijn we al in Albanië. We moeten twee dagen over de autoweg fietsen. Er is geen vluchtstrook: we fietsen op de rechter witte lijn. De weg is rechttoe, rechtaan, met druk verkeer. Dat is saai en erg opletten. Zeker als de auto's elkaar inhalen of als er een vrachtwagen voorbijkomt. Na de snelweg is er gelukkig veel minder verkeer, maar het wegdek is bar en boos. We moeten om de gaten heen slalommen. Gelukkig maakt de bevolking alles goed. De mensen zijn heel open en gastvrij. De 'Kanun' is een heel oud gebruik in de Albanese cultuur: het huis van een Albanees is van God en van de gast. Het is gebruikelijk dat je op elk moment jouw gast ontvangt met brood, zout en een open hart.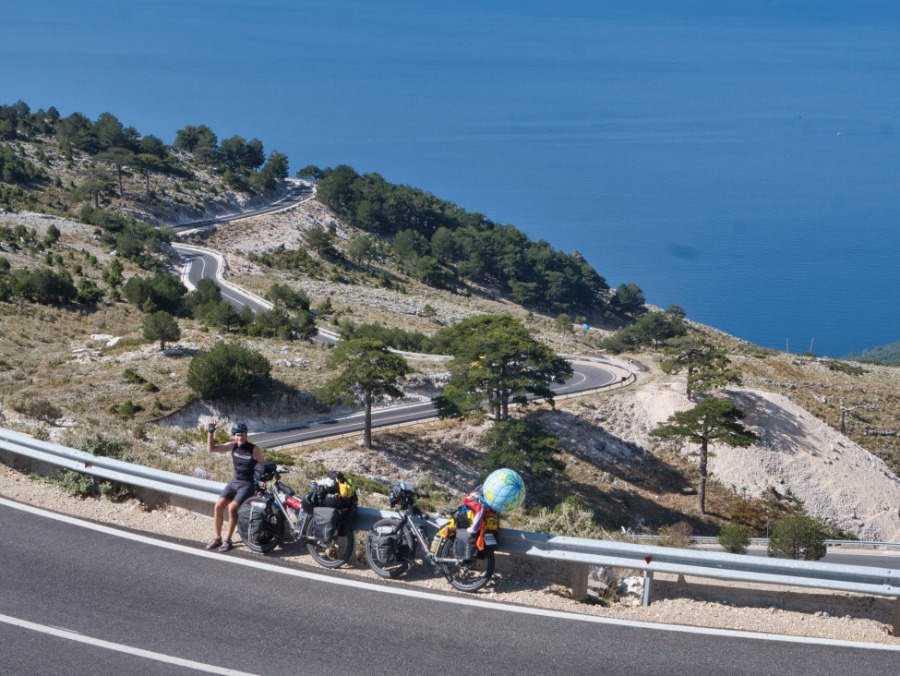 Lekrijden
Het kost veel moeite en kracht om de band van de nieuwe carbon velg te halen. We overwegen andere banden. Idworx adviseert ons om tubeless te gaan rijden en stuurt ons een tubeless-kit en de nieuwste versie van onze buitenband: de Schwalbe Almotion. Deze heeft meer profiel aan de zijkant. Fantastisch hoe Idworx ons tot nu toe helpt en bijdraagt aan onze reis.
Laatste kans
De baaitjes worden kleiner en ongerepter. Dit is de laatste kans om naar het strand te gaan, voordat we het binnenland intrekken. We verlaten onze route en fietsen naar de baai. Daar is een klein beachresort met een zandstrand en rieten parasolletjes. We genieten van de zeewind en de hoge golven.
Wil je meer lezen over ons avontuur? Kijk dan op www.xplorid.today of volg ons op Instagram en Facebook. De exacte route die we gefietst hebben, staat op Strava en Komoot. Lees ook de andere blogs van Ben en Linda, waarin ze alles vertellen over hun voorbereiding op deze fietswereldreis en de eerste duizend kilometer.