Het kleinste eiland van Nederland herbergt een verrassend mooie fietsroute. Helemaal als de zon schijnt! Met het oudste huis op het eiland uit 1575, uitzichten over zee, cranberrycheesecake en meer, is er op fietsroute Vlieland genoeg te ontdekken voor liefhebbers van cultuur en natuur.
Fietsroute Vlieland wordt door ons gefietst op fatbikes: robuuste fietsen met extra brede banden, geschikt voor fietsen op offroadterrein, zoals over zand. Een goede optie op dit eiland, wanneer je dit eens wilt ervaren. De fatbikes zijn onder andere te huur op het eiland bij fietsverhuur Frisia. Toch is hier en daar afstappen onderweg ook de moeite waard.
Niet alleen fietsen
Zo kun je op fietsroute Vlieland wandelen naar de hoogste natuurlijke duintop van Nederland: de Vuurboetsduin. De vuurtoren van het eiland staat erbovenop. Eenmaal boven word je beloond met prachtige uitzichten over zee en over Vlieland zelf. Nog zo'n mooie uitkijk heb je een eind verderop, vanuit de vogelkijkhut die je laat turen over Kroon's Polder. Een natuurgebied vol trekvogels. Houd je meer van cultuur? Museum Tromp's Huys is gevestigd in het oudste pand van Vlieland. Hier kom je alles te weten over de geschiedenis van het eiland.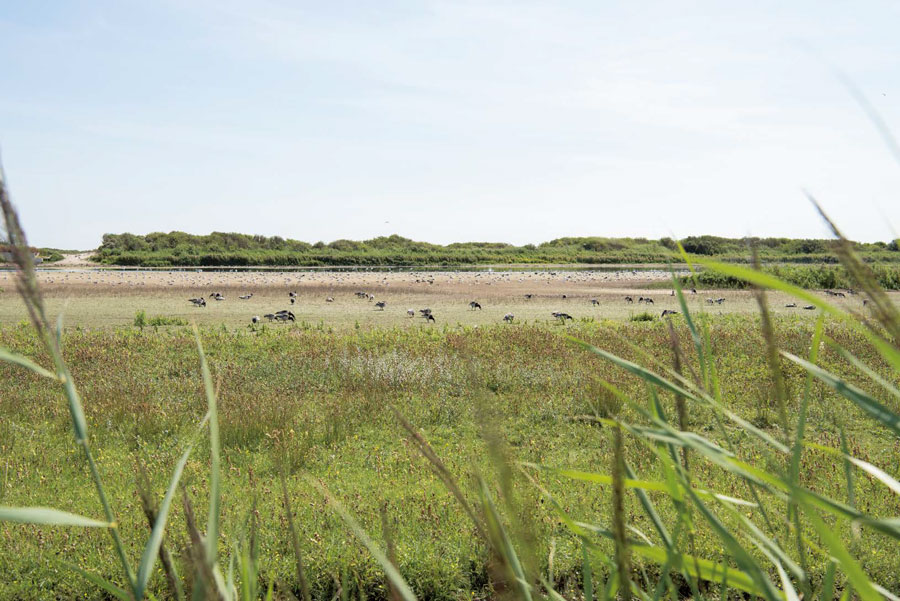 Paviljoens
De weg vervolgt door de duinen, waar je ook kans genoeg hebt het strand ergens op te gaan. Neem pauze bij een van de paviljoens op het eiland, zoals Havenpaviljoen De Dining of Strandpaviljoen Gestrand. Met een lekker ontbijt achter de kiezen of een fijne lunch onderweg is het vakantiegevoel op dit eiland toch het meest compleet.
Bessen plukken
Mocht je het tegenkomen op de menukaart: probeer eens een gerecht met cranberries. Deze groeien op het eiland zelf. De besjes komen in Nederland alleen op enkele Waddeneilanden voor en kun je in de maanden september en oktober op Vlieland plukken. Naast deze fietsroute Vlieland, nog meer reden om aan dit eiland eens een bezoekje te brengen.
Informatie fietsroute Vlieland
Afstand: ca. 20 km (A) en 22 km (A+B)
Vertrekpunt: Veerdienst Rederij Doeksen, Havenweg 8, 8899 BB, Vlieland
Routeverhaal: Toeractief 4-2019, pagina 44
Routeboekje: pagina 28
Routecheck
Heb je tijdens het wandelen een wijziging opgemerkt in de route. Geef dit dan door via toeractief@bcm.nl