Na twee jaar voorbereiding vertrokken Ben en Linda (XPLORid) op wereldreis met de fiets. Honderdduizend kilometer in totaal door meer dan tachtig landen. Ze verwachten zeven jaar onderweg te zijn. Tijdens hun reis gaan bloggen ze over hun reisavonturen voor Toeractief.
We fietsen inmiddels al 3 weken door Griekenland en ervaren een ongekende gastvrijheid. Het begon allemaal vóór de klim naar Ano Poroia. Daar zwaait een oud vrouwtje naar ons. We krijgen twee grote flessen met ijswater voor de laatste klim van de dag.
Bij To Patriko, in het dorpje Sfikia drinken we een frapin. De eigenaar Thomas biedt ons een bed aan in zijn huis boven het café. Het regent de komende twee uur. Op de vervolgroute zijn geen hotels en vannacht gaat het weer regenen. We gaan in op het aanbod. Thomas vraagt of wij willen koken. Hij sluit om 0.00 uur het café en zet alvast een fles wijn koud. Om half één zitten we aan het diner.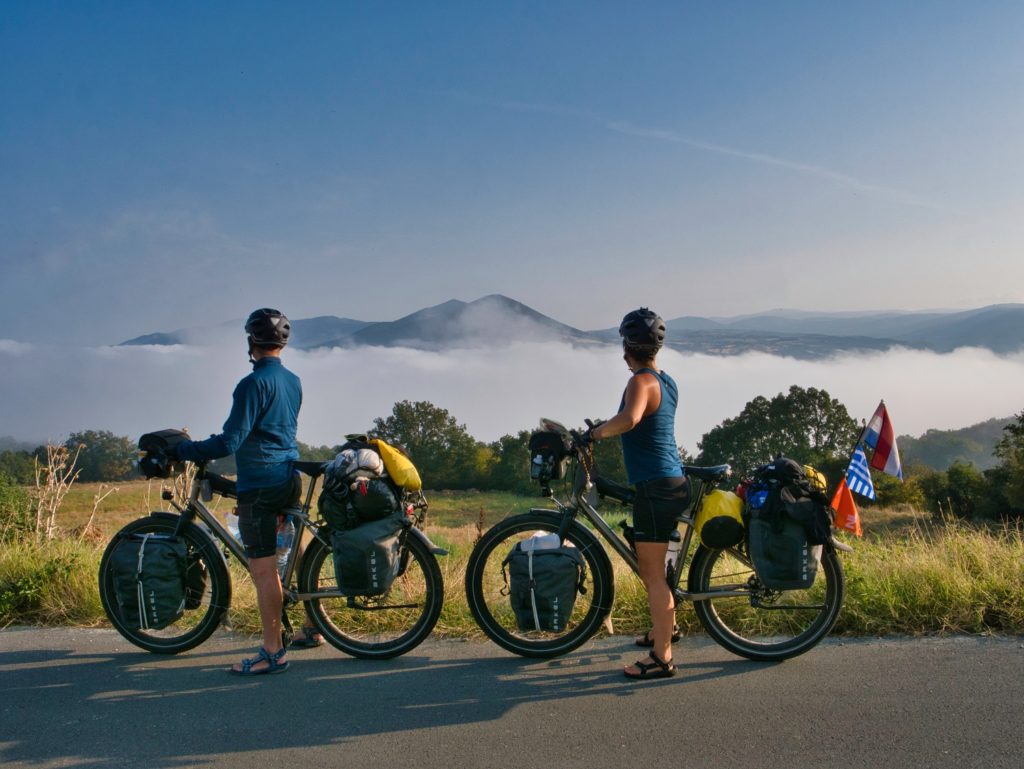 Homestay
Bij een huis in Elati zit een familie buiten. We krijgen een glaasje water. Niet veel later zitten we op het terras met allerlei hapjes. Een kennis van hun is ook fanatiek fietser en woont in Alexandroupolis. Ze nemen contact met hem op en we krijgen zijn telefoonnummer. Later zijn we meer dan welkom bij hem. We kunnen bij de boerderij van de man des huizes slapen. Maar opeens is er een change of plans. Ze hebben contact gehad met de zoon en hij zegt dat ze ons moeten ontvangen alsof hij thuis zou zijn. Ze hoeven geen schrik te hebben voor ons. Mensen die zo'n wereldreis maken, zijn absoluut te vertrouwen. We mogen slapen in het familie appartement. We krijgen tosti's, melk en koffie als ontbijt. Met handen en voeten zeggen we dat we lekker geslapen hebben en dat het ontbijt een goede bodem is om weer een stukje te gaan fietsen.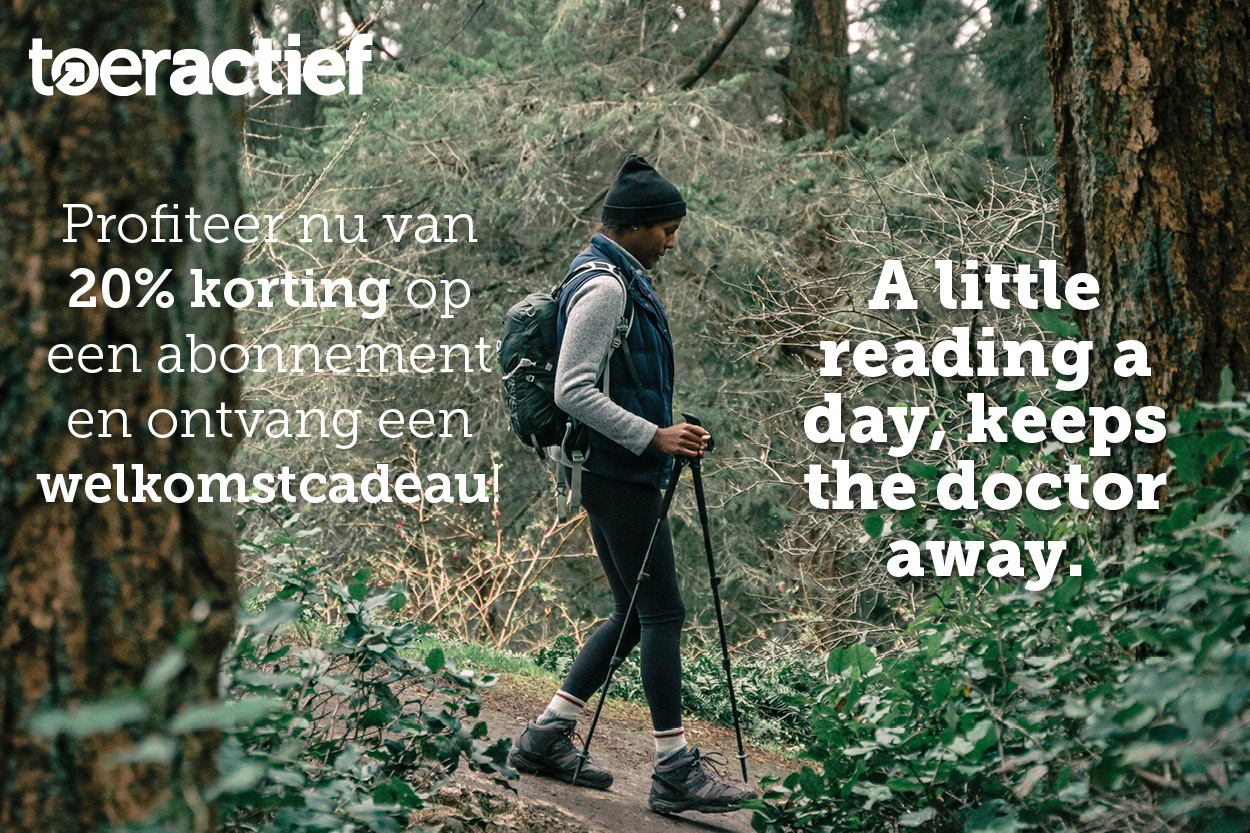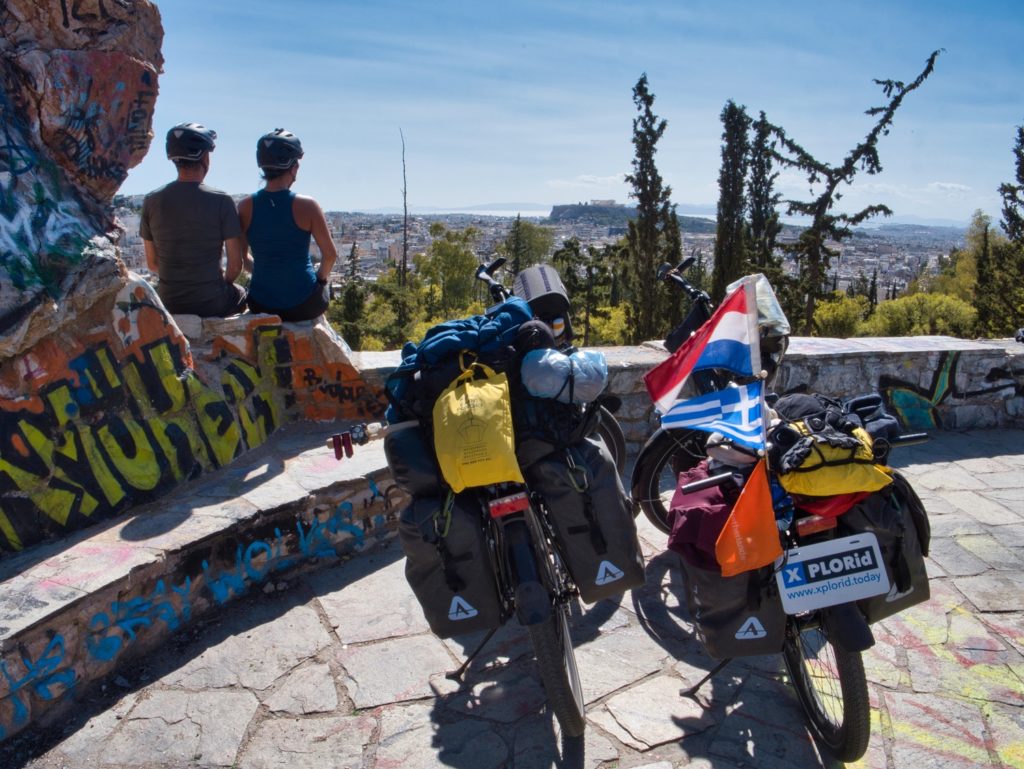 Vakantiewoning
In het dorpje Pili zoeken we een plek voor de nacht. Een dame die net wilt wegrijden, zegt dat we achter haar aan moeten rijden. Katerina wijst ons de veranda van een leegstaande woning. Ze skypet met de eigenaar. Het is een Italiaans stel dat in Brussel woont. We vertellen ons verhaal waarop we zowaar binnen mogen slapen. Katerina brengt ons later eten. Wat een gastvrijheid! Om acht uur zijn we uitgenodigd voor het ontbijt. We weten niet wat ons overkomt. Een tafel vol met heerlijke homemade gerechten wordt klaargezet. Katerina heeft zelfs een cake gebakken. We krijgen de rest van het ontbijt mee als lunch. Ook twee granaatappels voor goed geluk en twee potten met jam en nog een pot met kweeperen. We geven aan dat we al volgepakt zijn, maar weigeren kun je zoiets niet.
Athene
In Athene hebben we afgesproken met Sylwia, die we in Delphi ontmoet hebben. Zij laat ons de prachtige smalle straatjes van Anafiotika zien. Ze vertelt ons over haar passies. Ze stimuleert anderen om te gaan fietsen door zelf het goede voorbeeld te geven en fietsles aan te bieden. We genieten van alle gastvrijheid, ontmoetingen en traktaties. Dat maakt onze reis heel bijzonder. Wil je elke dag lezen hoe het met ons gaat, kijk dan op onze Facebookpagina en ons Instagramaccount.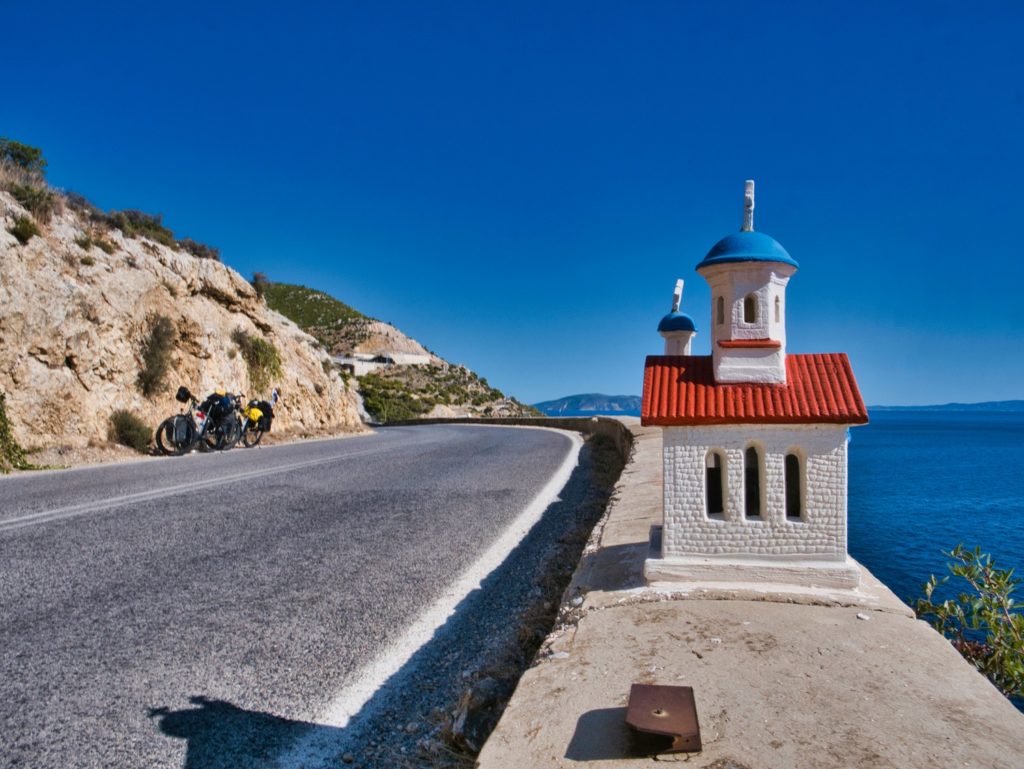 Wil je meer lezen over ons avontuur? Kijk dan op www.xplorid.today of volg ons op Instagram en Facebook. De exacte route die we gefietst hebben, staat op Strava en Komoot. Lees ook de andere blogs van Ben en Linda, waarin ze alles vertellen over hun voorbereiding, de eerste kilometers en de pech die ze onderweg al hebben gehad.