De eerste provincie in Canada die we binnenfietsen is New Brunswick. Vanaf hier tot helemaal in Vancouver volgen we grotendeels de Trans Canada Trail. Ook bekend als de Great Trail (Le Grand Sentier).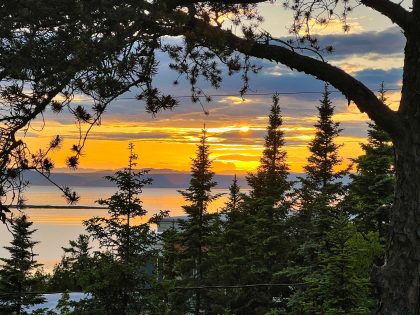 Als we de tweede provincie van Canada binnenkomen, is La Route Verte onderdeel van Le Grand Sentier. We fietsen langs de St Lawrence rivier. Men zegt dat dit deel van Canada de op één na mooiste zonsondergang ter wereld heeft. Quebec staat ook bekend om haar verfijnde keuken. We genieten vooral van de croissants! Alsof we in Frankrijk zijn. 
Quebec City 
In Lévis nemen we de veerboot naar de andere kant van de St. Lawrence rivier. We zijn in Quebec City. Een kleine stad met heel veel charme. Ontelbare creatievelingen, antiquiteiten en boetieks in prachtig onderhouden gebouwen.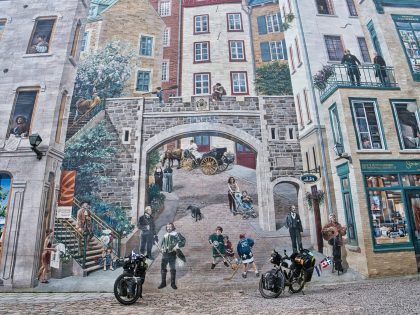 We spotten meteen de beroemde plek: Du Petit-Champlain. Als we door het smalle straatje lopen, komen we  aan de andere kant op een plein uit met daarachter een hele steile heuvel. We overleggen of we de Côte de la Montagne beklimmen om een ​​stadstour te maken. Linda gaat ervoor! 
Alle voorbijgangers zijn verbijsterd als ze ons met beladen fietsen de heuvel zien beklimmen. Ze juichen en geven ons een duimpje. Een man roept zelfs tegen Linda dat ze een inspiratie is en legt het snel op beeld vast.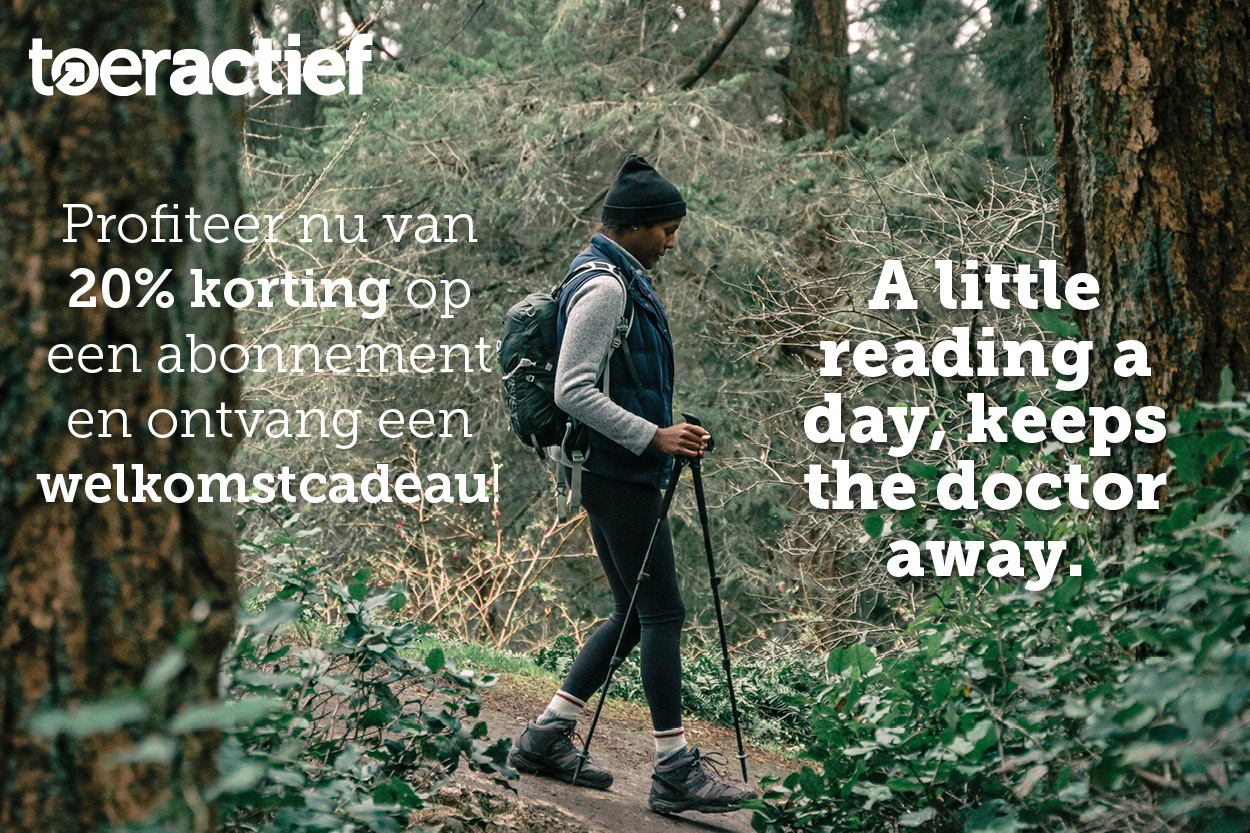 Sherbrooke 
De fabriek van onze fietstassen ligt op onze route. We willen het Arkel team graag ontmoeten. We maken kennis met Yves en de nieuwe eigenaar Marc. De vibes zijn vooruitstrevend en vernieuwend. Het bezoek staat natuurlijk in het teken van fietsen, uitrusting en de ongewone dingen die we de afgelopen 2 jaar hebben meegemaakt.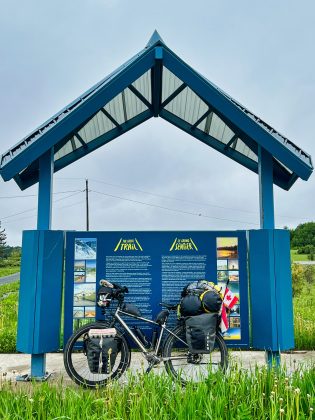 Montreal 
Als we door Montreal naar ons Warmshowers adres fietsen, zien we bij een fietsenzaak in de etalage een bord van de Rocky Mountains. Binnenkort staat ons deze epische uitdaging te wachten. Maar eerst gaan we nog naar Ottawa, Toronto en de Niagara Falls in Ontario.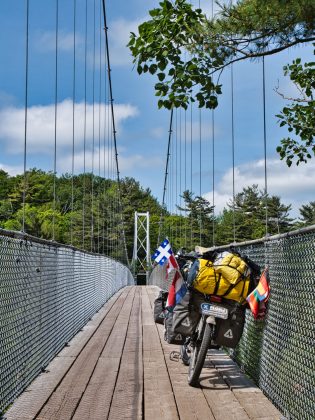 We weten nu dat we vóór oktober de Rockies moeten oversteken. Anders zitten we vast in de sneeuw of wordt het te koud. Fietsend redden we dat niet. Canada is groot! Daarom nemen we in Sudbury (Ontario) de trein naar Edmonton (Alberta). Zo slaan we meer dan @ km van met name de Canadese prairies over en hebben we geen verlenging van ons visum nodig. We gaan de VS weer in, voordat ons Canadese toeristenvisum van 6 maanden verloopt.