Fietsend rond het Sneekermeer zie je fonkelend water, deinende bootjes en niet te vergeten: de eerste voorjaarsbloemen. Zelfs voor inwoners van de stad zelf, bleek fietsroute Sneek nog verrassend mooi. En honderd procent Friesland.
Volop groen landschap en kabbelend Hollands water dus. Maar op deze route is het niet alleen de natuur waar je van kunt genieten. Fietsroute Sneek brengt je ook langs vele leuke bezienswaardigheden en cultureel erfgoed, zoals Penninga's molen, boerderijen en Museum Joure.
Douwe Egberts
Museum Joure geeft je een kijkje in de geschiedenis van het bekende merk Douwe Egberts. Ruik de geur van versgebrande koffie, terwijl je in de historische gebouwen op het terrein een kijkje neemt, waar regelmatig nog oude ambachten worden beoefend. In de tuinkamers van de familie die er ooit woonde, kun je tegenwoordig terecht voor een lekker kopje koffie. Of bezoek het oude winkeltje, waar nog altijd dingen als zoethout en polkabrokken te koop zijn.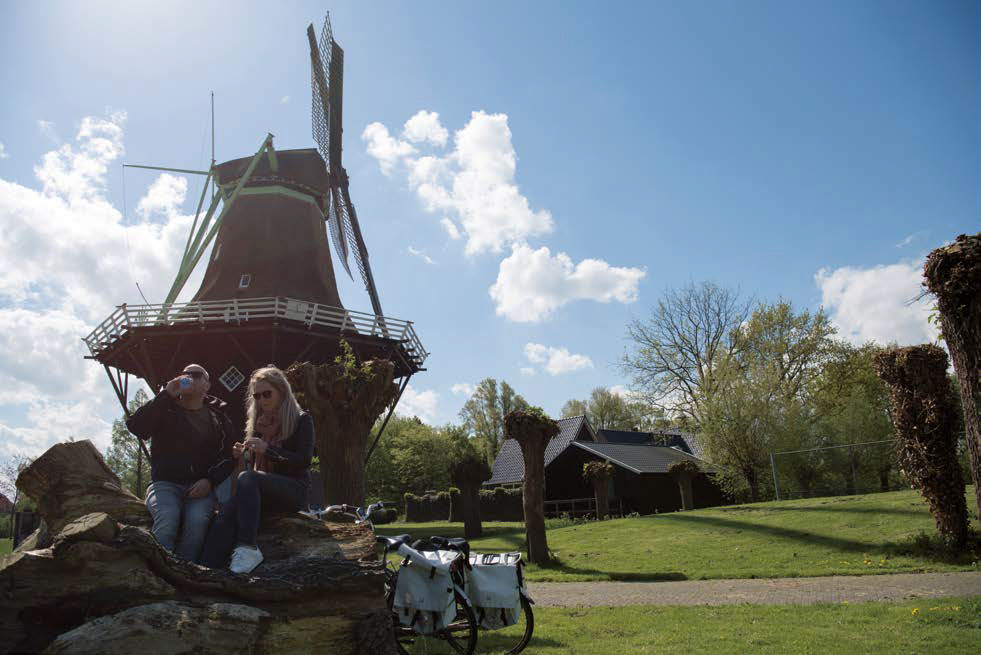 Schippers van de Kameleon
Fietsroute Sneek geeft je bovenal het 'Kameleonsgevoel', verwijzend naar de jeugdserie De Schippers van de Kameleon. Om deze ervaring compleet te maken, kun je onderweg een bezoekje brengen aan het Kameleondorp in Terherne. Hier beleef je de verhalen uit de serie zelf een beetje mee. Al met al een fietsroute vol groen, Fries landschap en herinneringen aan vroeger tijden.
Bezienswaardigheden fietsroute Sneek
Wat zijn de hoogtepunten op deze route en mooie bezienswaardigheden? Wij zetten ze voor je op een rij:
Museum Joure
Een familiemuseum over vakmanschap, techniek en ondernemerszin, met name van Douwe Egberts en zijn familie. Je kun hier terecht om oude ambachten te aanschouwen of om in nostalgie koffie te drinken.
Kameleondorp Terherne
Voor een dagje uit in de sfeer van De Schippers van de Kameleon.
Penninga's Molen
Een authentieke korenmolen die nu en dan ook daadwerkelijk nog draait.
Fries Scheepvaart Museum
Hier leer je alles over Sneek en over de Friese scheepvaart. Het ontdekken waard!
Amicitia Hotel
Een gemoedelijk hotel met beauty- en wellnessfaciliteiten vlakbij het centrum van Sneek. Fijn om de route te starten of in de avond hier terug te keren.
Informatie fietsroute Sneek
Afstand: ca. 47 km
Vertrekpunt: Station Sneek, Dr. Boumaweg 16, 8601 GM, Sneek
Routeverhaal: Toeractief 2-2019, pagina 10
Routeboekje: pagina 4
Routecheck
Heb je tijdens het wandelen een wijziging opgemerkt in de route. Geef dit dan door via toeractief@bcm.nl