In deze tijd van het jaar is een blotevoetenpad een leuk uitje. Op zo'n speciaal aangelegd pad voel je de aarde waarop je loopt. Bevrijd jezelf van schoenen en sokken en voel het zand tussen je tenen. Toeractief zocht vijf leuke blotevoetenpaden voor je uit, verspreid door het land. Aan de wandel!
Wat is een blotevoetenpad?
De naam zegt het eigenlijk al: een pad waar je blootvoets overheen wandelt. Gevaarlijk? Nee, want deze paden zijn speciaal aangelegd, zodat je ze veilig kunt belopen. De blotevoetenpaden zijn korte wandelroutes over verschillende soorten ondergrond: van zacht gras en fijn zand tot grind, houtsnippers en dikke takken. In Nederland heb je zowel gratis blotevoetenpaden die Staatsbosbeheer onderhoudt als paden waar je een kleine bijdrage voor betaald. Meestal kun je bij deze betaalde paden je schoenen opbergen en voeten na afloop wassen.
Tips als je blootvoets gaat wandelen
Neem een handdoek mee om je voeten mee af te drogen. Vaak staat er aan het einde van een blotevoetenpad een kraantje en bank waar je je voeten schoon kan spoelen, voordat je je schoenen weer aantrekt. Extra tip: neem ook een flesje water mee als je niet zeker weet of er een kraantje is om je voeten te kunnen wassen.
Controleer na het wandelen goed op teken; vooral je voeten en benen. Ben je gebeten door een teek? Lees hier wat je dan moet doen.
Honden zijn niet toegestaan op blotevoetenpaden.

De vijf leukste blotevoetenpaden
Het blotevoetenpad in Zeewolde (Flevoland) gaat over het voormalige boerenerf van de Sternhof met ondergronden als mos, houtsnippers, modder, grind, steen en een wiebelbrug. De route voert je ook door de bloementuin, een grote biologische moestuin en een doolhof. De wandeling is twee kilometer lang en onderweg kunt je uitrusten op hoge bungelbanken.
Het Blote Voeten Zeebodempad kost € 3,50. Bij het betalen krijg je een zakje voetenbalsem mee. In juli en augustus is het pad iedere dag open van 10.30 tot 17.30 uur. Van mei tot en met september is het pad alleen open op woensdag, zaterdag en zondag.
In het Westerkwartier in Groningen vind je het Blotevoetenpad Opende van Staatsbosbeheer. Het pad kent een korte (1,6 km) en lange (3,4 km) route. De route voert je voeten door gras, water en modder. Onderweg is het heerlijk uitrusten op een bankje of in een hangmat.
Het Blotevoetenpad Opende is het hele jaar gratis toegankelijk en open tussen zonsopgang en zonsondergang. Leuk startpunt is de Theetuin Blotevoetenhof.
Tip: Er zijn meerdere startpunten voor deze blotevoetenroute. Startpunt Peebos is een aanrader, omdat daar afspoelbakken voor je voeten en toiletten zijn.
In het zuiden van Limburg vind je één van de grootste blotevoetenpaden van de Benelux. Het pad van het BloteVoetenPark Brunssum is maar liefst vier kilometer lang. Het park kent veel avontuurlijke elementen, zoals spannende hindernisbanen, modderpoelen, een doolhof en schuilhutten. Ook vind je er een spreukenlaan en spirituele elementen zoals de Keltische boomhoroscoop en onthaastingscirkel.
Het BloteVoetenPark Brunssum is voor € 8,50 te betreden. Kinderen van drie tot en met twaalf jaar betalen € 4,50 en kinderen tot en met twee jaar hebben gratis toegang.
In verband met het coronavirus heb je enkel toegang met online tickets die je op voorhand koopt. Daarnaast zijn er speciale maatregelen van kracht. Kijk op de website voor meer informatie.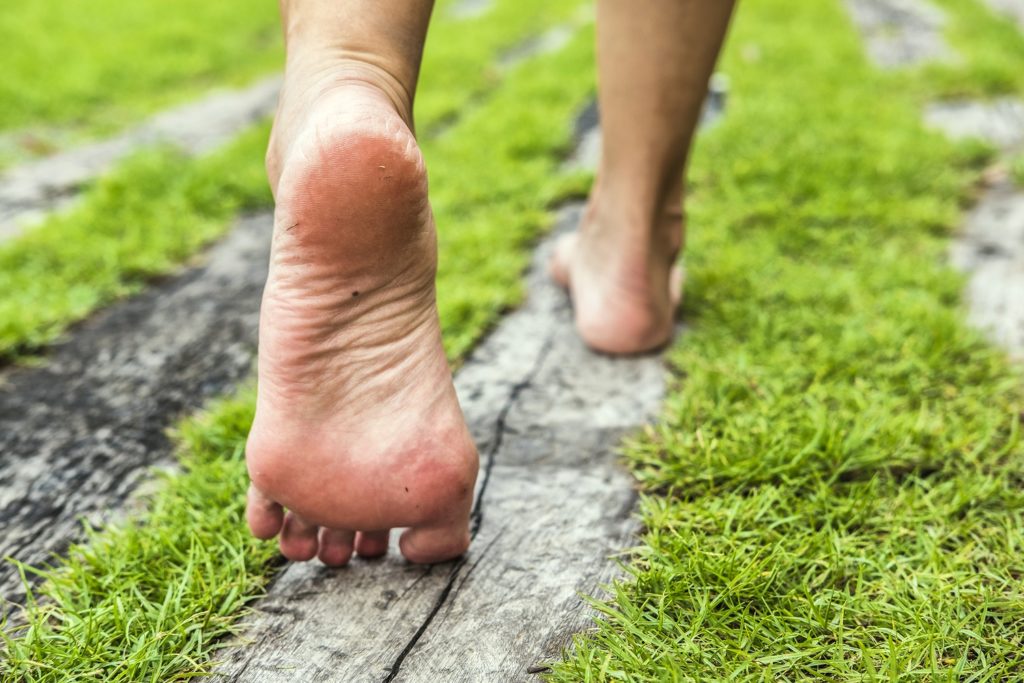 In het Brabantse Deurne vind je het blotevoetenpad Toon Kortoomspark. Je kunt de Peel ruiken, voelen en beleven. Je wandelt onder andere over turf, stenen, mos, water en modder. De uitgezette route is ongeveer 2,5 kilometer maar heel makkelijk in te korten of uit te breiden. Het blotevoetenpad kent onderweg veel belevenissen, zoals evenwichtsbalken, een moddersloot en uitkijktorens.
Blotevoetenpad Toon Kortoomspark kost € 5,00 per persoon. Kinderen tot twee jaar bezoeken het pad gratis. Het park is open van woensdag tot en met zondag van 10.00 tot 17.00 uur. In de zomerperiode (1 april tot en met 30 september) is het park een uurtje langer open en tot 18.00 uur te bewandelen.
Het 2,5 kilometer lange blotevoetenpad in het Gelderse Twello voert je over een wilgenpad, door het moeras, door het bamboebos en eindigt op een schateiland. Onderweg kun je uitrusten in de Groene Huiskamer, waar je binnen tussen de exotische planten zit. Bij de entree zijn kluisjes waar je je spullen op kunt bergen en na afloop was je je weer schoon in de buitendouche.
Op je blote voeten wandelen in Buitenpost kan voor €5,00. Kinderen jonger dan vier mogen gratis naar binnen. Het pad is iedere dag van 10.00 tot 17.00 geopend.
Liever wandelen met (wandel)schoenen aan? Kijk eens naar een van onze vele mooie wandelroutes.