Trek jij er weleens met je fiets op uit in Noord-Brabant? Grote kans dat je dan het nieuwe label 'Brabants Fietscafé' tegenkomt. Horecagelegenheden die dit label dragen, voorzien allerlei faciliteiten speciaal voor fietsers en liggen vlakbij fietsknooppuntroutes. Ideaal om je fietstocht te starten, om even te pauzeren voor iets lekkers of om halt te houden wanneer je materiaalpech hebt.
De slogan 'Fietsen doe je in Brabant' op de bekende fietsroutepanelen langs knooppuntroutes maakt direct duidelijk dat Noord-Brabant de fietsprovincie bij uitstek is. Dat is vooral te danken aan het afwisselende Brabantse landschap met pittoreske dorpen, indrukwekkende steden en een prachtige natuur altijd op fietsafstand, verbonden via een uitgebreid fietsroutenetwerk. En juist ook de vele uitstekende horeca en typische Brabantse gastvrijheid dragen bij aan de populariteit.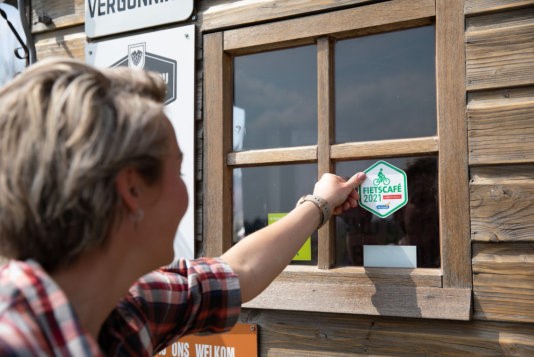 Alles voor de fietser
Waar je ook fietst in Noord-Brabant, via het netwerk van Brabantse Fietscafés vind je voortaan de ideale pauzeplaats. Je herkent de fietscafés aan de zeshoekige sticker. In zulke horecazaken kun je niet alleen iets eten of drinken, je kunt er ook je e-bike opladen en je bidon vullen. Bovendien zijn er op deze plekken een fietsreparatiekit, een EHBO-set, een fietspomp en fietskaarten voorhanden.
Brabantse Fietscafés op unieke locaties
Momenteel zijn er twintig diverse Brabantse Fietscafés die direct aan of vlakbij de fietsknooppuntroutes liggen, vaak op een unieke locatie. Van Kasteel Heeswijk en Oorlogsmuseum Overloon tot Recreatiepark TerSpegelt in Eersel en Taverne d'n Ouwe Brandtoren in Reusel. Dit jaar zouden nog tientallen horecazaken dit label krijgen. Je kan als fietser in Noord-Brabant dus met een gerust hart op weg.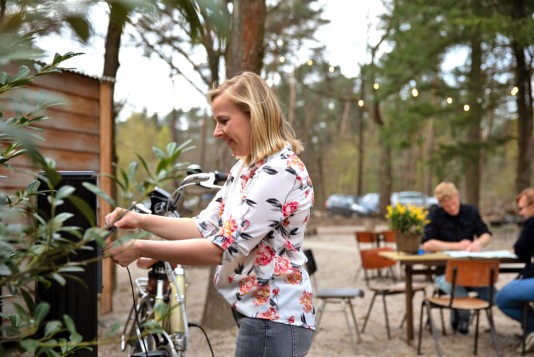 De Brabantse Fietscafés zijn te vinden op de website van Visit Brabant. Een fietsroute uitstippelen via de knooppunten kan eenvoudig via de routeplanner op routesinbrabant.nl of ontdek natuurlijk een van onze unieke fietsroutes in Noord-Brabant.