Dertien legendes langs waterwerken en –wegen, zeven schatjes in zeven stadjes en twaalf gedichten om je hoofd mee leeg te maken. Waterland van Friesland zit vol onontdekte verhalen. De drie verhalenroutes leiden je kriskras door Zuidwest Friesland. Ga je mee op vakantie in eigen land?
Verhalenroutes van Friesland Waterland
De verhalenroutes van Friesland Waterland vertellen over de samenwerking en strijd met het water, zeven Elfstedensteden en over de rust en ruimte van de Friese natuur. Je kunt je eigen routes combineren of een bestaande route kiezen. Zo wandel, fiets óf vaar je gemakkelijk van het ene verhaal naar het andere.
Wandelen én fietsen
Rondom het Nationaal Landschap Zuidwest Fryslân en de Friese meren ligt ruim duizend kilometer aan wandelpaden. Daar ben je dus wel even zoet mee. En wist je dat Friesland met vijf sterren opnieuw verkozen is tot fietsregio van Nederland? In Waterland van Friesland ligt ruim achthonderd kilometer aan fietspaden die onderdeel zijn van het uitgekiende fietsknooppuntnetwerk. De knooppunten brengen je onder andere langs meren, kliffen, weilanden en historische steden. Zo zie je maar weer: je hóeft echt niet ver te reizen voor een vakantiegevoel.
Route 1: stromen
Als je op vakantie gaat in Friesland Waterland, kan een reisje door het water natuurlijk niet ontbreken. Over het ontstaan van het grootste Friese meer, het Tjeukemeer, gaan vele verhalen. Is het mensenwerk? En komt de naam van de volkslegende over de zusjes Tsjûke en Marchje? Kom erachter tijdens de verhalenroute langs dit boegbeeld van Waterland. Ook het verhaal van het verdronken land Elahuizen is de moeite waard. In 1680 stuwde de wind het water zo hoog op dat een heel dorp erdoor verdronk. Vaar naar de zwart-gele kardinale boei in het Friese meer de Fluessen om te zien waar vroeger de kerk van Elahuizen stond. Hoor jij de kerkklok nog luiden?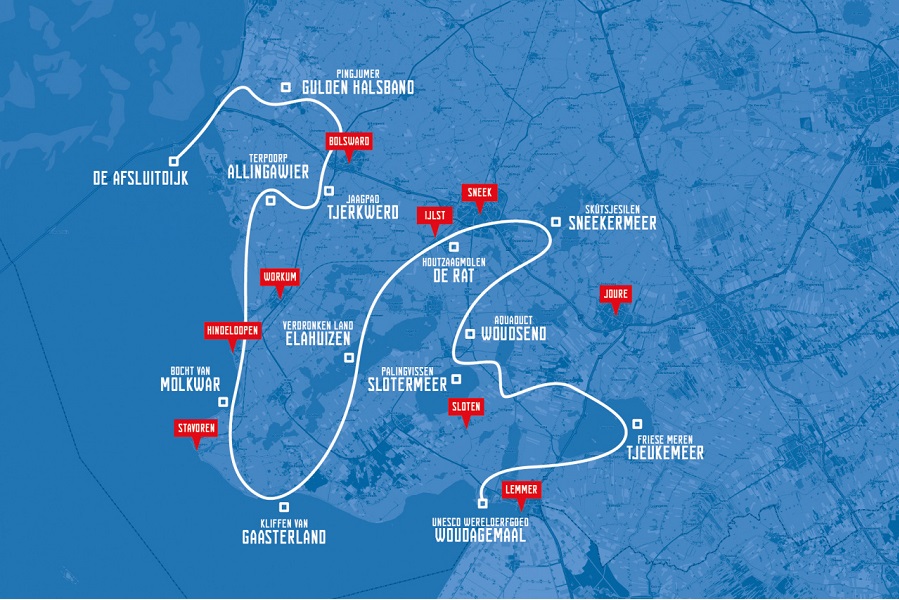 Deze en nog veel meer verhalen kun je ontdekken tijdens de verhalenreis langs waterwerken en –wegen.
Route 2: stedentrip
Een stedentrip in eigen land? Dat kan gewoon. Ontdek de schatjes van zeven Friese stadjes tijdens deze verhalenroute. In iedere stad is een ander mooi verhaal te vinden. Zo vind je in handelsstad Stavoren de volkslegende over het hooghartige vrouwtje van Stavoren. Hierin gooit ze een gouden ring in de zee, die later gevonden wordt in de maag van een gevangen vis. De moraal: geld maakt niet gelukkig. Workum is tevens een bezoekje waard: volgens meesterschilder Jopie Huisman was deze stad het paradijs op aarde. Hij zei zelfs: 'De hemel kan voor mij nooit mooier zijn dan dit'. Ook IJlst is een pareltje: hier vind je de fontein 'onsterfelijke bloemen'.  De Japanse kunstenaar Shinji Ohmaki beeldt hier het ontstaan van de stad uit door bloeiende Friese stinzenplanten te combineren met de oude Japanse bloemschikkunst 'Ikebana'.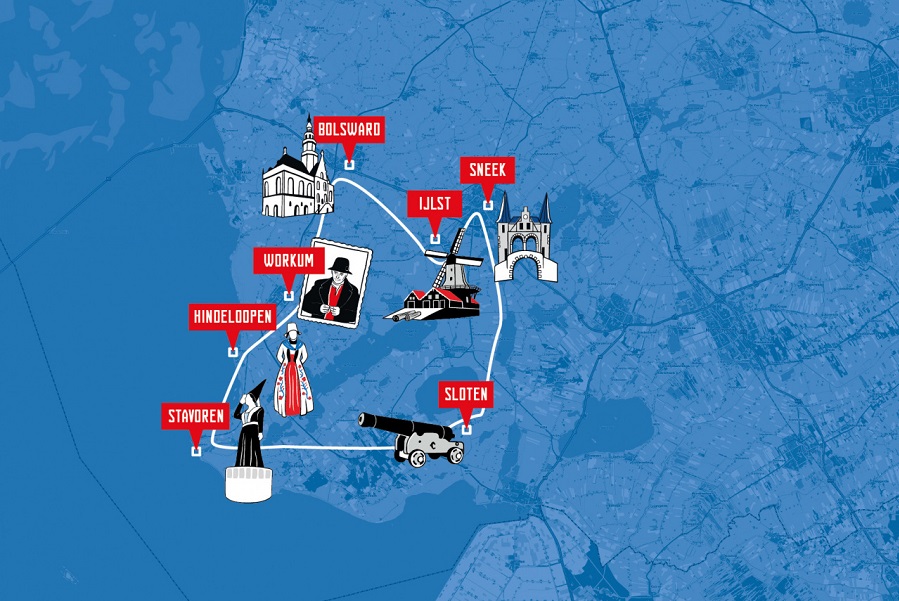 Tijdens de stedentriproute ontdek je nog veel meer Friese stadjes. Combineer twee of drie steden en geniet van een weekendje weg.
Route 3: ruimte
Ontvlucht de drukke stad of het kleine dorp waarin je woont en zoek de ruimte op. Waterland van Friesland heeft er zeeën van. Hier kom je helemaal tot rust, terwijl je geniet van de wind door je haren en idyllische panorama-uitzichten. Iedere plek onderweg heeft een ander verhaal, dat verteld wordt in dichtvorm. Zoals dit gedicht over Nannewijd, een van de meren in Friesland.
"In de ruimte van de laatste zon en de nacht,
ontstaan waar de hemel en de aarde elkaar raken,
schakeringen van goud in al haar pracht.
In de ruimte van het laatste licht en het donker,
stemt de natuur af op de frequentie van de stilte,
waarin dag- en nachtdieren wisselen van wacht.
 In de ruimte tussen mijn gedachten in,
worden de ruimtes van de stilte steeds groter.
Ik stem af op de natuur van het Nannewiid.
En ik neem mijn ruimte."
 Grietje Hoekstra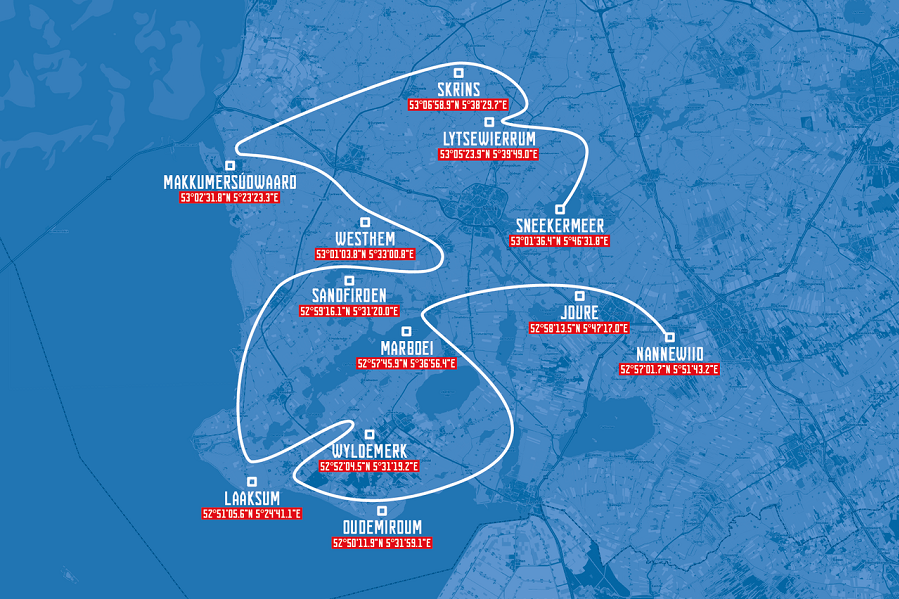 Ontdek nog veel meer verhalen en gedichten tijdens de ruimtereis. Kies zelf of je tocht gaat over het water, land of zelfs door de lucht.
Ben je op zoek naar meer wandel- of fietsroutes door en rondom Friesland? Kijk dan hier.