Fietsen is de beste manier om de Utrechtse Heuvelrug te ontdekken! Dit fietsparadijs in het midden van Nederland is de perfecte plek voor zowel recreanten, mountainbikers en wielrenners voor een korte of langere fietstocht of fietsvakantie. De vele fietsroutes brengen de bezoekers over heuvels, door gezellige dorpen en stadjes en langs bossen, rivieren, heidevelden en imposante kastelen & buitenplaatsen. Deze meimaand licht het Regionaal Bureau voor Toerisme (RBT) Heuvelrug & Vallei de leukste fietsroutes uit die je weer langs unieke plekken brengen.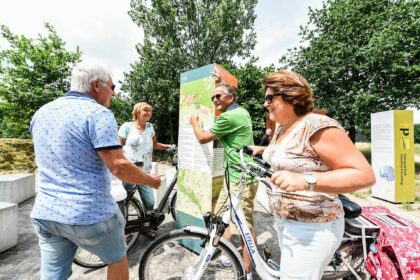 Meimaand = Fietsmaand
In deze periode van het jaar geniet je van een fijne voorjaarstemperatuur, staat de natuur weer in de bloei en kan je extra genieten van vrije dagen! De ideale tijd om op de pedalen te stappen en daarom staat mei in het teken van fietsen bij RBT Heuvelrug & Vallei. Ontdek de top 10 fietsroutes met leuke bezienswaardigheden onderweg, boek een van de voordelige fietsarrangementen of fiets een van de themaroutes. Op de website fietsen.opdeheuvelrug.nl staan diverse routes beschreven met informatie en verhalen over de Utrechtse Heuvelrug.
Alle routes starten bij een Toeristisch OverstapPunt (TOP). Een TOP is een knooppunt waar diverse fiets- en wandelroutes samenkomen, met altijd voldoende parkeergelegenheid. Alle TOP's zijn gekoppeld aan horeca waar je naast een kop koffie en een rustmoment ook de fiets kan opladen. De inzet van TOP's dragen bij aan betere spreiding van bezoekers in de regio.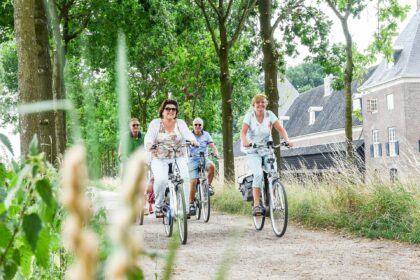 Fietsen met het hele gezin
Ook voor de korte beentjes zijn er leuke fietsroutes te ontdekken! In samenwerking met RoutesinUtrecht zijn er speciale kinderfietsroutes ontwikkeld van maximaal 15 km die daarmee erg geschikt zijn om met het hele gezin te fietsen. De routes zitten vol smakelijke, leuke en unieke stops voor kinderen, zo wordt de fietstocht een feestje! En uiteraard sluit je je fietstocht af bij een gezellig pannenkoekenrestaurant.
Doe mee met de winacties!
Naast een gevarieerd aanbod aan fietsarrangementen kunnen bezoekers deze maand meedoen aan meerdere winacties. Win samen met je partner, vriend(in) of fietsmaatje een luxe arrangement bij Parc Broekhuizen en Bistro Lof voor twee personen (t.w.v. € 825,-)! Geniet van twee luxe overnachtingen bij Parc Broekhuizen inclusief fietshuur, ontbijt en een heerlijk driegangendiner bij Bistro Lof. Deelnemen kan t/m 7 mei via deze link. Ook de rest van de maand staan er leuke winacties gepland, houd hiervoor het Facebook– en Instagramaccount van Opdeheuvelrug in de gaten.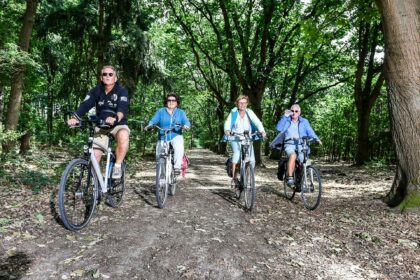 Nagenieten van de Vuelta
In 2022 vond de 77e editie van La Vuelta (de Ronde van Spanje) plaats in Nederland, waarbij we de wielrenners ook op de Utrechtse Heuvelrug mochten verwelkomen. Tijdens dit wielrenfestijn heeft de hele wereld kunnen zien hoe mooi de Utrechtse Heuvelrug is en waarom dit een perfecte fietsbestemming is! Benieuwd naar het parcours? Fiets in de sporen van La Vuelta Holanda met een van de vier recreatieve Vuelta routes die zoveel mogelijk het parcours van de Vuelta volgen.
foto's: RBT Heuvelrug en Vallei