ASSEN/ZWOLLE – Mensen onbezorgd laten fietsen. Dat is het doel van Bypoint. De succesvolle start-up van ondernemer Joris Koops (27) uit Assen gaat een volgende fase in met de samenwerking met Kruitbosch. De fietsgroothandel, een van de grootste en bekendste van Nederland, verzorgt sinds deze week de distributie van de innovatieve Bypoint-valdetectie onder fietsspeciaalzaken in de Benelux.  
Bypoint biedt een valdetectie die aftermarket op elk type fiets gemonteerd kan worden. Komt een fietser tijdens een weekendtocht of de dagelijkse rit door de polder ten val, dan merkt het systeem dat meteen op. Eerst vraagt het de fietser of alles oké is. Reageert diegene niet op de melding via de luidspreker, dan alarmeert het apparaat automatisch drie voorgeprogrammeerde contactpersonen middels een SMS-bericht. Bovendien deelt het de GPS-coördinaten. Zo wordt het voor zowel het thuisfront als de hulpdiensten gemakkelijk om na een ongeval snel ter plaatse te komen.
Autonome werking
De compacte valdetectie weegt 215 gram en wordt aan de zadelpen gemonteerd. De fietsspecialist kan dit doen, maar de gebruiker kan het ook simpel zelf. De technologie onderscheidt zich van andere oplossingen door de autonome werking. De gebruiker hoeft het Bypoint-systeem dus niet eerst aan een smartphone of app te koppelen om van de dienstverlening gebruik te kunnen maken. Er zit een Europese simkaart ingebouwd. De technologie functioneert dus altijd en overal, of de gebruiker nu over de Utrechtse Heuvelrug toert of op fietsvakantie in de Franse Vogezen is.
Golden hour
Bypoint-bedenker en -oprichter Joris Koops voorziet in een grote behoefte. "Er doen zich steeds meer eenzijdige fietsongelukken voor, vaak zijn mensen met een iets hogere leeftijd het slachtoffer. Snelle hulpverlening is van cruciaal belang om de gevolgen te beperken. Traumachirurgen spreken daarom ook wel van het 'golden hour'. Mensen zijn na een val echter niet altijd meer in staat om zelf hulp in te schakelen of 112 te bellen. Daarnaast zijn ze soms in the middle of nowhere gestrand en hebben ze geen idee waar ze zijn. Bypoint laat de gebruiker onbezorgd van het fietsen genieten en de thuisomgeving kan vader of moeder met een gerust hart laten rondrijden."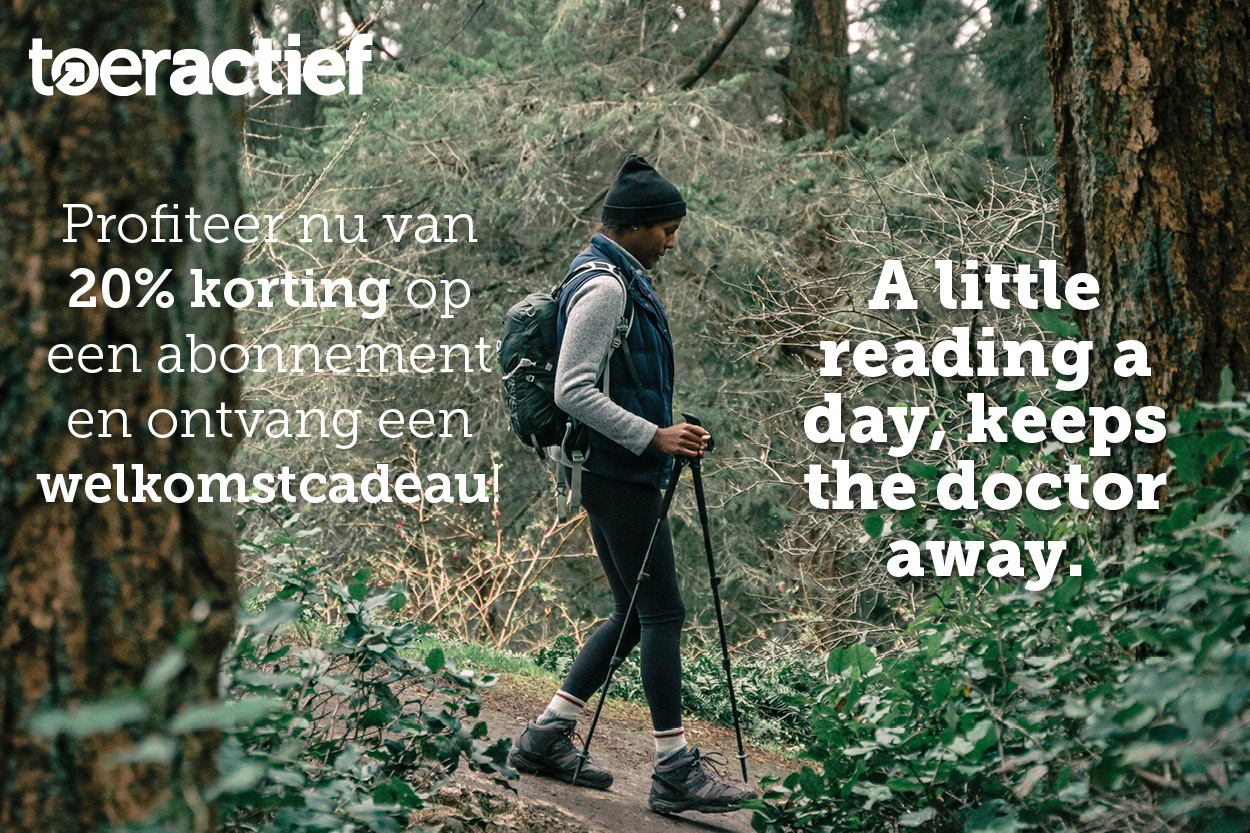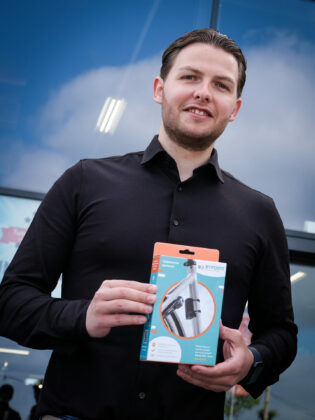 Voor oma ontwikkeld
Koops heeft de valdetectie zelf ontwikkeld. In eerste instantie deed hij dat voor zijn fietsende oma, die een e-bike had gekocht en er steeds vaker en langer op ut trok. "Ik hoorde natuurlijk van het stijgende aantal eenzijdige ongevallen en vroeg me af wat er zou gebeuren als zij zou vallen." Tijdens zijn studie werkte hij het productidee verder uit om zich na zijn afstuderen vol op het bedrijf te storten. Mede dankzij de steun van investeerders (Stichting Boost-Up) en de provincie Drenthe kon Bypoint de stap naar de markt zetten. De valdetectie ligt inmiddels in meer dan 130 speciaalzaken
In zee met Kruitbosch
Bypoint sluit nu een samenwerking met Kruitbosch, een bekende groothandel in fietsonderdelen en -accessoires en tevens het moederbedrijf van de fietsmerken Cortina en Alpina. "Waar we eerst louter met eigen accountmanagers werkten, hebben we er nu voor gekozen om ook de samenwerking aan te gaan met Kruitbosch in Zwolle, een gerenommeerde distributeur met een enorme klantenkring in de tweewielerbranche in de Benelux. Met de back-up van Kruitbosch zijn we in staat om nog meer fietsspeciaalzaken te bereiken en een nog groter aantal fietsers zorgeloos te laten opstappen", zegt Bypoint-eigenaar Koops, die zijn pijlen na de Benelux ook op andere markten gaat richten.
Waardevolle toevoeging
Elwin Baijlé, Category Manager Mobility & Security van Kruitbosch: "Door de aanhoudende populariteit van de e-bike neemt de gemiddelde snelheid toe en blijven mensen op hogere leeftijd mobiel. Daarmee wordt veiligheid een steeds belangrijker thema. Als Category Manager volg ik nauw alle innovaties op het gebied van fietsveiligheid. Zo zijn we ook op het spoor van Bypoint gekomen. De goede functionaliteit en het gebruiksgemak maken de valdetectie de perfecte fietsinnovatie en dus een waardevolle toevoeging aan ons assortiment. De valdetectie is per direct beschikbaar voor al onze dealerklanten."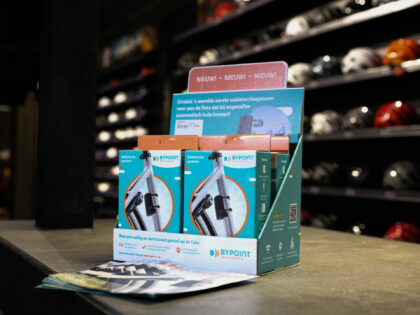 Presentatie in counterdisplay
Retailers die het Bypoint-systeem op de winkelvloer in de schijnwerpers willen zetten, kunnen kiezen voor productpresentatie in een counterdisplay. Op die manier nemen de cross-sellingkansen toe. Daarnaast is er een toolkit met promotiemiddelen beschikbaar. De consumentenadviesprijs van de valdetectie bedraagt 119,90 euro. Daarnaast zijn er jaarlijkse licentiekosten voor gebruik van de simkaart. Ga voor meer informatie naar www.bypoint.nl en www.kruitbosch.nl.