Center Parcs De Huttenheugte vierde onlangs haar 50ste verjaardag. Al een halve eeuw brengt dit vakantiepark in Dalen (Drenthe) mensen samen door het bieden van bijzondere vakantiebelevenissen. En steeds vaker huren toerfietsers en wandelaars een bungalow op dit park, om van daaruit mooie tochten te maken in de omgeving. General manager Harry Bakker ziet dan ook een groeiende doelgroep: volwassen zonder kinderen en senioren (55+).
Klaar voor de toekomst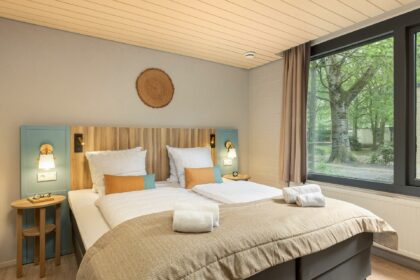 De Huttenheugte is in het afgelopen jaar ingrijpend vernieuwd als onderdeel van een omvangrijk innovatieprogramma ter waarde van 35 miljoen euro, waaronder de vernieuwing van alle cottages. Hierbij is extra aandacht besteed aan comfort en luxe. Bij de cottages  ligt de nadruk meer op VIP en premium cottages dan voorheen, vanwege een toename van de vraag binnen het premium segment. Ook zijn nieuwe vormen van beleving aan het aanbod toegevoegd, zoals de Wonders of Nature-cottage. In deze themacottage ervaren gasten in elke kamer de wonderen van de natuur, zoals reusachtige mammoetbomen in de slaapkamer, of kunnen zij een duik nemen in de lichtgevende onderwaterwereld in de badkamer.
Digitale vernieuwing
Ook zijn alle centrale voorzieningen vernieuwd en uitgebreid. Zo is de Aqua Mundo van een nieuwe koepel voorzien en kunnen gasten zich in het Waterplayhouse vermaken met nóg meer waterattracties. Verder heeft het park een overdekte entree gekregen en zijn de paden, verlichting en bewegwijzering vernieuwd. Door het digitaliseren van de 'customer journey' is het proces van boeken, voorbereiden en beleven van de vakantie nóg gemakkelijker door een digitale interface. Zo kunnen gasten met de Center Parcs-app snel en eenvoudig allerlei activiteiten en services boeken, een tafeltje reserveren en hun weg op de parkplattegrond vinden. Alle reserveringen komen op een digitale armband te staan, waarmee zij ook het slot van de cottage en de kluisjes in de Aqua Mundo kunnen openen.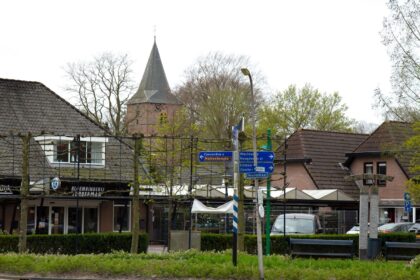 Genieten
Bakker: "Ook in de toekomst blijven we onze gasten verrassen. Allemaal om ervoor te zorgen dat zij optimaal van hun vakantie genieten en echt even samen kunnen zijn. En als mensen ons park gebruiken als uitvalsbasis voor hun wandel- of fietstochten is dit natuurlijk ook prima. Ze kunnen dan na afloop heerlijke relaxen in onze prachtige cottages en gebruik maken van alle voorzieningen."
Meer info: wandelroutes en fietsroutes.