De fiets en de trein zijn een sterke combinatie door de goede stallingsmogelijkheden op treinstations en het aanbod van de OV-fiets. Maar voor de recreatieve fietser zijn er veel obstakels. Er zijn weinig fietsplaatsen in de trein beschikbaar en duidelijke informatie erover ontbreekt.
Tekort aan fietsplaatsen
Het tekort aan fietsplaatsen neemt vooral toe op mooie zonnige dagen in het voorjaar of in de zomer. De Fietsersbond onderzocht mogelijke oplossingen en vraagt NS om meer fietsplaatsen te realiseren door middel van fietshaken en de informatievoorzieningen te verbeteren.
Volgens het onderzoek Fietsvakanties en Fietstrektochten 2021 (Kien Onderzoek) telt Nederland 11,1 miljoen recreatieve fietsers en gingen 3 miljoen Nederlanders in 2021 op fietsvakantie. De meeste fietsers vertrekken vanuit huis, maar soms verschilt het begin- en eindpunt van de route. "Er is een grote groep fietsers die graag zijn eigen fiets meeneemt naar mooie plekken elders in Nederland of in het buitenland. Maar wil je met de fiets op pad en een deel hiervan per trein afleggen, dan lukt dat vaak niet. Voor een duurzame fietsvakantie zou je toch geen auto nodig moeten hebben", aldus Wim Bot van de Fietsersbond. Er zijn nu te weinig fietsplaatsen beschikbaar in treinen naar populaire recreatieve bestemmingen, zoals de Waddeneilanden of Limburg.
Ook levert de fiets meenemen in de trein vaak stress op. Je weet niet waar het treinstel stopt waar je met je fiets in moet. In een kort tijdsbestek moet je het kleine fietslogo zien te herkennen en ernaartoe sprinten. Daarnaast hebben medereizigers weinig begrip voor fietsers, al helemaal als de trein vol is.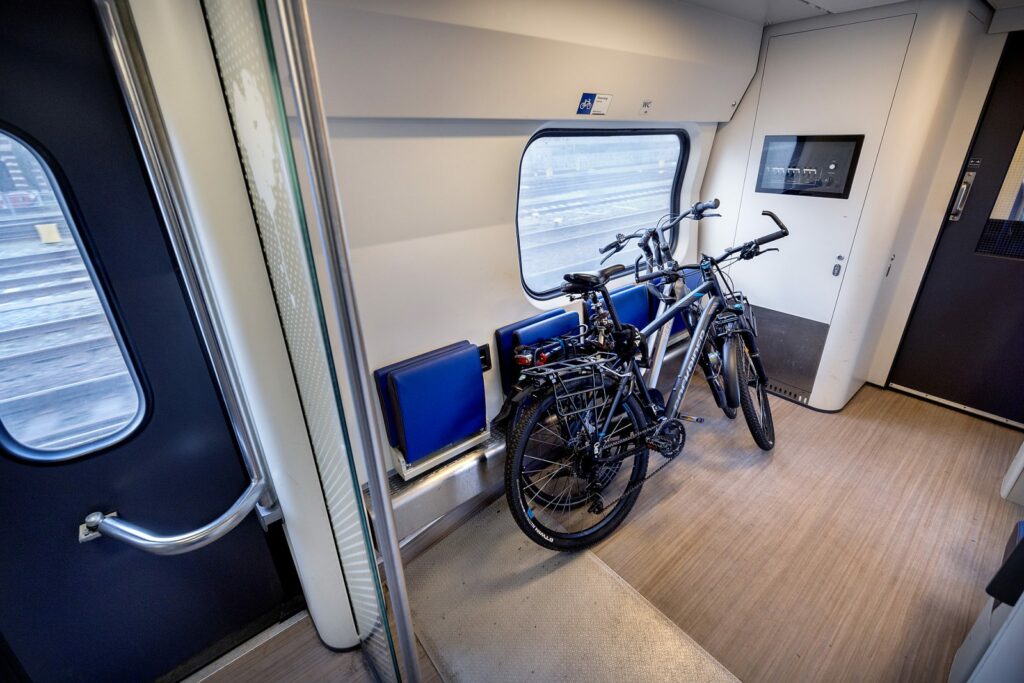 Haken in de trein als oplossing
Door vaste zitplaatsen te vervangen door klapstoelen met haken erboven, worden meer fietsplaatsen gecreëerd in de trein zonder zitplaatsen op te geven. In buitenlandse treinen zijn hier veel goede voorbeelden van te vinden. De Fietsersbond onderzocht hoeveel fietsplaatsen er per treintype zijn en hoeveel fietsplaatsen dat kunnen worden als de fietsen aan haken kunnen worden opgehangen. Zo is het per treintype vaak mogelijk om twee of vier extra fietsplaatsen toe te voegen.
Informatie over fietsplaatsen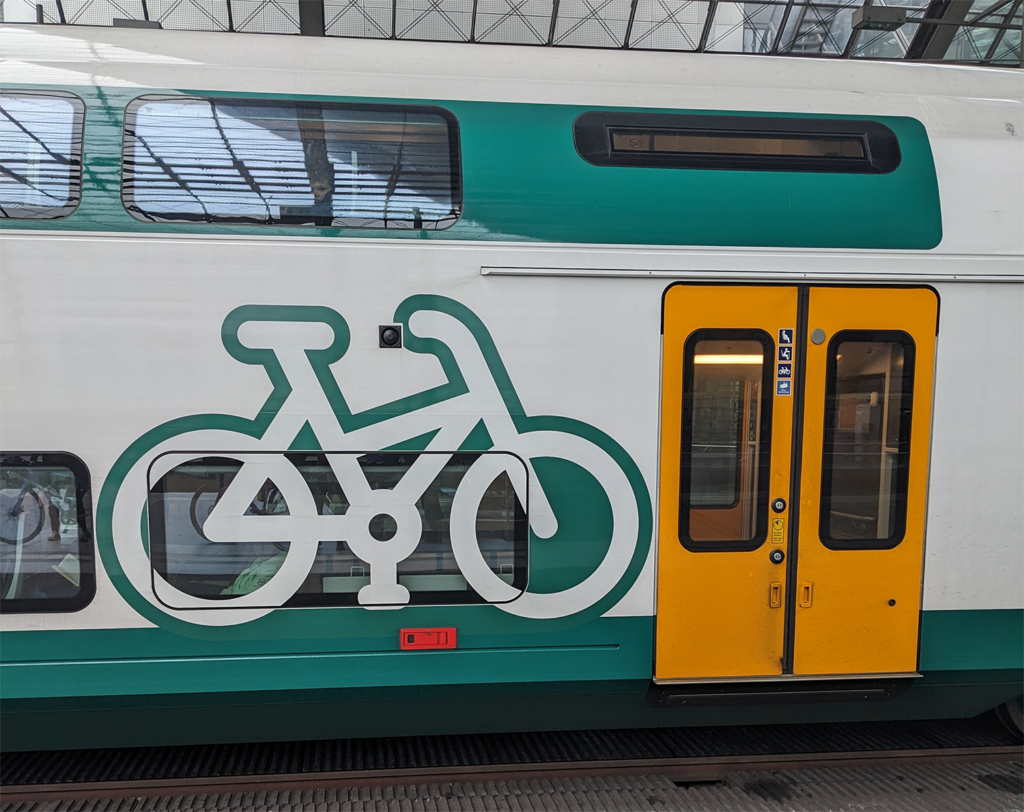 Voor de wachtende fietser op het perron is het prettig om te weten waar de ingang voor de fietsen is bij een aankomende trein. Het scheelt een hoop stress als op perrons, in de app en op de treinen zelf duidelijk wordt aangegeven waar de treinstellen stoppen waarin je je fiets mee kan nemen. Het beter aanduiden van de fietsplaatsen kan ook zorgen voor meer begrip bij niet-fietsers en zorgen voor een beter in- en uitstapproces. Een goed voorbeeld van een duidelijke bestickering is onderstaande trein in Duitsland.
Reactie NS
Voor publicatie heeft de Fietsersbond het rapport voorgelegd aan NS. NS ziet helaas niets in de suggestie om haken te plaatsen. Ze denken dat mensen het te zwaar vinden om hun fiets aan een haak op te hangen. Wim Bot: "We vinden het erg jammer dat NS deze aanname niet verder willen onderzoeken. Voor wielrenners zijn fietshaken juist een uitkomst. En er zijn tal van goede voorbeelden in treinen in het buitenland." Eind 2023 verwacht NS wel een pilot op de perronborden uit te kunnen voeren met instapinformatie voor fietsers in NS-treinen.
Het onderzoek van de fietsersbond is hier te downloaden en lezen.