Het Vlaamse wandelprogramma 'Dwars door de Lage Landen' is in de race voor de Gouden Televizier-Ring 2022. Er kan nog een weekje worden gestemd, maar hieronder staan de tien programma's waarop tot nu toe het vaakst is gestemd. Let wel, de titels staan op alfabetische volgorde!
Tussenstand Gouden Televizier-Ring
De Bevers (RTL5)
De Slimste Mens (KRO-NCRV)
De Verraders (RTL4)
Dwars door de Lage Landen (VPRO)
Een Huis Vol (KRO-NCRV)
Het Echte Leven in de Dierentuin (NTR)
Jaimie: In the Vaes Lane (Discovery+)
Louisa & Rowan: op z'n Gooisch (Discovery+)
Tweede Hans (Omroep MAX)
Urk! (SBS6)
Dwars door de Lage Landen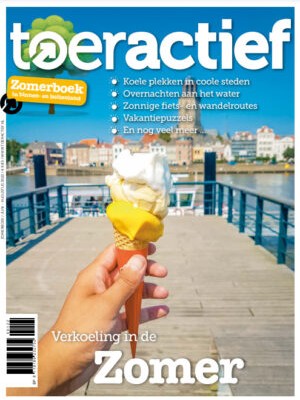 In 'Dwars door de Lage Landen' wandelen Arnout Hauben en zijn vrienden over Vlaamse wandelpaden van Oostende tot Limburg en eenmaal in Nederland volgen ze het Pieterpad. Dit brengt hen vanuit Maastricht door het oosten van Nederland naar Pieterburen. Tijdens de negenhonderd kilometer lange tocht gaat Arnout op zoek naar de verhalen die de streken kleur hebben gegeven. In Toeractief-2 van dit jaar wandelden we een dagje mee en in het Toeractief Zomerboek hadden we een uitgebreid interview met programmamaker en wandelaar Arnout Hauben.
Stemmen voor Gouden Televizier-Ring
Wil je nog stemmen op Dwars door de Lage Landen? Ga dan naar: www.televizier.nl/ring en breng je stem uit. De digitale stembus staat nog open tot woensdag 3 augustus 10.00 uur. Alleen de vijf titels die dan de meeste stemmen hebben binnengesleept, gaan door naar de uiteindelijke top-25 en maken dus kans op de Gouden Televizier-Ring 2022. Vorig jaar kozen de Nederlandse tv-kijkers de documentaireserie 'De kinderen van Ruinerwold' als winnaar.
Meerdere tv-prijzen
Tijdens het Gouden Televizier-Ring Gala worden meerdere prijzen voor televisieprogramma's uitgereikt. Het gala wordt georganiseerd door de televisiegids Televizier en op tv uitgezonden door de AVROTROS. Naast de Gouden Televizier-Ring (beste programma), zijn er prijzen voor de Televizier-Sterren (beste televisiepresentator of -presentatrice en de beste televisieacteur of -actrice), de Televizier-Ster Jeugd (beste jeugdprogramma), de Televizier-Ster Talent (beste nieuw talent), de Televizier-Ster Digital Impact en de Televizier-Ster Online-videoserie.