Meestal ontstaan ze juist als je te veel zit. Wandelen is dan juist dé oplossing om dikke voeten tegen te gaan. Maar wanneer je een (lange) wandeling maakt tijdens warm weer, voel je soms je voeten kloppen in je schoenen. Je veters staan op enorme spanning en je schoenen lijken ineens te klein. Wat kun je dan doen om opgezwollen voeten tijdens het wandelen te voorkomen?
5 tips tegen dikke voeten
Dikke voeten of enkels komen in de zomer vaker voor dan in de wintermaanden. Het lichaam kan de warmte dan niet kwijt en houdt meer vocht vast. Over het algemeen is dit kwaaltje onschuldig, maar het kan wel enorm vervelend zijn. Wij geven 5 tips om er vanaf te komen.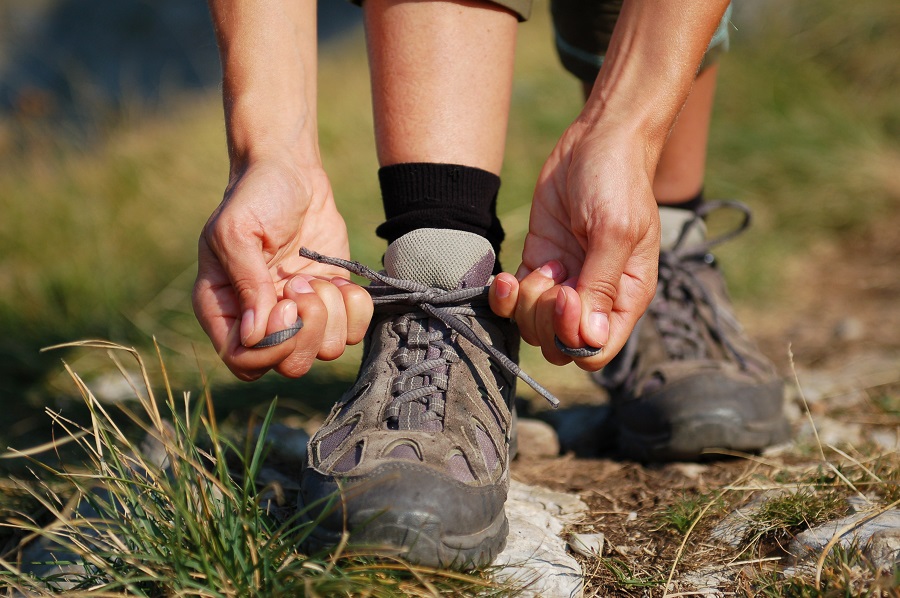 1. Drink veel water
Drink! Drink zelfs nog meer dan je nodig denkt te hebben. Dat klinkt tegenstrijdig, want gezwollen voeten ontstaan doordat je teveel vocht vasthoudt en water is vocht. Maar hoe meer je drinkt, des te meer je plast en des te meer afvalstoffen je kwijtraakt. Veel water drinken helpt bij een goede vochthuishouding en de juiste vochtbalans.
2. De zwaartekracht als hulpmiddel
Stop met enige regelmaat om je voeten omhoog te leggen, het liefst zo hoog mogelijk. Een muur of een grote boom kan je daarbij helpen. Ga met je rug op de grond liggen en laat je hakken tegen de muur of de boom steunen. Zo kan het vocht uit je voeten zakken.
3. Speciale sokken
Compressiekousen zijn voor sommige mensen een goed hulpmiddel tegen opgezwollen voeten en/of enkels. Er wordt gezegd dat deze kousen zorgen voor een betere bloedcirculatie in de benen en daarnaast helpen bij de afvoer van vocht via bloedvaten en lymfeklieren.
4. Voeding tegen dikke voeten
Let goed op je voeding. Veel zout eten is niet goed, omdat je dan makkelijker veel vocht vasthoudt. Voedselproducten die het vocht juist afdrijven zijn onder andere mierikswortel, bleekselderij, rode bieten, peterselie en appelazijn. Een lekkere salade met een aantal van deze ingrediënten is dus een aanrader.
5. Goede maat wandelschoenen
Misschien wel de meest voor de hand liggende oorzaak: te krappe schoenen. Koop wandelschoenen liever in de zomermaanden dan in de wintermaanden en liever aan het einde van de dag dan aan het begin van de dag. Op deze momenten zijn je voeten namelijk altijd nét iets dikker. Zo voorkom je knellende schoenen tijdens een wandeling. Eerder publiceerden we een artikel over de keuze van de juiste schoenen.
Let wel op! Heb je echt heel erge last van opgezwollen voeten en helpen deze tips niet? Dan is het raadzaam om een huisarts te bezoeken.