Wandelroute Esbeek brengt het beste van twee werelden bij elkaar: kunst en natuur. De route voert je langs beeldhouwwerken geïnspireerd op kunst van schilder en graficus Andreas Schotel. Maar ook door bossen, rond vennen en naar een authentieke herberg.
In de Dorpsstraat van vertrekpunt Esbeek duikt meteen de eerste sculptuur op. Het is een beeld van een gezin dat staat te wachten op de stoomtram. Op de koffer tussen vrouw en kind staat de plaatsnaam Rotterdam geschreven, een knipoog van kunstenaar Hannes Verhoeven naar Andreas Schotel. Want de schilder aan wie deze beeldenroute is opgedragen en die in 1919 verliefd werd op het Brabantse landschap, was een Rotterdammer.
Zwoegende boerinnen
Buiten het dorp staan versteende, zwoegende boerinnen zich in het zweet te werken. De beelden herinneren aan de Zeeuwse boerenfamilies, die voor de ontginning naar Esbeek kwamen. Schotel vestigde zich in de streek om in een houten huisje in het bos te wonen en te werken. Zijn verzameling van etsen is bijna een geschiedenisboek over het Brabantse heidelandschap dat in de twintigste eeuw constant veranderde.
Versteende badgasten
Het contrast tussen de natuur en de opkomende industrie destijds is tastbaar gemaakt in de sculpturen met de naam De Melkfabriek en Verroeste pk's. Ze verbeelden de impact van mechanisatie op het agrarisch landschap. De route gidst je verder rond een mooi bosven, over een bruggetje tussen rietpluimen en een wandelpad vanwaar uit het niets drie blote vrouwen opdoemen. De drie badgasten zijn versteend. Verhoeven haalde zijn inspiratie voor de beelden uit etsen en aquarellen van Schotel.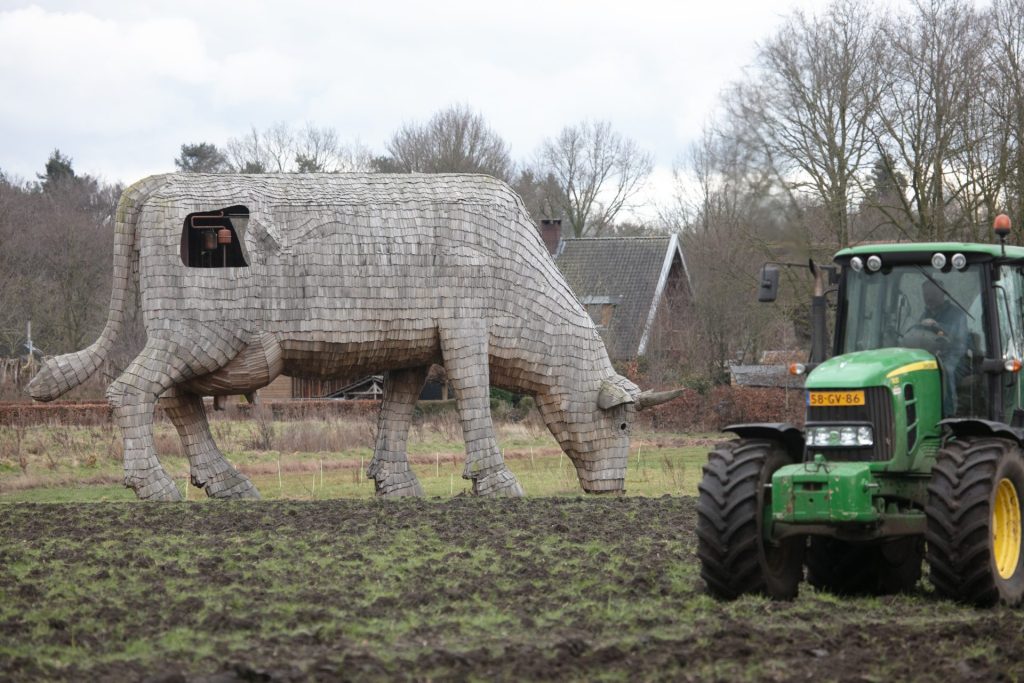 Ontmoeting met de meester
Na het veengebied is er de Ontmoeting met de meester, een zes meter hoog kleurrijk beeld van Schotel. Hij staat achter zijn ezel en merkt de voorbijgangers niet op. Even zwaaien naar meneer Schotel en dan duik je de bossen in. Een lang stuk wandelen volgt, zonder prikkels en verrassingen, maar wel met rust en natuurbeleving. Je loopt er door Landgoed De Utrecht en het dal van het stroompje De Reusel. Uitrusten kan aan het meer De Flaes, op voorwaarde dat je ook lus C loopt.
Herberg en museum
Of in herberg In den Bockenreyder een kilometer verderop. Het verhaal achter de naam van deze bruine kroeg is minder prachtig dan deze uitspanning in het bos. Bokkenrijders waren volgens het volksgeloof personen of geesten die door de lucht reden. Ze vormden een bende van dieven, afpersers en plegers van gewelddadige berovingen, die hun buit veiligstelden in de donkere bossen. Van hier gaat het terug richting Esbeek. Meer kunst zien? Bezoek het Andreas Schotel-museum, dat de herinnering aan de schilder en graficus levend houdt.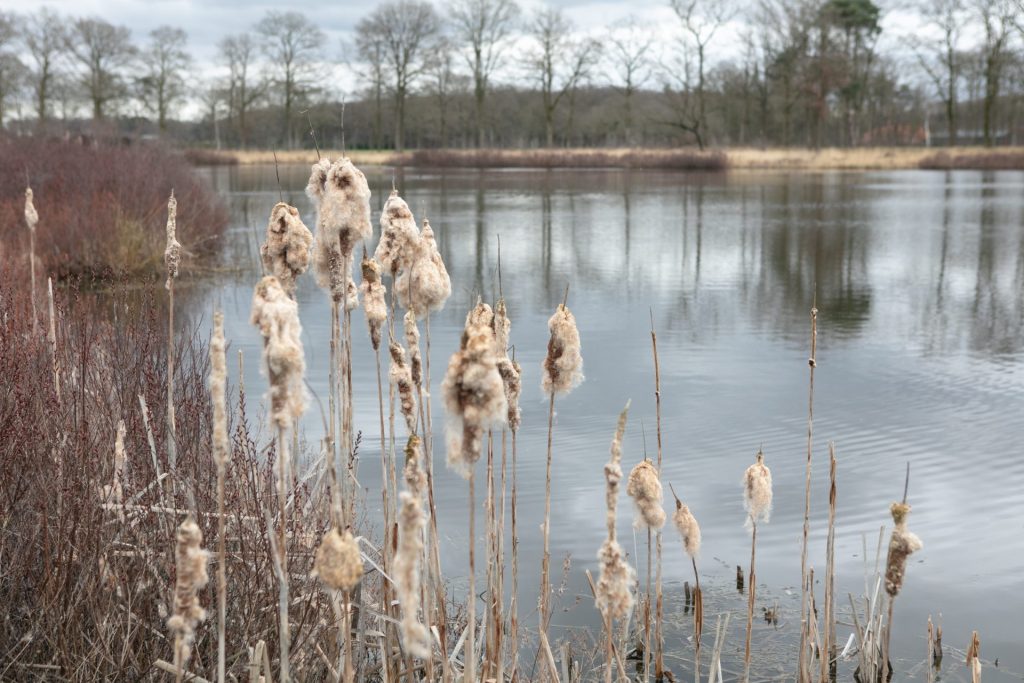 Informatie wandelroute Esbeek
Afstand: 14,5 km (A), 17 km (A+B), 19 km (A+B+C)
Vertrekpunt: Café Schuttershof, Dorpsstraat 2, Esbeek
Routeverhaal: Toeractief 6-2021, pagina 38
Routeboekje: pagina 26
Routecheck
Heb je tijdens het wandelen een wijziging in de route opgemerkt? Geef dit dan door via redactie@toeractief.nl. Meer wandelen in Noord-Brabant? Bekijk hier dan ook eens onze andere wandelroutes in de omgeving.