[elevation 0=gpx="/wp-content/uploads/gpx/TAC 1=2021 2=Leudal 3=NR 4=AF.gpx" 5=marker="position-marker" ] ")
Het Leudal met zijn spannende paden, romantische beken en sprookjesachtige varenbossen spreekt tot de verbeelding. Naar verluidt zou er meer dan een spook ronddwalen. Of is het maar een sprookje? Trek je wandelschoenen aan voor 14,5 of 16 kilometer en ontdek het zelf in het sp(r)ookjesbos tussen Haelen en Heythuysen.
In het Leudal stromen de Tungelroyse beek en de Leubeek samen. De wandelroute voert je langs de oevers van de Leubeek naar de romantische St. Ursulamolen, om je vervolgens via landgoedachtige paden naar restaurant De Busjop te gidsen. Van daaruit gaat het over de hei en langs de Tungelroyse beek terug naar het beginpunt. Dat is het knusse bezoekerscentrumpje bij de watermolen St. Elisabeth.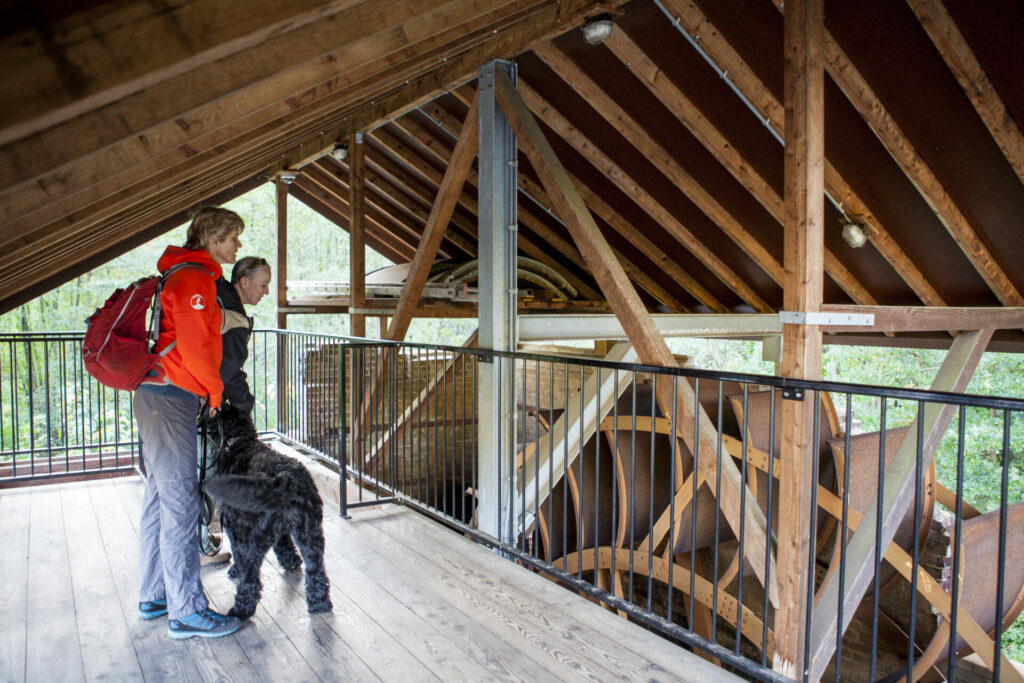 Watermolen St. Elisabeth
Elisabeth is een taaie tante. Op ruim achthonderdjarige leeftijd heeft ze een waslijst aan facelifts en amputaties ondergaan. Ze werd verplaatst, verbrand, verbouwd, vervangen en vervloekt. Nadat de molen tijdens de Tweede Wereldoorlog zwaar beschadigd raakte, werd Elisabeth zeventig jaar lang aan haar lot overgelaten. Tegenwoordig voorziet ze als waterkrachtcentrale het naastgelegen restaurant St. Elisabeth's Hof van stroom.
Varenbos
Vlak na de molen wijst een routepijltje naar links, het bos in. Het pad gaat langs de Leu, die iets lager tussen steile zanderige oevers slingert. Het valt meteen op hoeveel varens hier groeien. In de winter kleuren ze koperbruin, in het voorjaar komen ze als herboren tevoorschijn uit hun dikke wortelstokken. Ook de bijzondere adelaarsvaren. Een andere bijzondere bewoner van het bos is de ijsvogel. Lange snavel, helblauwe vleugels, oranje borst. Wie veel, heel veel geduld – en geluk – heeft, vangt er misschien een glimp van op.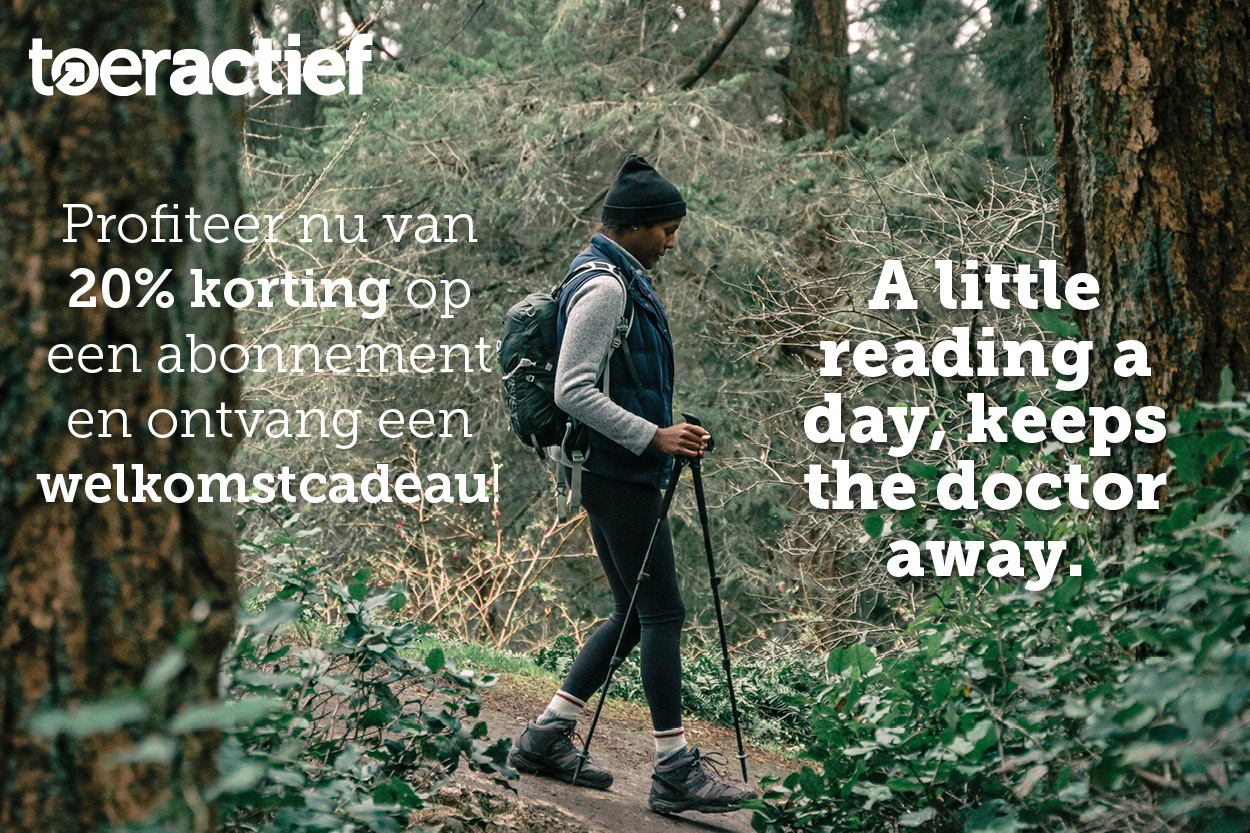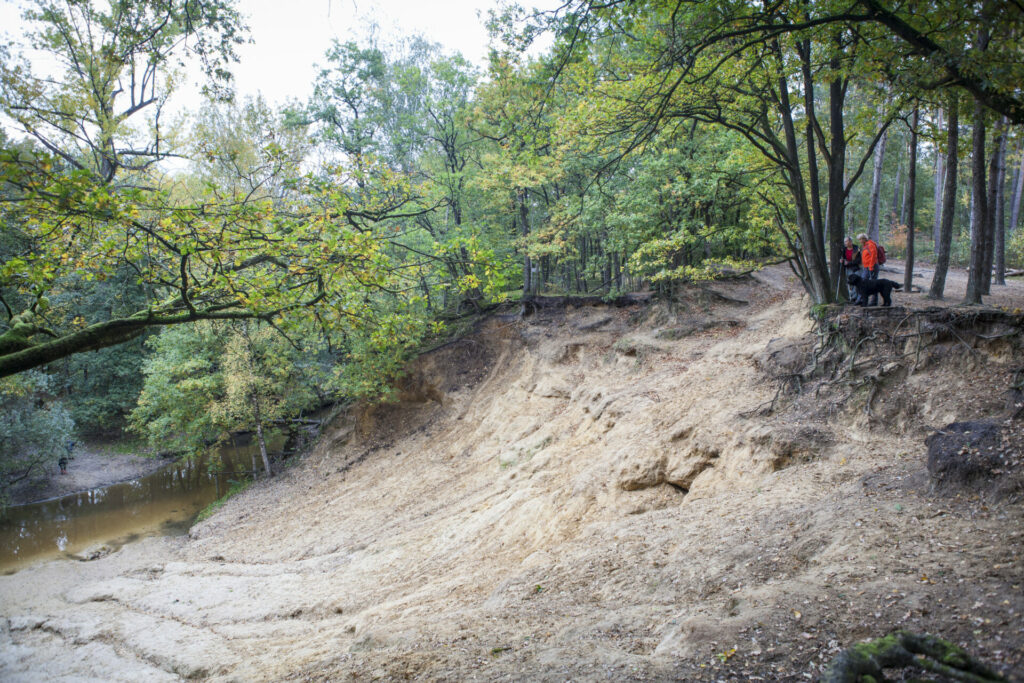 Behekste gravin
In de verte doemt Ursula op. Die andere watermolen op de route. Over een paar jaar viert zij haar driehonderdste verjaardag. Die leeftijd zou je haar niet geven, met haar rood pannendak als hoedje en de gevel in een jas van klimop. Voorbij de watermolen St. Ursula wordt het pad smaller, voert het dicht langs de Leu naar de top van de Groaveberg. Daarover doen allerlei verhalen de ronde. Zo zou er een behekste gravin onder begraven liggen. Af en toe zou zij in het bos rondspoken. Dan gilt ze of deelt ze wandelaars een klap uit.
Spookverhalen
Zodra je de Groaveberg achter je laat, verandert de sfeer van het bos. Van spannend naar statig, van smal slingerend naar breed en recht. Loof wordt spar en in de diepte kronkelt niet meer de Leu, maar de Roggelse beek. Op de hei verderop slingert het pad voor je uit. Tot daar plots een bordje de weg wijst naar restaurant De Busjop, waar het – als je de oude verhalen mag geloven – in vroegere tijden spookte. Vraag er maar eens naar wanneer je hier halt houdt voor iets lekkers. Na een korte pauze zet de wandelroute door het Leudal koers naar het eindpunt. Terug naar watermolen St. Elisabeth.
Informatie wandelroute Leudal
Afstand: 14,5 km of 16 km
Vertrekpunt: bezoekerscentrum Leudal, Roggelseweg 56, Haelen
Routeverhaal: Toeractief 2021-06, pagina 10
Routeboekje: pagina 4
Routecheck
Heb je tijdens het wandelen een wijziging in de route opgemerkt? Geef dit dan door via redactie@toeractief.nl. Meer wandelen in Limburg? Bekijk hier onze andere wandelroutes in de omgeving.