Na twee jaar voorbereiding vertrekken we op onze wereldreis met de fiets. Honderdduizend kilometer in totaal door meer dan tachtig landen. We verwachten zeven jaar onderweg te zijn. Tijdens onze reis gaan wij één keer in de twee maanden bloggen over onze reisavonturen voor Toeractief.
Voorbereiding
Onze huwelijksdag op 24 juni 2018, die al volledig in het teken stond van onze wereldreis, lijkt al eeuwen geleden. Wat hebben we veel gedaan om ons voor te bereiden op deze epische tocht:
• Een survival- en bushcrafttraining. Wat was het koud in Lapland!
• Proefrijden met diverse versnellingssystemen. Pinion is favoriet.
• Een ontwerpbureau zoeken voor onze marketing. Tussen de soep en aardappelen helpt Stoere Binken Design ons enorm op dit vlak.
• Stichting XPLORid oprichten. Dat valt niet mee als je gaat emigreren.
• Eerste fietstocht op onze Idworx fietsen van Amsterdam naar Maastricht. Onverwoestbaar!
• Het aanschaffen van al onze wereldreisspullen. Hoe krijg je dit allemaal mee op de fiets?!
• Dertig dagen non-stop door Ierland. De kunst van het weglaten.
Vertrekdatum
In eerste instantie hadden we begin april willen vertrekken. De weersverwachting zag er geweldig uit. We hadden het niet beter kunnen treffen. Drie weken vóór ons vertrek ontstond echter het woord 'anderhalvemetersamenleving', gingen grenzen op slot en werden lockdowns afgekondigd. Wie had dit kunnen voorspellen? Ons vertrek op 4 april vanaf het Vrijthof in Maastricht kon niet doorgaan. Wat een teleurstelling! Onze spullen stonden in de opslag en ons appartement was al verhuurd. Wat nu? Na een noodoproep op Facebook hebben we gelukkig heel snel een tijdelijk onderkomen gevonden in de door corona leegstaande bed & breakfast Le Rêve in Maastricht.
Benefiet uitzwaaiborrel geannuleerd
Tijdens ons fietsavontuur geven we directe hulp aan mensen die in armoede leven. Met onze stichting zamelen we € 1 in voor elke kilometer die we fietsen. Helaas moesten we ook onze benefiet uitzwaaiborrel met 150 gasten annuleren. In eerste instantie dachten we nog deze borrel te kunnen verplaatsen naar een andere locatie met minder gasten. Maar toen de horeca op slot ging, was dat idee ook van de baan. Het opnieuw organiseren van zo'n grote benefiet uitzwaaiborrel zit er niet meer in vóór ons vertrek op 15 juni. Dat vinden we heel jammer. We missen daardoor het moment om iedereen nog een keer te zien én om via een veiling en loterij geld in te zamelen voor onze stichting. We proberen nu online donateurs te vinden voor onze hulpprojecten met Geefacties en promo-filmpjes. In het weekend voor de start van onze reis houden we nog iets kleinschaligs voor directe familie en naaste vrienden. Zo gaat ons vertrek toch niet geheel ongemerkt voorbij.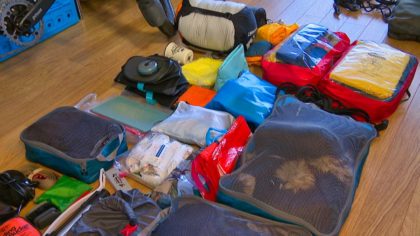 Aangepaste route
Omdat er zoveel onduidelijkheid is over de coronamaatregelen in Frankrijk gaan we niet via Frankrijk en Italië naar het oosten. We hebben besloten om door Duitsland en Oostenrijk te fietsen. Hopelijk zijn de grenzen van Slovenië en Kroatië tegen de tijd dat we daar aankomen open en kunnen we zonder oponthoud doorfietsen. We hopen zo vóór de winter in Griekenland aan te komen. Om daar te overwinteren en vervolgens in de zomer van 2021 over de Pamir highway te fietsen richting China en Mongolië en zo verder. Onze route kun je volgen via Strava of Komoot.
De wereld verandert
We zijn benieuwd hoe de reiswereld er na de coronacrisis uitziet. Onze hele wereldreis staat immers in het teken van het ontmoeten van andere mensen. We kloppen na een dag fietsen bij mensen aan om te vragen of we onze tent in hun tuin, schuur of garage mogen opzetten. Staat men daar nog voor open?
Wil je meer weten over onze wereldreis? Kijk dan op www.xplorid.today. Of volg ons op Facebook, Instagram en Twitter. Vóór de coronacrisis hebben we een presentatie gegeven over ons hele plan. Deze kun je terugkijken op ons YouTube-kanaal.