Onderweg smaakt niks zo lekker als een gezonde snack die je zelf hebt gemaakt. Tijdens het wandelen of fietsen verheug je je al op de pauze.
Haal de beslagkom en spatel maar gauw uit je keukenkast. Want het is verantwoord smullen met deze supergezonde havermoutmuffins en energy bars. De snacks zijn makkelijk mee te nemen en op te eten zonder geknoei.
Havermoutmuffin met walnoten, kaneel en banaan
Deze havermoutmuffin brengt je energieniveau weer snel op peil. De gezonde snack bevat geen suiker. Wil je toch graag een zoete smaak? Voeg dan wat honing toe.
Je hebt nodig voor acht muffins:
2 rijpe geprakte bananen
125 gr havermout
150 ml (plantaardige) melk
1 ei
25 gr grofgehakte walnoten
2,5 theelepels kaneel
1 theelepel bakpoeder
Eventueel honing naar smaak
snuf zout
papieren muffinvormpjes
Bereiding:
Voeg alle ingrediënten toe aan de geprakte bananen en meng dit goed door elkaar. Bestrijk de binnenzijde van de muffinvormpjes met wat boter of olie. Vul 8 muffinvormpjes met het beslag. Bak de muffins ongeveer 20 minuten in een voorverwarmde oven op 200 graden. Bewaar de muffins koel in een afgesloten trommel.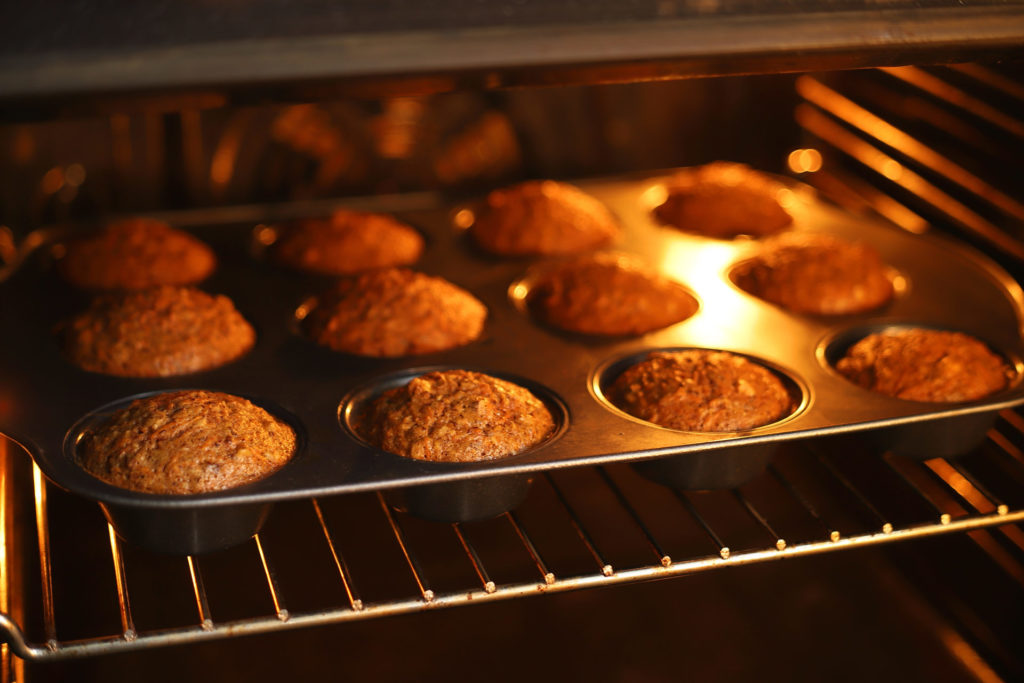 Energiereep van cranberry, vijg en kokos
In een mum van tijd heb je deze gezonde energy bars gemaakt. En de oven hoeft niet aan, want je bakt ze simpel in de koelkast.
75 gr ongezouten, grof gehakte cashewnoten
75 gr ongezouten, grof gehakte amandelen
0,5 theelepel kaneel
1 eetlepel kokosolie
80 gr kokosrasp
130 gr gedroogde cranberry's
150 gr gedroogde vijgen
1 eetlepel honing
snuf zout
Bereiding:
Meng alle ingrediënten behalve de noten in een blender of keukenmachine. Kneed de noten er met de hand onder. Bedek een browniebakvorm (of een andere bakvorm met opstaande rand) met bakpapier. Stort het mengsel op het bakpapier en verspreid het gelijkmatig met een spatel tot een laag van 2 tot 3 cm hoog. Bedek het mengsel met nog een vel bakpapier. Druk de massa nu stevig en gelijkmatig aan in de bakvorm. Zet dit twee uur in de koelkast. Snijd de koek in langwerpige stukken en verpak iedere reep in een stukje pakpapier en touwtje, zodat je handen schoon blijven bij het eten. Bewaar de energyrepen afgesloten in een trommel in de koelkast.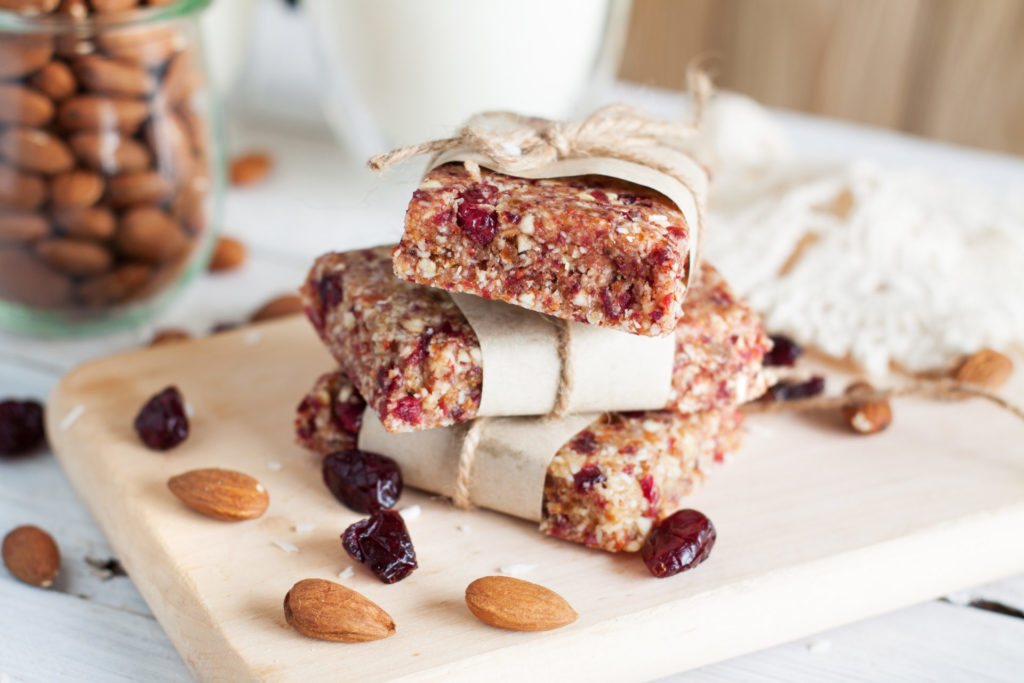 Meer over gezonde snacks
Meer lezen over verantwoorde tussendoortjes? Lees dan onze tips over gezonde voeding voor onderweg.