Misschien ken je het wel, ben je al een aardig eind op weg, kom je erachter dat je water bent vergeten. Het gevolg: een droge mond, een slecht humeur en misschien wel kramp. Toch wil je ook gemakkelijk en dus licht reizen. Kan dat? Met deze tips is hydrateren onderweg geen probleem meer.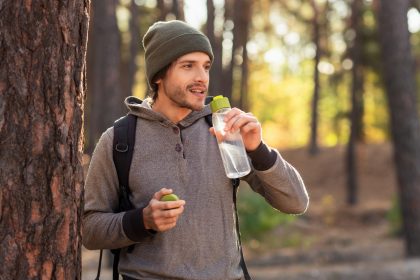 Waarom is hydrateren zo belangrijk? Als je niet genoeg gehydrateerd bent, kan je last krijgen van allerlei klachten. Zoals hoofdpijn, vermoeid- of duizeligheid. Niet echt handig als je bijvoorbeeld lekker in de bossen wandelt. Als er lange tijd geen water in de buurt is, kun je zelfs uitdrogen. Genoeg redenen om te hydrateren!
Wegwerp waterfles of duurzame drinkfles?
Te weinig water mee? Grote kans dat je dan onderweg een wegwerpfles koopt. Maar met een goede voorbereiding, is dit helemaal niet nodig. Er zijn genoeg duurzame drinkflessen. Zoals:
Meer weten over duurzame drinkflessen?
Check dan dit artikel
Stootbestendige drinkfles
Zoek je een fles die tegen een stootje kan? Ga dan voor aluminium of roestvrij staal. Iets duurder, maar kwalitatief beter, is een RVS-fles. De dubbelwandige varianten lenen zich ook voor warme dranken. Vul je duurzame meeneemfles(en) met kraanwater en je bent klaar voor je tocht!
Hydrateren met een bidon
Veel sporters zweren bij een bidon, zo kun je snel en gemakkelijk hydrateren. Je hoeft niet eens de dop eraf te draaien.
Hoe neem ik een waterfles mee op pad?
Kies voor een goede rug- of heuptas. Kies er bij voorkeur een met een apart zijvak voor je waterfles. Als je op een fiets een bidonhouder hebt, kun je daar ook een fles in bewaren. Maar dat kan wel herrie veroorzaken door een trillend frame.
Hoe maak ik een waterfles schoon?
Het is belangrijk om je waterfles regelmatig schoon te maken, zo voorkom je dat er bacteriën in je water komen. Na elke keer gebruiken goed uitspoelen is het beste recept. Toe aan een grondige schoonmaakbeurt? Je kunt je fles schoonmaken met water en azijn. Laat een mix van 1/3e azijn en water een nachtje weken en je fles is good to go. Gebruik je een bidon? Vervang dan regelmatig de dop.
Hydrateren onderweg met waterzak
Ga je in zeer heet gebied lopen of staat er een behoorlijke tour op het programma. Kies voor een speciale waterzak. Zo kun je tot wel twee liter water kwijt in je rugzak. Sommige rugzakken hebben hier een speciaal vak voor. Heel handig: met een slangetje kun je onderweg steeds kleine slokjes nemen. Lekker makkelijk hydrateren. Nadeel is wel het schoonmaken, dat is behoorlijk ingewikkeld. Je hebt er speciale reinigingsmiddelen voor nodig. Zeker het rietje proper houden is niet eenvoudig.
Hoe hydrateer jij?
Hoe hydrateer jij als je onderweg bent? En drink je water of iets anders? Laat het weten in een reactie!
Meer weten over water en het belang van water drinken?
Kijk eens op deze website met feiten over water.