Het wordt steeds kouder buiten. Maar laat Koning Winter maar komen, want op kou kun je je prima kleden. Door het dragen van laagjes bijvoorbeeld, en ook thermokleding houd je heerlijk op temperatuur. Maar wat is thermokleding nou eigenlijk precies? Toeractief zocht het uit.
Waarom draag je thermokleding?
"Een extra trui of shirt is toch ook voldoende?", is een veelgehoorde uitspraak als het over speciale thermokleding gaat. Thermokleding heeft echter eigenschappen die een gewoon shirt niet heeft:
Het houdt de warmte van je lichaam beter vast dan 'normale' kleding.  Zo gaat je eigen geproduceerde lichaamswarmte minder snel verloren.
Het voert tijdens inspanning zweet af en zorgt ervoor dat je huid droog blijft. Daardoor vat je minder snel kou.
Thermokleding is dunner dan een warme trui. Dit zorgt voor meer bewegingsvrijheid.
Hoe draag je thermokleding?
Bij stevige kou zijn sommigen snel geneigd om dikke kleding aan te trekken. Maar het is veel efficiënter om in laagjes te denken. Tussen elke kledinglaag gaat lucht zitten die isoleert en je warm houdt. Thermokleding kan de basis vormen van deze laagjes. Belangrijk is dat je die eerste laag direct op de huid draagt, vandaar dat sommigen de term 'thermo-ondergoed' gebruiken. 's Winters kun je het beste wandelen of fietsen met drie lagen kleding:
eerst een laag thermokleding: shirt, legging, sokken
dan een fleecetrui of -shirt
tot slot een broek en een jas.
De thermokleding is de eerste, zweetafvoerende laag. De volgende laag isoleert en neemt het zweet verder op. De jas is de buitenlaag die je beschermt tegen regen en wind. Krijg je het te warm, dan kun je altijd een laag uittrekken.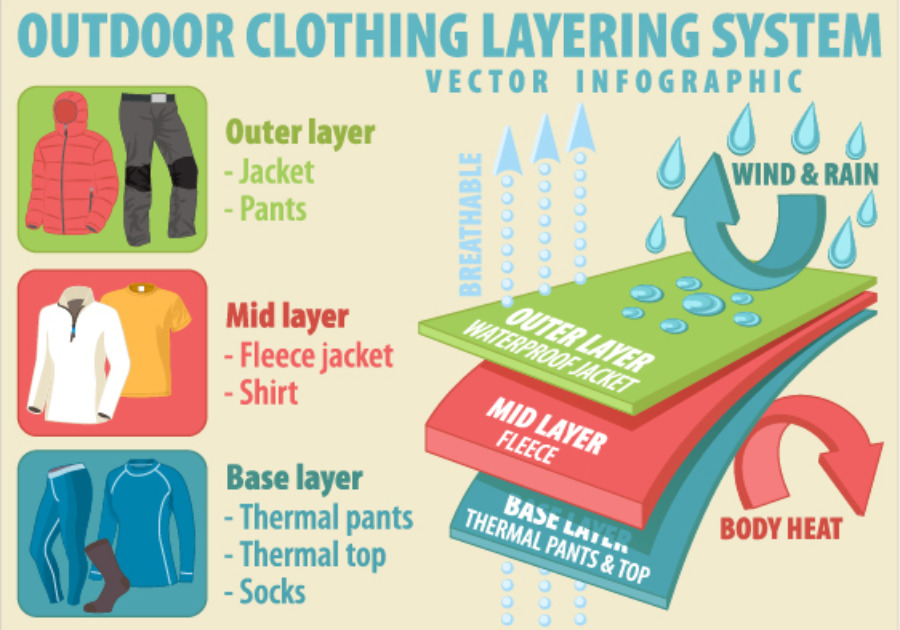 Thermo-ondergoed in alle soorten, maten en materialen
Thermokleding kun je zowel voor je boven- als onderlichaam aanschaffen. Je hebt thermoshirts met korte mouw, zonder mouw en met lange mouw.
Daarnaast zijn er verschillende materialen. Veel thermokleding is synthetisch en gemaakt van lycra, polyamide, polypropyleen, polyester of een combinatie hiervan. Het voordeel hiervan is dat kunstvezels – in tegenstelling tot katoen – nauwelijks vocht opnemen en het zweet juist efficiënt afvoeren. Synthetische thermokleding droogt bovendien snel, maar isoleert minder wanneer het nat is.
Tegenwoordig is thermokleding van merinowol populair. Deze wol komt van het merinoschaap: een schapenras dat je veel vindt in Nieuw-Zeeland. Het is een wolsoort die niet prikt of jeukt. Een ander groot voordeel is dat shirts van merinowol niet tot nauwelijks gaan stinken door transpiratie. Een combinatie van synthetisch materiaal en merinowol vind je tegenwoordig ook in de winkels.
Tot slot kan in dikte en pasvorm nog verschil zitten. Hoe dikker de onderkleding, hoe warmer je blijft. En hoe dunner en strakker de laag, hoe sneller je transpiratievocht naar buiten afgevoerd kan worden.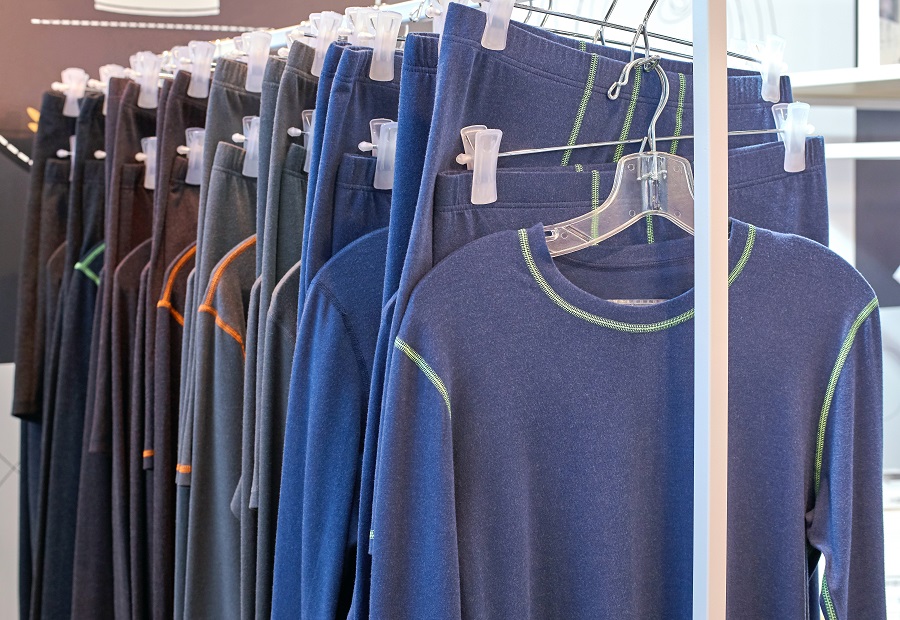 Verschillende merken
Craft en Odlo zijn grote spelers op het gebied van thermo-ondergoed. Ze verkopen allerlei shirts en leggings voor verschillende temperaturen en activiteiten, gemaakt van verschillende materialen. Craft produceert geen volledig merinowollen thermokleding, wel kleding waarin merinowol is verwerkt.
Heb je een wat kleiner budget? Kijk dan eens naar de thermo's van sportgigant Decathlon. Zij verkopen thermokleding in alle soorten en maten en van verschillende materialen, onder meer van merinowol.
Het kost wat, maar dan heb je ook wat: de merinowollen thermoshirts en -leggings van Icebreaker.
Tips en tricks voor warme voeten
Meer tips om de strijd met Koning Winter aan te gaan? Lees ons artikel boordevol tips tegen koude voeten onderweg.