Het schoonmaken en waterdicht maken van je laarzen of wandelschoenen lijkt misschien een vervelend klusje, maar is de moeite zeker waard. Zeker in het najaar hebben je stappers het soms te verduren. Toeractief geeft tips voor het onderhoud van je wandelschoenen. Zodat jij ervoor kan zorgen zorg dat ze zo lang mogelijk mee gaan.
Zonder een beetje TLC (tender, love and care) zullen de meeste schoenen, die tegenwoordig op de markt verkrijgbaar zijn, helaas binnen een jaar hun waterdichtheid en prestaties verliezen. Het is vooral aanhoudend vuil dat problemen veroorzaakt. Dit kan het materiaal van de schoen uitdrogen en de stiksels en naden aantasten. Met name bij schoeisel met een waterdichte veering. Als je goed voor je schoenen zorgt, hoef je niet elk jaar een nieuw paar te kopen. En met een beetje geluk zelfs niet om de vijf jaar, of langer.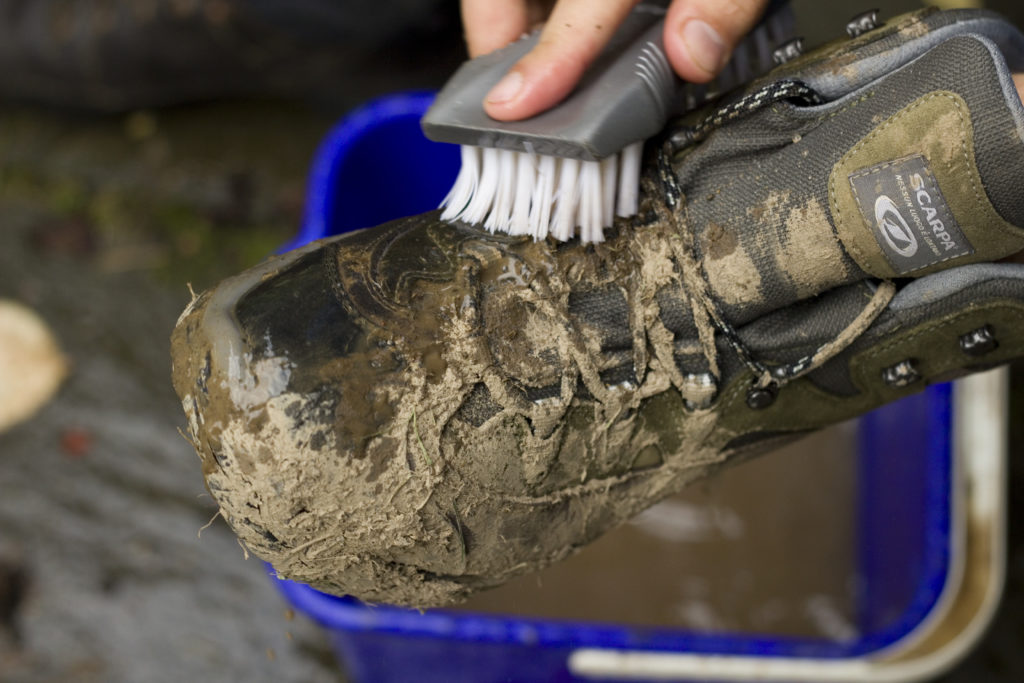 Vieze schoenen zorgen voor blaren
Het schoonmaken en onderhouden van je wandelschoenen is niet alleen belangrijk voor de schoenen zelf, maar ook voor je voeten. Een goed schoongemaakte wandelschoen of  -laars met een goed 'klimaat' erin, verkleint de kans op blaren. Niet-waterdichte wandelschoenen, als de materialen vuil zijn, kunnen problemen voor je voeten veroorzaken. Bij waterdichte schoenen komen de problemen die met vuil samenhangen van binnenuit. Hoewel vocht van buitenaf niet naar binnen kan komen, kan een vieze buitenstof de hete en vochtige lucht aan de binnenkant blokkeren. Dit creëert perfecte omstandigheden voor blaren en die willen we niet!
Zo maak je jouw wandelschoenen schoon
Stop je wandelschoenen nooit in de wasmachine. De waterbestendigheid van je schoeisel gaat hierdoor flink achteruit. Daarnaast kan het schade aan het stiksel, lijm en waterdichte membraan veroorzaken. Wat moet je dan wel doen? Wij zetten het voor je op een rij.
Stap 1: verwijder de veters
Verwijder voor je begint aan de schoonmaakbeurt altijd eerst de veters en losse binnenzolen van je wandelschoenen. Deze maak je gemakkelijk schoon met een beetje zeep. Laat ze wel goed drogen voordat je ze weer terug in de schoen plaatst.
Tip: maak een foto van je schoenen terwijl je ze aanhebt, zo weet jij hoe de veters erin zaten en kan je ze makkelijk weer terug stoppen.
Stap 2: verwijder het modder en puin
Maak de buitenkant goed schoon met een borstel en lauw water. Een laars- of schoenborstel is handig, maar je kunt ook gewoon een oude tandenborstel gebruiken.
Stap 3: breng een cleaning gel aan
Maak de buitenkant schoon met een gel. Bijvoorbeeld de Nikwax 'Footwear Cleaning Gel'. Maak de schoen vochtig en breng de gel royaal aan. Met deze gel kan je alle soorten leer en synthetische stoffen veilig reinigen en wordt het ademend vermogen en de waterafstotendheid nieuw leven ingeblazen. Spoel daarna goed af of veeg af met een vochtige doek.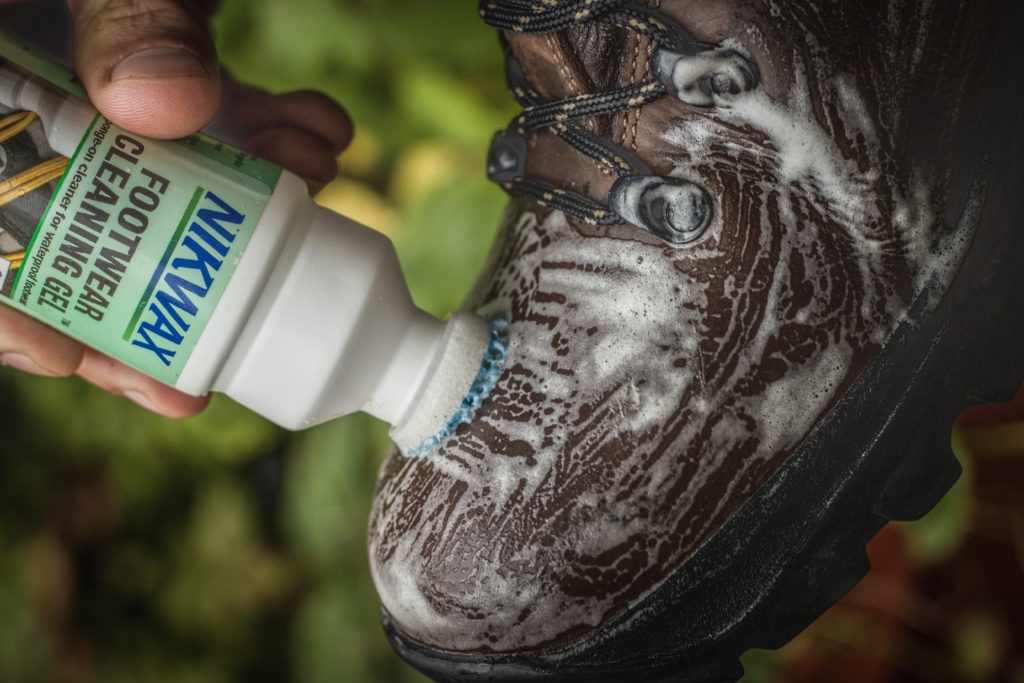 Stap 4: breng een waterproofer aan
Kies de juiste waterdichtheid voor het materiaal dat je waterdicht wilt maken. Nikwax biedt een reeks producten voor leer, stof en leer en nubuck en suède. Deze voegen een nieuwe waterafstotende laag toe aan je schoenen, helpen vuil en vocht af te stoten en zorgen ervoor dat het waterdichte membraan eronder kan ademen. Er is een spons, borstel of spuit optie. Zorg ervoor dat je het product royaal op het bovenwerk van de schoen aanbrengt, terwijl ze nog vochtig zijn van het reinigen. Veeg na de twee minuten de overtollige oplossing weg met een vochtige doek.
Stap 5: aan de lucht laten drogen
Laat je schoenen op natuurlijke wijze aan de lucht drogen. Drogen door middel van een warmtebron, zoals een föhn of kachel, kan de materialen beschadigen en de lijm kan loslaten. Stop een oude krant in de neus van de schoen om deze sneller te laten drogen. Vergeet het natte papier niet op tijd weer uit je schoenen te halen, anders gaan je stappers snel stinken.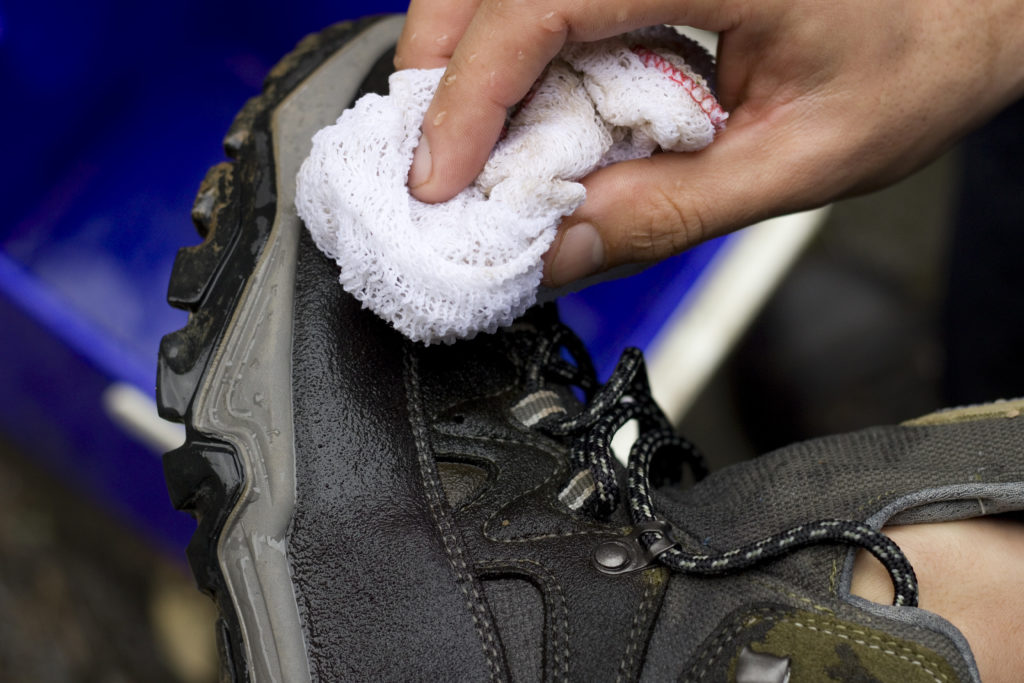 Let op: heb je schoenen met een binnenzijde van Gore-Tex, dan kun je beter keukenpapier gebruiken in plaats van een krant. Door de inkt van de krant kan de Gore-Tex-laag verstopt raken met als gevolg dat je schoenen niet meer kunnen ademen.
Tip van Toeractief: maak je wandelschoenen meteen schoon als thuiskomt en de schoenen nog nat zijn. Je schoenen zijn gemakkelijker schoon te maken en Nikwax-proofing-producten werken het beste op schone en natte schoenen!
Nikwax producten
Nikwax heeft een reeks snelle, efficiënte en effectieve oplossingen om uw synthetische en leren schoenen op een milieuvriendelijke manier te reinigen en opnieuw te beschermen. Deze producten zijn niet alleen gemaakt met behulp van schone chemicaliën en milieuvriendelijk, maar de flessen waarin ze worden geleverd, zijn ook gemaakt van gerecyclede materialen die kunnen worden gerecycled als ze eenmaal leeg zijn.
Wil je een nieuw paar wandelschoenen aanschaffen maar weet je niet of je hoge of lage exemplaren wilt aanschaffen? Lees dan dit artikel over het verschil tussen de twee.