Een goede set wandelschoenen is onmisbaar voor iemand die graag wandelt. Maar welke wandelschoenen zijn voor jou het meest geschikt? Inmiddels word je doodgegooid met keuzes en modellen: hoog, laag, sportief, leder, GORE-TEX, barefoot en ga zo maar door. Zo kies je de juiste wandelschoen. 
Als je op zoek bent naar de juiste schoen, kun je jezelf vooraf het best een aantal vragen stellen. Denk hierbij na over jouw manier van wandelen, maar ook over jezelf als wandelaar.
Stel jezelf deze vragen
Hoe vaak ben je van plan te gaan wandelen? En welke afstanden leg je dan af?
Over welke type paden of wegen ga je wandelen? Loop je vooral over asfalt of ga je vaak van de paden af?
Wandel je vooral door de vlakke gebieden van ons land of ga je ook weleens richting heuvelachtige gebieden of zelfs bergen?
Ga je vooral in de zomer op pad of wil je een schoen voor ieder seizoen?
Heb je smalle voeten of juist brede voeten? Mannen met kleine, smalle voeten doen er ook weleens goed aan om in het vrouwenassortiment te kijken, en andersom.
Heb jij zwakke enkels? Dan is het verstandig om bijvoorbeeld te kijken naar een hoge, stevige wandelschoen.
Heb je snel last van dikke, opgezwollen of zweterige voeten? Dan kies je liever voor een lichte, ademende schoen. Lees ook eens dit artikel en ontdek wat je kunt doen tegen dikke, opgezwollen voeten tijdens het wandelen.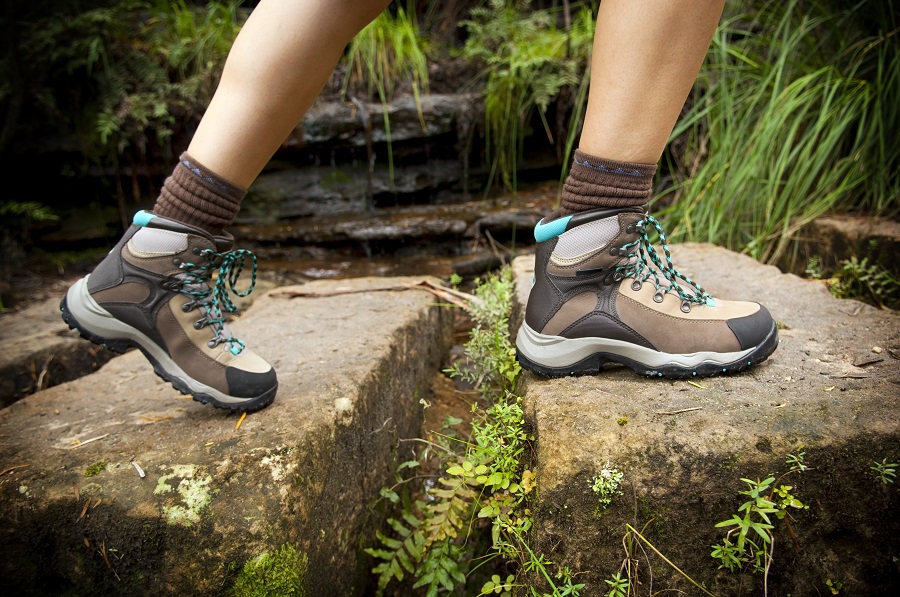 Verschillende klassen schoenen
Wandelschoenen kun je ten eerste vaak indelen met behulp van het ABCD-systeem. A is daarbij een lichte, lage en soepele schoen voor dagelijkse wandelingen met de hond. Klasse D wordt gebruikt voor de zware wandelingen over gletsjers, sneeuw en ijs. De klasse B schoen wordt al een hoge hikingschoen, terwijl de A schoen meestal laag is. Klasse B is geschikt voor een lange avondvierdaagse of voor een stevige wandeling in de bergen van Oostenrijk. De schoenen zijn zwaarder, steviger, stugger en vaak bestand tegen allerlei weersomstandigheden. Tegenwoordig worden er ook combinaties ontwikkeld. Een A/B schoen heeft bijvoorbeeld de stevigheid van de B-klasse, maar is wel laag. Of andersom: een soepele en lichte, maar hoge schoen.
Hoge of lage wandelschoen
Met een hoge wandelschoen heb je minder last van natte wandelsokken wanneer je bijvoorbeeld door de modder rondtrekt. Het zorgt ook voor warmere voeten. Toch raken je voeten ook niet oververhit. Wandelschoenen (veelal in klasse B) hebben namelijk vaak een GORE-TEX voering: waterdicht én ademend. Bij het klimmen zijn je enkels beschermd tegen stoten en stenen. De hoge wandelschoen beperkt bewegingsvrijheid in het enkelgewricht, dit zorgt voor steun aan de enkel waardoor je minder kans hebt op omzwikken. Een sterke en stugge zool, die veelal onder een hoge B schoen zit, voorkomt dat je last krijgt van je voeten op oneffen en ruige ondergrond.
Minder kolossaal en lekker licht
Met een lage wandelschoen kun je ook prima een gemiddeld restaurant binnenlopen na een wandeling over vlakke grond. Je hebt tegenwoordig erg hippe modellen, die bijna niet meer te onderscheiden zijn van een normale schoen. Dit maakt dat je een lage wandelschoen voor meer gelegenheden kunt gebruiken. Ze zijn lekker licht en soepel, maar bieden toch meer ondersteuning dan bijvoorbeeld een sportschoen. Een hoge wandelschoen is vaak zwaarder en kolossaler, en niet altijd prettig voor dagelijkse activiteiten. Toch blijft een hoge schoen een aanrader voor iedereen die op zoek is naar meer stevigheid. De beste tip is echter om je goed te laten informeren en uitgebreid te passen. Hoog of laag is ook een kwestie van smaak. De één vindt een hoge wandelschoen vreselijk en de ander kan niet met een lage schoen uit de voeten. Het gaat erom: welk type schoen past bij jouw voeten en bij jouw wandeltocht?