Vielen ze jou onderweg ook al op? Velden vol rommelige maisplanten met grote graanpluimen? Je hebt een scherp oog. Op de Nederlandse akkers zie je steeds vaker sorghum. Dit supergewas is familie van mais en komt uit Afrika.
Graanpluimen
Als je fietsend of wandelend in augustus of september zo'n veld met sorghum passeert, bekijk de plant dan eens van dichtbij. Je zult geen kolven ontdekken, maar zien dat de prachtige pluimen vol graankorrels zitten. De korrels zijn geel in augustus en verkleuren in september naar donkerbruin. Ze vallen dan extra op tegen de groene bladeren en zijn bijna klaar voor de oogst begin oktober. Je ziet sorghum steeds vaker op de Nederlandse akkers. Waarom?
Klimaatverandering
De wortels van gewone maisplanten blijven aan de oppervlakte. Daardoor kunnen de planten zelf niet goed het water diep uit de grond halen. In tijden van droogte is mais dan ook erg afhankelijk van beregening. Dat kost de boer veel tijd en geld. Sorghumplanten hebben dat probleem niet. Hun wortels gaan juist diep de grond in en de planten zijn veel beter bestand tegen droogte. Dat is handig nu ons klimaat steeds droger wordt. Die diepe wortels van sorghum maken bovendien de grond goed los en zorgen zo voor een goede bodemstructuur. Als kers op de taart heeft sorghum minder bemesting nodig en is de plant beter bestand tegen ziektes dan mais.
Veevoer
Het gewas heeft ook een paar nadelen. Van sorghum maakt de boer veevoer. Net als bij mais, hakselt hij de volledige plant. De opbrengst van een hectare sorghum is qua voederwaarde meestal minder dan van een hectare mais. Een ander nadeel is dat het gewas niet goed bestand is tegen koude periodes. Om deze nadelen tot een minimum te beperken, werken onderzoekers momenteel volop aan veredeling. Het is dan ook te verwachten dat we de komende jaren steeds vaker de prachtige pluimen van sorghum op de Nederlandse akkers gaan zien.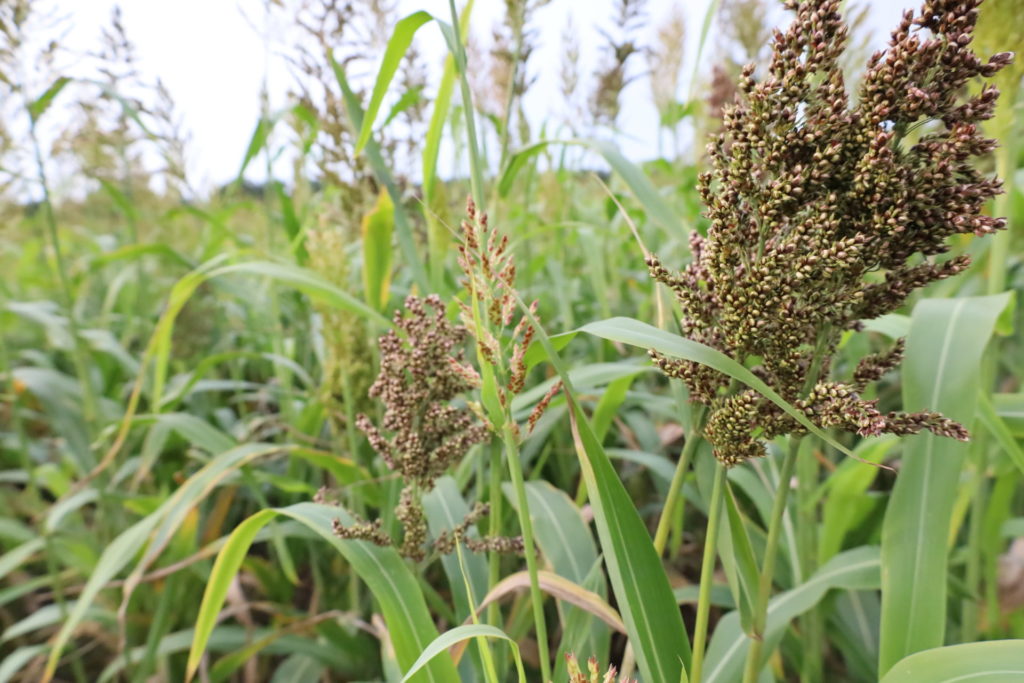 Ben jij nieuwsgierig naar wat er voor moois op en rond de Nederlandse akkers te zien is? Lees dan ook ons artikel over landbouwgrond.