In Rotterdam liggen tussen het roemrijke verleden en de ambitieuze toekomstdroom maar een paar passen. Tijdens deze stadswandeling van de middeleeuwse haven naar de Wilhelminapier, die een tweede jeugd beleeft, val je van de ene architectonische verbazing in de andere. Een wandelroute waarvan je eerder een stijve nek, dan blaren oploopt.
Het roemruchte verleden en de moderne tijd worden in metropool Rotterdam verbonden door de bruggen die je tijdens deze wandelroute aandoet. Ze symboliseren in feite het wezen van Rotterdam en brengen totaal verschillende stadsdelen, wijken en culturen samen. Rotterdam is een stad die contrasten niet schuwt, maar ze op een voetstuk plaatst. Zo komt het dat je in één route zowel door de Oude Haven wandelt, in 1350 de eerste van het land, maar ook langs dynamische hoogbouw, met een imposante skyline als resultaat.
Het verhaal van de havenstad
De Centrale Bibliotheek, het Blaakse Bos van Piet Blom met zijn kubuswoningen en de vooroorlogse Regentessebrug in Wijnhaven: op deze wandelroute kom je langs de bezienswaardigheden die het verhaal van Rotterdam vertellen. Via de Erasmusbrug, met de bijnaam 'de Zwaan', kom je bij de Kop van Zuid en de Wilhelminapier, een voormalig handelsgebied dat is uitgegroeid tot een bruisende culturele en architectonische hotspot.
Bezienswaardigheden
In Rotterdam zijn genoeg mooie locaties te spotten. Toeractief zet een aantal bezienswaardigheden voor je op een rij:
De kubuswoning is in Rotterdam al meer dan dertig jaar een fenomeen. Als je het ziet, vraag je je af of er wel in gewoond kan worden. Dat Rotterdam als architectuurstad internationaal bekend is geworden is mede dankzij deze kubuswoningen. Eén kubus is open voor publiek. Voor € 3 euro kan jij ontdekken of jij in zo'n iconische woning zou kunnen wonen.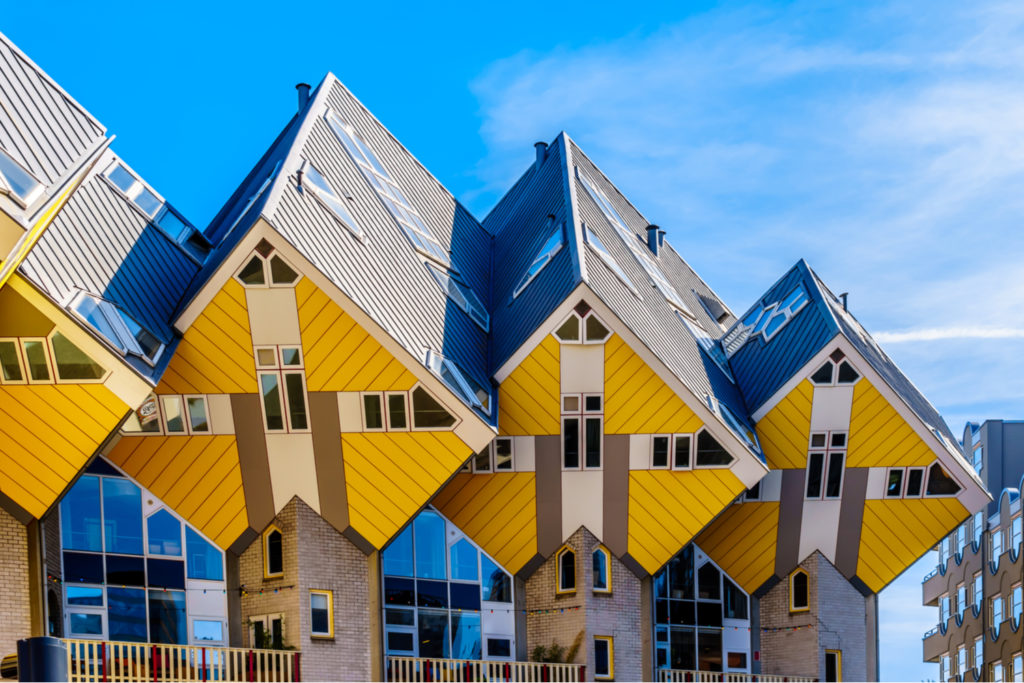 Het Nederlands Fotomuseum waakt over het Nederlands fotografisch erfgoed en maken dit toegankelijk voor publiek. In het museum is een verzameling van verschillende foto's te zien die reflecteren op de wereld. Het museum wil het leven van de mensen verrijken met visuele verhalen die er toe doen.
De maritieme wereld heeft dagelijks een grote invloed op Rotterdam, maar ook zeker op Nederland. In het museum kan je mee op reis door ons maritieme heden en verleden. Het museum ligt in de oudste en grootste museumhaven van Nederland. Op deze plek begon de wereldhaven Rotterdam.
Maritiem Museum, een wereld die je raakt!
Informatie wandelroute Rotterdam
Afstand: ca. 7 km
Vertrekpunt: Station Rotterdam Blaak, Blaak 1, Rotterdam
Routeverhaal: Toeractief 4-2014, pagina 32
Routeboekje: pagina 22
Meer wandelen? Historische stadswandeling Rotterdam, Toeractief 1-2019
Routecheck
Heb je tijdens het wandelen een wijziging opgemerkt in de route. Geef dit dan door via redactie@toeractief.nl