Het uitzoeken van wandelsokken kan soms een hele opgave zijn. Er zijn zoveel soorten en materialen dat je soms door de bomen het bos niet ziet. Wat is een goede wandelsok? Toeractief zocht het voor je uit en geeft tips.
Waarom gebruik je wandelsokken?
Een wandelsok onderscheidt zich van een gewone sok op het gebied van vochtafdrijving. Zweet wordt bij een wandelsok namelijk makkelijker afgevoerd zodat je voeten droger blijven. Op die manier krijg je minder snel blaren of andere irritaties. Het materiaal van wandelsokken is dus veelal anders. Een gewone sok is vaak van katoen, terwijl een wandelsok meestal deels van wol, polyamide of zelfs van bamboe wordt gemaakt.
Verschillende soorten
Wandelsokken met wol zijn populair. Ze zijn comfortabel en warm, omdat ze een isolerende werking hebben. Tegelijk nemen ze transpiratievocht goed op. Het meest aangenaam is een sok met merinowol, dit type wol prikt niet. Wol is vaak dik en dat zorgt voor meer demping. Vaak is er een verschil in sokken voor dames en heren, dit komt door de pasvorm van een wandelsok. Deze is aangepast op de vorm van de voet en dus is een vrouwensok vaak wat smaller. Dit is tevens de reden dat je meestal een linker en een rechter sok hebt. Ook in de lengte van de sok kan veel verschil zitten. Waar je voor kiest, hangt van de hoogte van je schoen af. Een hoge schoen vraagt om een hogere sok. Ook de bestemming kan uitmaken: loop je veel in het hoge gras of door bebost gebied, dan kan het fijn zijn als je je sokken hoog op kunt trekken om je benen te beschermen. Snel last van irritatie tussen je tenen? Sokken met teenscheiders zijn de moeite waard om eens te proberen.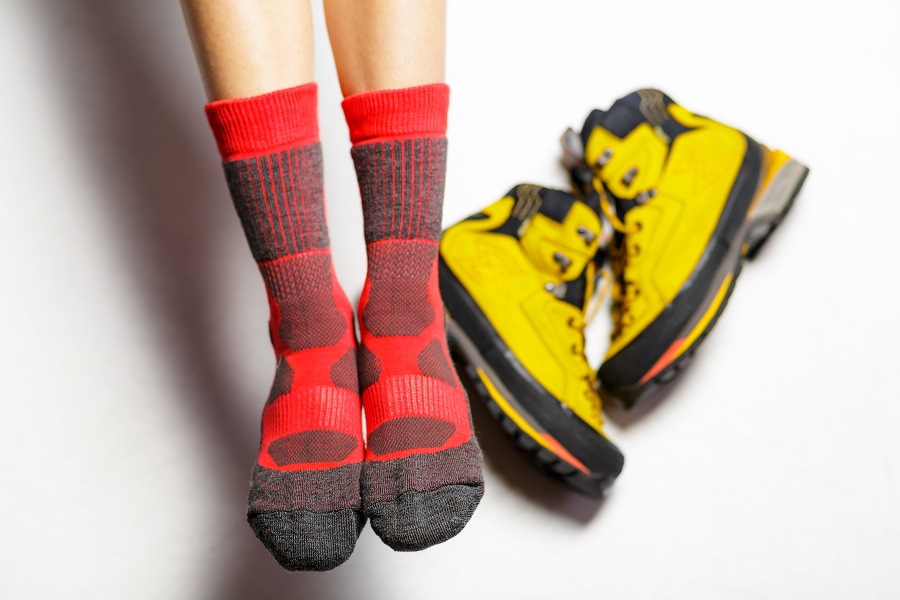 Welke wandelsok past bij jou?
Iedere voet en iedere wandelaar is anders. Dat betekent dat de een wat meer zweet dan de ander, de volgende snel blaren krijgt en weer een ander nooit ergens last van heeft. Ga zelf op zoek naar een sok die bij je past. Experimenteer met verschillende materialen, probeer diverse modellen en vergelijk de wandelsokken met elkaar. Veel mensen zweren bij de sokken van Falke, terwijl andere mensen probleemloos de Nijmeegse Vierdaagse lopen op goedkope wandelsokken van de markt.
Tips voor een lange wandeling
Maak je een verre tocht of ga je op een meerdaagse wandeling, neem dan altijd extra sokken mee. Het is namelijk heel belangrijk dat je voeten droog blijven. Een flinke hoosbui of een stap in een plas kan ervoor zorgen dat je sokken en dus je voeten te nat worden. Belangrijk is dat je ze dan wisselt. Dat geldt ook voor flink bezwete sokken als het warm is. Soms wordt al het zweet zelfs voor een wandelsok te veel.