Rondom Amerongen vinden wandelaars alles wat hun hartje begeert: bossen, landgoederen, uiterwaarden en een prachtig dorp met kasteel. Stel zelf je wandelroute samen via de drie lussen. Goed voor 10, 12, 13 of 15 km wandelplezier.
Het Toeristisch Overstap Punt (TOP) in Amerongen is het startpunt van de drie wandellussen. Na ruim een kilometer lopen, kom je een eerste bruin routepaaltje tegen met het opschrift 'Godard Bentinck'. Het verwijst naar graaf Godard van Aldenberg Bentinck (1857-1940), de man die veel gedaan heeft voor de bewoners van Amerongen en er nu dus een eigen wandelroute heeft.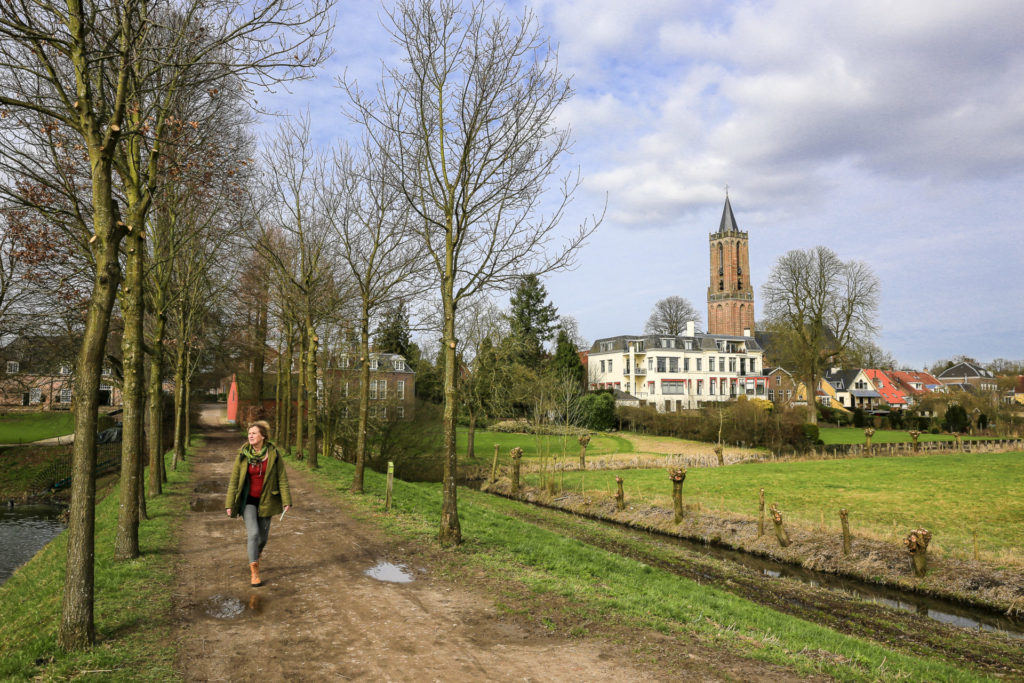 Tabaksteelt
Drie eeuwen lang stond Amerongen in het teken van de tabaksteelt, dankzij de steun van de graaf. De tabaksplanten groeiden goed op de zonnige zuidhellingen van de Utrechtse Heuvelrug. Na de oogst, waaraan jong en oud meewerkte, werden de bladeren te drogen gehangen in grote schuren. In een van die schuren is tegenwoordig het informatiecentrum van het Utrechts Landschap en Nationaal Park gevestigd. In het dorp zelf staat een tabaksschuur die tot woning werd omgebouwd en in dezelfde straat ligt het Tabaksteeltmuseum. Amerongen houdt de herinnering aan de tabaksteelt dus graag levendig. Aan het begin van de route kom je ook langs een nieuw gereconstrueerd tabaksveldje, dat laat zien hoe de tabak vroeger werd geteeld.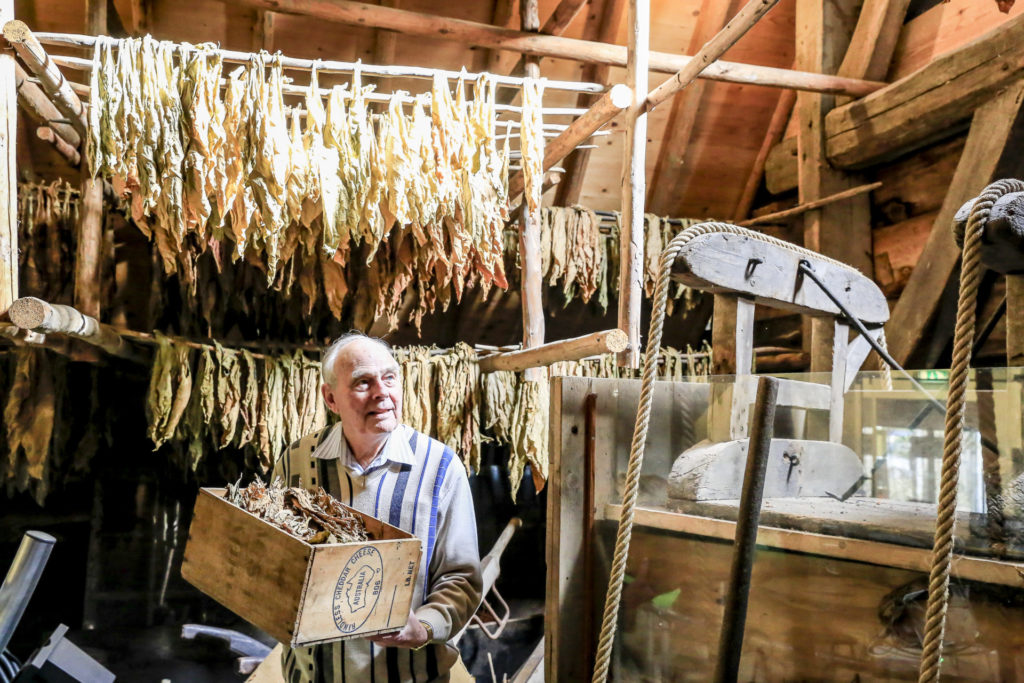 Landgoed Zuylestein
De Godard Bentinckroute in het Amerongse Bos leidt je niet alleen langs de geschiedenis van de tabaksteelt, maar ook langs oude akkers en over brede beukenlanen. Wanneer je de N225 oversteekt, maakt het bos plaats voor landgoed Zuylestein. Achter een smeedijzeren hekwerk bevinden zich een statige laan, een lange tuinmuur en een landhuis. Dansende rietpluimen, grazende paarden in de weide en een bruggetje over een stroom vervolledigen het decor. De kerktoren van Amerongen komt snel dichterbij.
Kasteel Amerongen
In het dorp waan je je in vroeger tijden. Langs oude klinkerstraatjes met sierlijke straatlantaarns rijgen de monumentale panden zich aaneen. Plots komt Kasteel Amerongen in beeld, de woonplek van graaf Godard Bentinck. Na zijn dood in 1940 bewoonden zijn kinderen het slot nog tot 1977. Nu is het in goede handen van een stichting. Het laatste deel van de wandeling brengt je van Kasteel Amerongen naar een uitkijktoren die een weids uitzicht op de uiterwaarden van de Amerongse Bovenpolder biedt.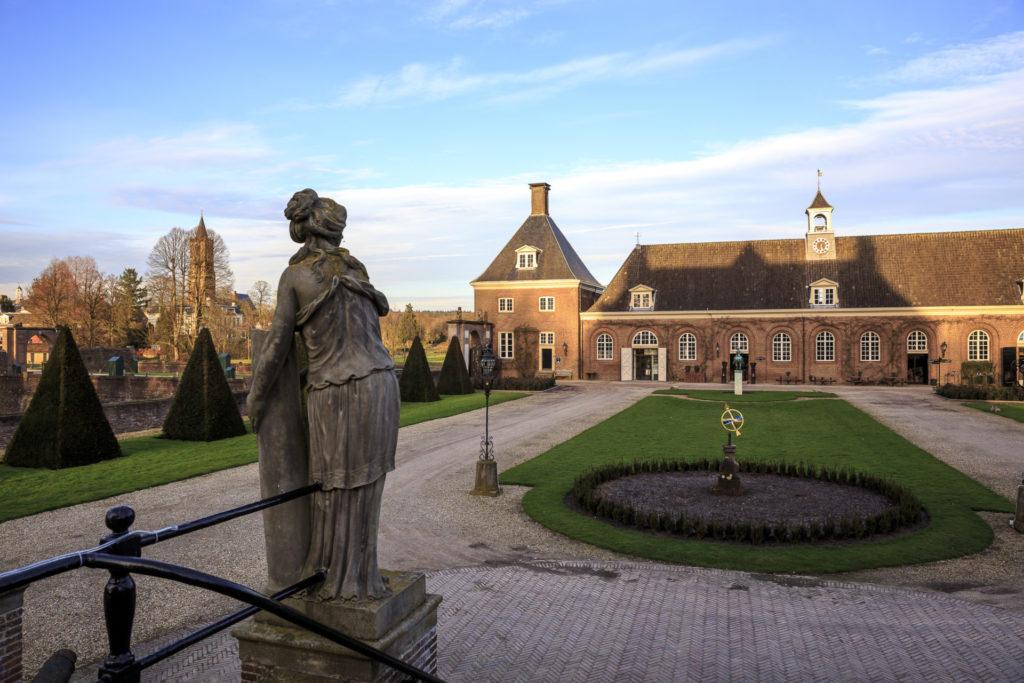 Informatie wandelroute Amerongen
Afstand: 10 km, 12 km, 13 km, 15 km
Vertrekpunt: Toeristisch Overstap Punt (TOP) Burgwal Amerongen, Burgwal 6, Amerongen
Routeverhaal: Toeractief 1-2018, pagina 10
Routeboekje: pagina 4
Routecheck
Heb je tijdens het wandelen een wijziging in de route opgemerkt? Geef dit dan door via redactie@toeractief.nl. Meer wandelen in de provincie Utrecht? Bekijk dan ook eens onze wandelroute op de voormalige vliegbasis Soesterberg of door de bossen bij Doorn.