Zodra je de toeristische drukte achter je hebt gelaten, is het echt genieten op Marken. Ga daarom eens verder dan de klompenwinkel, het museum en het haventje. Laat je via deze wandelroute 6 of 12 km lang over Marken, ooit een eiland in de Zuiderzee, gidsen.
De meeste toeristen gaan vanaf de parkeerplaats, die het beginpunt van deze wandelroute vormt, meteen naar de Klompenwinkel. Laat die misschien eerst maar even links liggen. Wandelschoenen zijn voor deze wandelroute op Marken immers beter geschikt. Het startpunt van de wandeling ligt in het dorp Marken, waar smalle klinkerstraatjes worden opgesierd door lieflijke huisjes in blauw, groen en zwart met rode dakpannen.
Gepersonaliseerde wandelroute
Bij de haven gaan de wandellussen elk een andere kant op. Ga je voor de 6 km, volg dan route B richting het oosten, naar de vuurtoren. Liever een langere wandeling? Combineer lus A en B, samen goed voor 12 km. Sla je het stukje heen-en-weer over de dam over, dan kun je route A en B tot 7 km inkorten. Dat je hier überhaupt nog kunt lopen, is – als je naar de geschiedenis van Marken kijkt – best bijzonder. Hele stukken veen werden hier ooit weggeslagen, waardoor Marken bijna in de Zuiderzee verdween. In de dertiende eeuw legden norbertijner monniken dijken aan en redden zo het eilandje.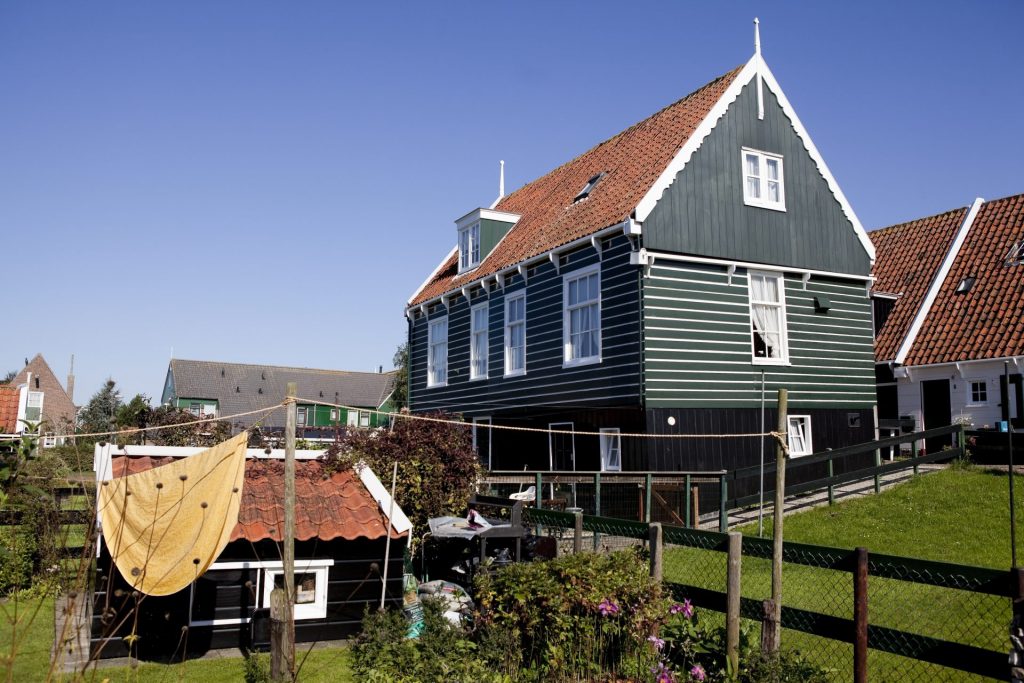 Visserij en toerisme
Hoewel het water soms over de dijken stroomde, bood de zee ook voordelen. In de negentiende eeuw kwam de visserij tot grote bloei. De afsluiting van de Zuiderzee maakte echter een einde aan de visserij, want haring en ansjovis houden niet van zoet water. De wandelroute wijst je de weg over een smal klinkerpaadje langs de kust. De toeristen, die sinds de tweede helft van de twintigste eeuw via de dijk eenvoudig naar Marken kunnen komen, zijn hier ver weg. Niets dan klotsend water, grazende geiten en de wind door je haar.
Het Paard
In de verte doemt plotseling de vuurtoren aan de horizon op. Omdat het silhouet van de toren op een paard lijkt, wordt hij in de volksmond – jawel, je raadde het juist – 'Het Paard' genoemd. Via een klinkerweggetje gaat het via Rozewerf naar Wittewerf. De eilanders bouwden hun huizen vroeger op terpen, ook wel 'werven' genoemd. De oude woningen hebben allemaal een trap naar de eerste verdieping en zijn op palen gebouwd. Zo hielden de bewoners destijds droge voeten. Met de bouw van de Afsluitdijk verdween het gevaar voor overstromingen. Het open onderhuis werd daarom dichtgemaakt. Alleen de trap naar de verhoogde voordeur bleef behouden.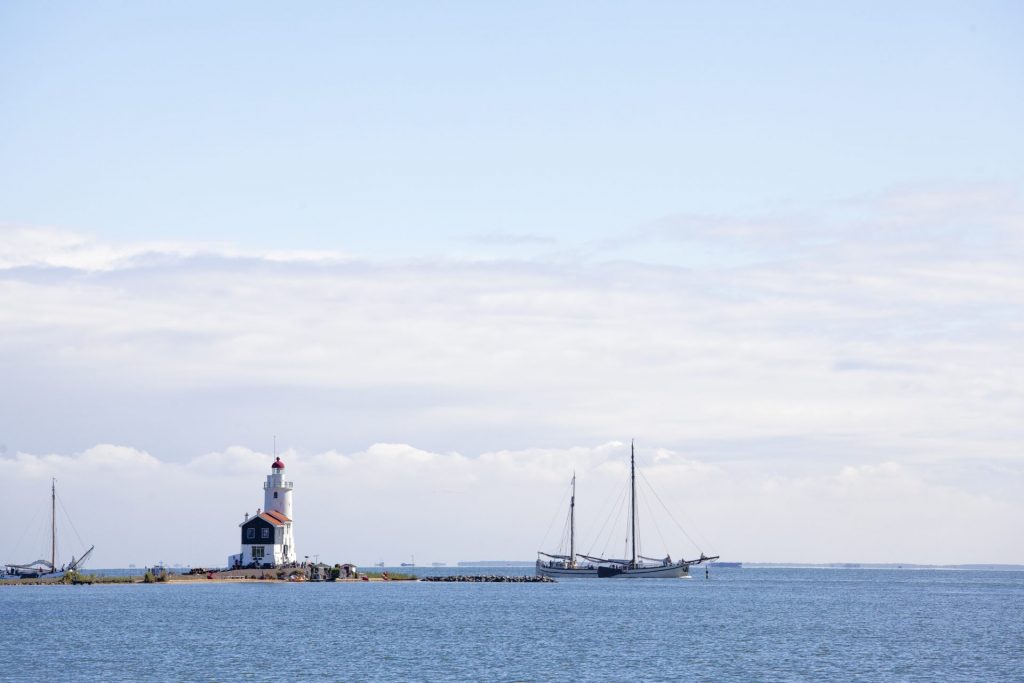 Informatie wandelroute Marken
Afstand: 6 km (B) en 12 km (A+B).
Vertrekpunt: Grote parkeerplaats, Kruisbaakweg, Marken
Routeverhaal: Toeractief 3-2015, pagina 10
Routeboekje: pagina 4
Routecheck
Heb je tijdens het wandelen een wijziging in de route opgemerkt? Geef dit dan door via redactie@toeractief.nl Meer wandelen in Noord-Holland? Bekijk dan ook eens onze wandelroutes vanuit Laren of Anna Paulowna.